Lagos is not a real place. Or at least that's what Olufunmi thinks every time she ventures out from her house in the hinterlands of Ikorodu.
For example, Funmi entered a bus going to Ikeja last Saturday.
"Enter with your change o," called the conductor in a loud, whiny voice.
"I don't have change o. It's ₦500 I have," Funmi told him.
"Oya enter like that."
When it was time to get her change, the conductor paired her with another passenger. To worsen matters, she never got to her destination because the driver's brakes failed and the bus rammed into another car.
Really, Lagos is not a real place.
Funmi's semi-fictional story is reminiscent of the average Lagosian's experience on Lagos roads. From the bad roads to the rickety buses to the uncouth drivers and conductors to the abysmal customer service.
While the introduction of the Bus Rapid Transit (BRT) buses has been a much-needed respite, a 2021 Danne Institute for Research Report reveals that Lagosians lose 14.2 million hours per day to traffic congestion caused, in part, by bad roads. It also cost the Lagos government ₦4 trillion ($96 million).
Apart from these challenges, security issues leading to tales of one chance, armed robbery, and petty theft abound.
While infrastructure challenges like bad roads and some aspects of security are pretty out of the reach of the average Nigerian entrepreneur to solve, we've seen several startups, including Shuttlers, GIG Mobility, and Treepz, try to tackle different parts of the problem.
Newcomer, Transtura, is making its play into Nigeria's mobility and logistics space. One of five nominees in the Newbie of the Year category of Techpoint Awards 2021, the startup founded by Vincent Adeoba and two other friends, was launched last year.
We talked to Adeoba and discussed Transtura's journey, its recent acquisition of fintech startup, Wàzó money, and the future.
Turning lemons into lemonade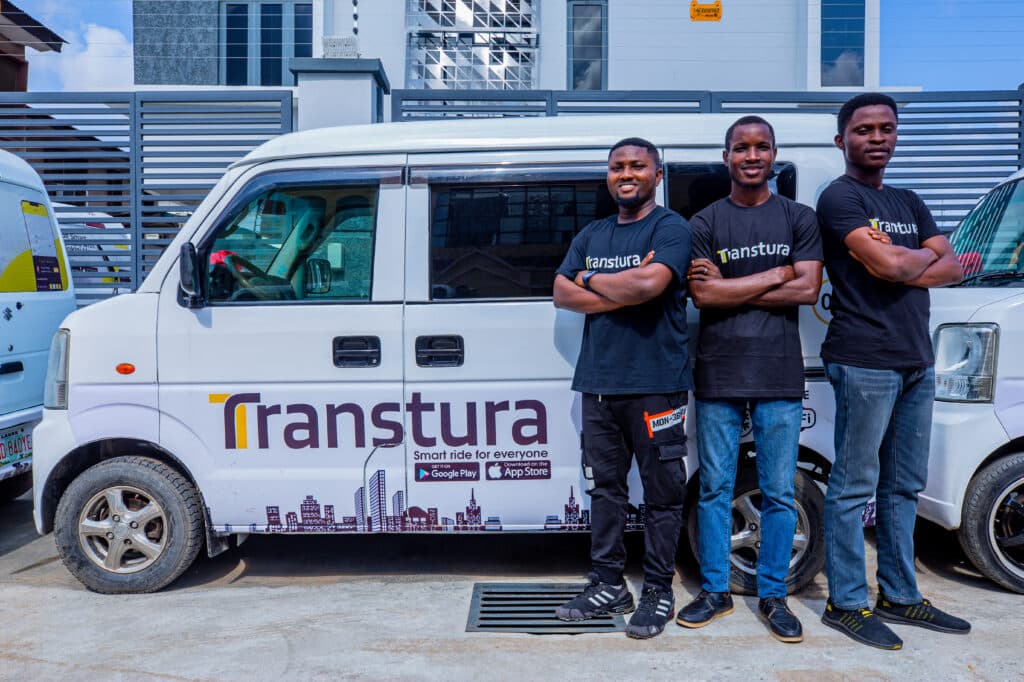 In 2017, Vincent Adeoba started a job as a Graduate Intern with PricewaterhouseCoopers (PwC). He had just finished his one-year mandatory youth service and had also just bought a car.
Earning just above ₦100,000 ($299)* monthly, he took his mentor's advice and rented the car to someone who used it as an Uber at a weekly rental of ₦30,000 ($90). It would start him on his journey in the transport and logistics sector and the eventual founding of Transtura.
In 2019, Adeoba got capital from friends and family and acquired 13 vehicles to expand the car rental business. However, 2020 came in with the COVID-19 pandemic and brought things to a standstill for him. But, he soon found a light at the end of the tunnel.
"I discovered that despite the restriction in movement, some of these shuttle mini-buses were still allowed to work. So I started divesting my investments in buying those vehicles for Uber, and I started researching about these shuttle mini-buses.
"With my research and data available to me, I even discovered that in terms of return on investment and the capital outlay required for the buses, they are even better than Uber. Sometimes, for Uber, you won't get your capital outlay back until almost two years, even before making a profit. With these buses, capital outlay could be gotten in a year and six months."
Putting in ₦1.3 million ($3,421)**, he got the first bus and, within nine months, had acquired 14 more buses using his tried and trusted family and friends route.
But he soon began to think about other issues like safety and convenience for the user. On October 18, 2021, the Transtura app was officially launched.
"I've been doing the business in a traditional way, but I was just thinking, 'how can we bring in technology to improve commuters' experience, to provide safety, to provide comfort, and at the same time, to redefine the way people see intra-city commuting in Lagos?'"
Currently, the app is available on the Google Play Store and will soon be available on the App Store. For now, iOS users can use its web app.
Transtura has three routes: Iyana Oworo to Victoria Island, Yaba to Victoria Island, and Abraham Adesanya to CMS.
Bringing in Co-founders Vincent Adeyemo — a lawyer friend he had met in school — and Olajide Philips, the trio's Transtura journey began.
What are the metrics?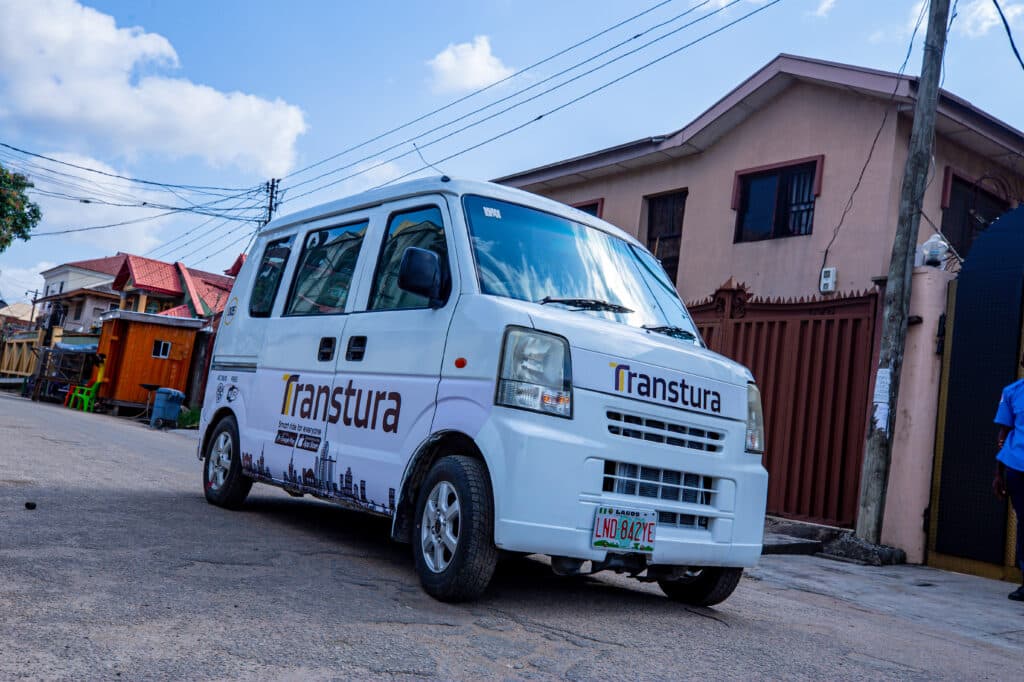 According to Adeoba, Transtura has received little funding from the outside world. However, the company is also backed by Tekedia Capital and is looking to raise its pre-seed round.
With only three routes, he says the company can barely meet demand and has 2,500 active users. The business model, while not new, is different from what typically obtains.
"What we do is we pay drivers a salary to drive the buses for us."
They had initially planned to use a rent-to-own model, but they chose their current model to protect the brand and prevent issues associated with hire purchase or rent-to-own agreements.
"When you give people an asset to use on a rent-to-own basis or on hire purchase in this part of the world, they start seeing themselves as the owners of that asset from the first day you give it to them. And you have little to no control again."
There are plans to change the model to a more Uber-like model, probably partly because of the current challenge with the National Union of Road Transport Workers (NURTW). According to Adeoba, every day, they have to pay ₦1,000 to ₦1,500 to NURTW agents on the road for each bus; sometimes, they pay per trip.
It's quite tough running a business in this manner, but he says they've been able to deal with it using some level of tact and street smarts.
"We told them what we are trying to do, and we were able to paint a very good picture to show that we are not competing with them."
Driving new ways to shop and travel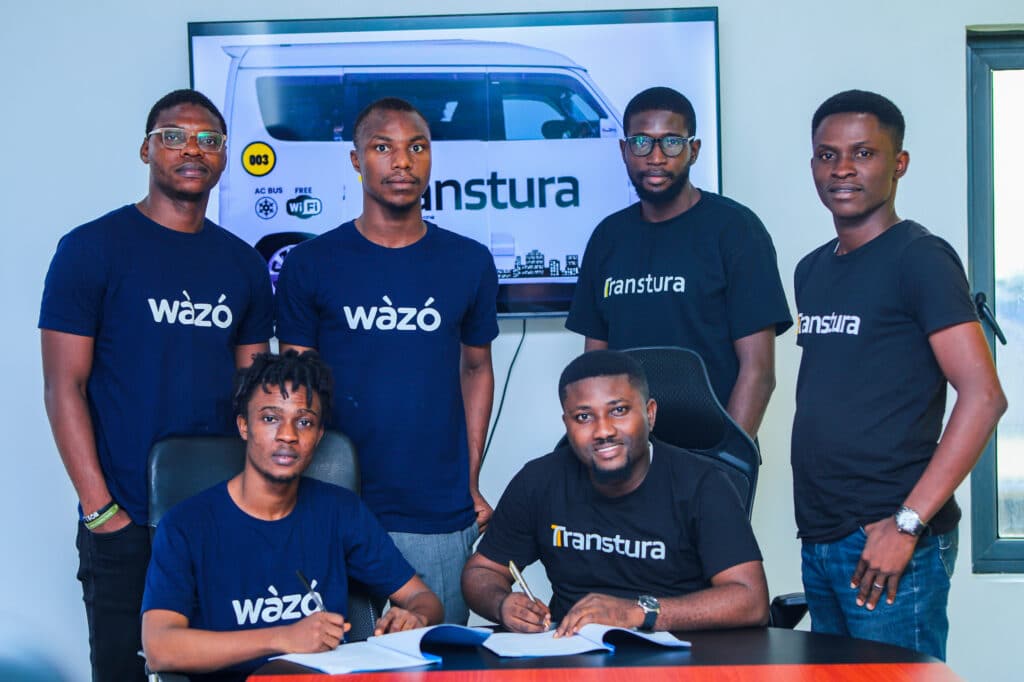 When the Central Bank of Nigeria first introduced its cashless policy in 2012, 65 out of 100 Nigerians transacted in cash.
Fast forward a couple of years, and while alternative payment channels have gained some momentum, cash is still king.
Essentially, many everyday transactions like paying for a bus or buying tomatoes in the market are still cash-based. However, in Lagos State, Touch and Pay's Cowry card is changing the mobility game with its contactless cards.
With its acquisition of Wàzó for an undisclosed fee, Transtura's digital payment plans require some attention.
Founded in 2021 by Stephen Ilori and Abudu Ridwan Olatunbosun, Wàzó is a payments service company that deals with bill payments. From what Adeoba told Techpoint Africa, this acquisition marks Transtura's entry into the digital payments and eCommerce space.
"After three months of our operations on the road, we discovered that beyond providing vehicles to people and providing the extra comfort and safety, the biggest opportunity in the transportation ecosystem is actually in payments.
"We want to get into digital payments where people can have a universal wallet. So either you're riding with Transtura, or you're riding with the normal danfo, or you are even travelling outside the state, you will be able to use your Transtura wallet to make payments to the vendors and the drivers."
Alongside the wallet, Adeoba says the company is looking to launch a marketplace for drivers to buy spare parts and other vehicle-related goods. They would be able to pay for this using their Transtura wallet.
For the passenger, payment would be made by scanning a QR code placed at strategic points in the vehicle. However, this has a familiar ring to it.
In 2019, we wrote about a new startup, named Gona, trying to make transport transactions cashless using QR codes.
Adeoba says Transtura is quite different for several reasons, one of which is the company's plan to make its product an enterprise solution (B2B) rather than B2C for now. He also believes that the ancillary services, which come with the wallet, like the marketplace and an expense management card, give it a leg to stand on in terms of a revenue model.
As part of its B2B solution, an expense card would be given to each driver for expenses like fuel and minor but necessary vehicle maintenance while on the road. The card can be set to a particular spending limit each day and helps business owners keep track of money spent.
Much of this solution is targeted at large-scale mobility and logistics companies.
There are also plans to launch its Flexi Hire feature, which would enable persons to charter buses for different uses. This is also targeted at traditional transport businesses.
These features should be launched before the end of March 2022 and could provide a gateway to a new dispensation.
*Average dollar exchange rate in 2017
**Average dollar exchange rate in 2020