Good day,
Today I'm discussing:
Grants for small businesses
Lower cost of Internet data?
Gamr's seed round
Why you should attend SME Clinic 2021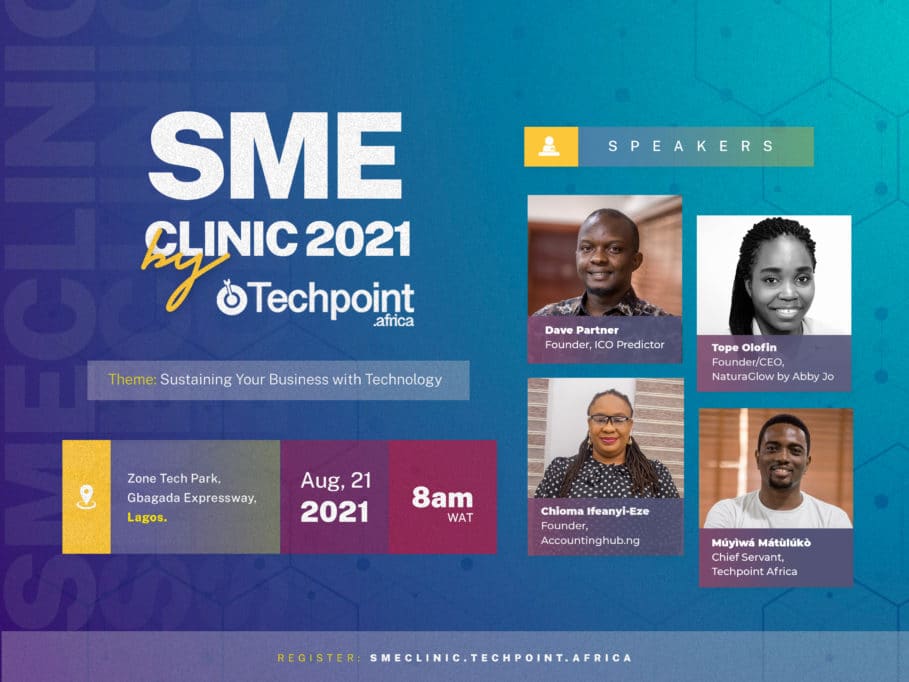 Have you ever asked yourself how a small business survives in an environment with skeletal electricity supply, low access to funds and grants, and poor infrastructure?
Questions like these are why you should attend SME Clinic 2021. The sessions are channelled to proffer technology-based solutions to the various struggles most small business owners face in Nigeria's unique market.
And guess what? Five business owners at the event stand a chance to win a ₦100,000 grant for their businesses. You do not want to miss this.
Apply here ASAP! Applications close today.
Trust me when I say that SME Clinic is not an event you want to miss. You'll network with other business owners, and our lineup of speakers will teach you practical and hands-on ways to scale your small business using technology.
SME Clinic 2021 will be held on Saturday, August 21, 2021.
Follow this link to get your tickets to attend physically or virtually.
Facebook's Internet cable in Nigeria
As announced in May 2020, US-based tech giant, Facebook, set plans in motion to build a $1 billion undersea Internet cable for faster Internet in Africa.
Per the latest developments communicated on Monday, August 16, 2021, the tech giant revealed that the work is ongoing, and substantial progress has been made, with the cable expected to be in full operation by 2023.
Though an abundance of undersea Internet cable doesn't translate to faster connection speeds, it could mean a lower cost of data for the end-user. As of the end of 2019, 28 African countries had at least one submarine cable landing. Still, there are several other factors responsible for the cost of Internet data in Africa.
Read more here: Facebook's undersea Internet cable is coming to South-East Nigeria and 3 other African countries
Nigerian eSports startup, Gamr, raises seed to scale operations
What's the news? Nigeria-based eSports startup, Gamr, has announced closing a seed round to scale operations in Africa. With this undisclosed investment, the startup is looking to reach as many gamers across the continent with its subscription-based model that allows for interaction and engagements in virtual tournaments.
Participants in the round include emPawa Africa — an accelerator for musicians and African creatives founded by Nigerian Afrobeats singer, Mr Eazi — and Nigeria-based gaming company, Adrenaline.
Currently, the global eSports market is worth an estimated $1.08 billion, which is a near 50% increase from 2020. The industry is projected to reach $1.6 billion by 2024.
With video games requiring broadband Internet connection and electricity, one might question the feasibility of the eSports industry growing across Africa. Currently, Egypt and South Africa are the countries with the largest video game markets in Africa.
A good time to revisit this article: Why Africa is not yet ready for the eSports boom
Founded in 2021 by Sholakunmi Adenipebi (COO), Eniola Edun (CEO), and Seyi Fakoya (CTO) to connect eSports tournament organisers to African gamers, Gamr is looking to increase its over 60,000 community members across Africa — 70% of which are Nigerians —  and claims to have paid out hundreds of thousands of dollars in prize money to African gamers.  
What I'm reading
Who Are the Taliban? Read.
Procrastination triggers: eight reasons why you procrastinate. Read.
Opportunities
Product Designer Needed. Click here for details.