According to data from Maxime Bayen, Senior Venture Builder at BFA Global, African startups raised $1.19 billion in the first half of 2021.
This amount is more than double what African startups raised in the first halves of 2019 and 2020. 
Bayen collates data on funding in the African startup scene. However, he usually only considers deals over $1 million.
Africa's 'Big Four' — Nigeria, Kenya, South Africa, and Egypt — maintained their status as major investment destinations, with funding in startups headquartered in one of these countries accounting for 80% of all startup funding in this period. Nigeria and South Africa account for 56% of funding in these countries.
Startups with all-male founding teams still took home most of the funding with 77%, while female CEOs raised 14% of the financing, up from 2% for the same period in 2020.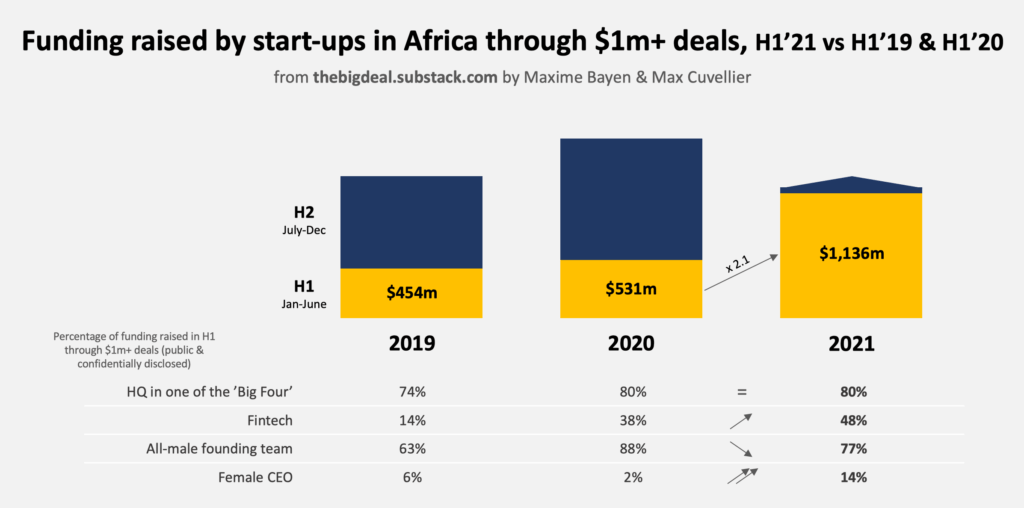 With the coronavirus pandemic expected to affect investment activities, in May 2020, AfricArena, an African tech accelerator, projected that startups on the continent would receive between $1.2 billion and $1.8 billion in venture funding in 2020. Partech Africa and Briter Bridges reported that African startups ended the year with $1.4 billion and $1.3 billion, respectively.
Expectedly, things picked up this year as more people were vaccinated.
Data from Digest Africa, an investment news platform, seems to support Bayen's conclusions. Every month, they have released a roundup of deals completed in the preceding month. Crunching the numbers in those reports puts the total funding from January to May 2021 at $956.2 million, $233.8 million less than Bayen's $1.19 billion.
A closer look at Digest Africa's numbers reveals that funding for African startups grew steadily from January to March before dropping off in April. Things picked up again in May, with investments going from $78 million in April to $208.5 million in May.
According to Digest Africa, the largest investments went to Expensya ($20 million), Gro Intelligence ($85 million), TymeBank ($109 million), and Flutterwave ($170 million). Comparing the amounts raised by African startups since 2019, it took nearly 11 months for funding in Africa to hit the billion-dollar mark in 2019, 9 months in 2020, and 5 months in 2021.
The coronavirus pandemic and the ensuing lockdown contributed to a slump in investment activities as investors' interests dwindled due to uncertainties. But as lockdowns were eased globally, things picked up in the second half of the year. As vaccination numbers across Africa pick up and economies stabilise, investments in African startups could also see an increase.