The COVID pandemic marred 2020. With a lot of panic and economic downturn across different markets, it was a no brainer that we'd witness a drop in funding activities in our ecosystem.
Adjusting to the 'new normal', many tech startups had to pivot, cut expenses, or downsize. New predictions also came to light. AfricArena, an African tech accelerator, said African VC investments might drop from $2b to between $1.2b and $1.8b.
While this prediction might pass as a wild guess based on its wide margin, new findings by Briter Bridges, a London and Nairobi-based research firm, suggest some accuracy.
According to Briter Bridges' new report, startups operating in Africa raised at least $1.3 billion in 2020. The report states that figures represent a combination of data available through online sources and information provided by investors.
They include over 70 funds, institutions, and syndicates that provided insights into their theses, portfolios, and pipeline.
That said, Briter Bridges points out that its data might not capture the entirety of the funding landscape in historical terms.
"Ultimately, as ecosystems and funding resources across Africa remain at a relatively nascent stage, year-on-year growth calculations are based on scarce historical data, which often results in drawing inaccurate conclusions about the nature and trajectory of their growth," it stated.
With mergers and acquisitions (M&A), investments deployed across Africa reached $2.4b
Before the pandemic and corresponding lockdowns, Africa's funding activities were robust in January and February 2020, better than the same period in 2019. However, in March up until June 2020, investments dropped significantly compared to the same period in 2019.
This was when most African countries remained under lockdown with business activities coming to a halt.
https://techpoint.africa/2020/07/08/african-startups-second-quarter-funding
Last month we spoke with Andreata Muforo, a Partner at early-stage VC firm, TLcom Capital, about how the pandemic affected VC investments. She said funding activities slowed down because investors had to adjust due diligence procedures as they tried to navigate the challenges posed by the pandemic.
However, much earlier than the larger VC community expected, July saw investment activities pick up. Since then until December, only total funding in November 2019 outdid its corresponding month in 2020.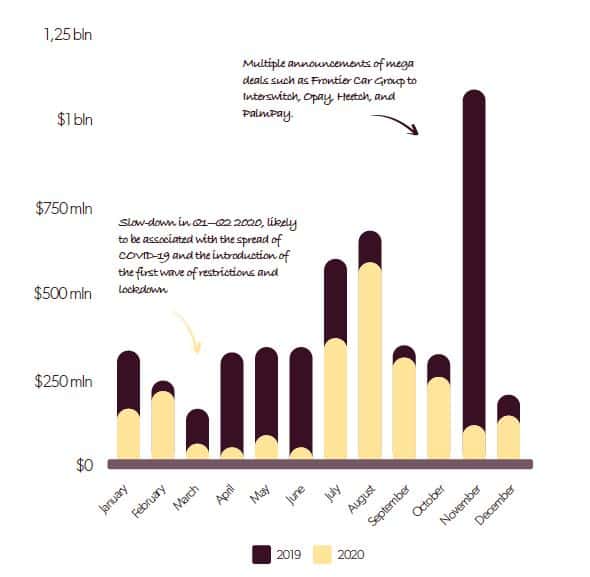 At the end of the year, the total investments recorded by Briter Bridges was at least $1.3b, of which $1.075b was made public.
These deals include eight-figure sums raised by Egypt's Vezeeta, Ghana's mPharma, South Africa's Jumo, Nigeria's Flutterwave, and Kenya's Sokowatch, among others. However, Briter's 2020 figure is a 16.3% decrease from the $1.25b disclosed investments reported in 2019.
For undisclosed investments in 2020, the figures stood at $243m, up from the $21.7m reported in 2019; taking the $1.2b from M&A into account, the total investments deployed into African startups reached $2.4b.
MFS Africa's acquisition of Tanzania-based Beyonic makes it one of the only deals to tick in both boxes of undisclosed and M&A funding.
Meanwhile, WorldRemit's $500m deal for Sendwave; Paystack's $200m deal by Stripe; and Network International's $288m deal for DPO Group, made up 87% of the total acquisition recorded.
Fintech continues dominance as cleantech and healthtech play catch up
One critical and hard-to-miss insight is that the four acquisitions were all fintech deals. Also, Briter reports that fintechs accounted for nine-tenths of total M&A volumes.
Fintech dominance is a recurring theme in different segments of the report as well. Of the $1.3b raised by African startups in 2020, fintechs accounted for 31% ($407m) of the funds deployed.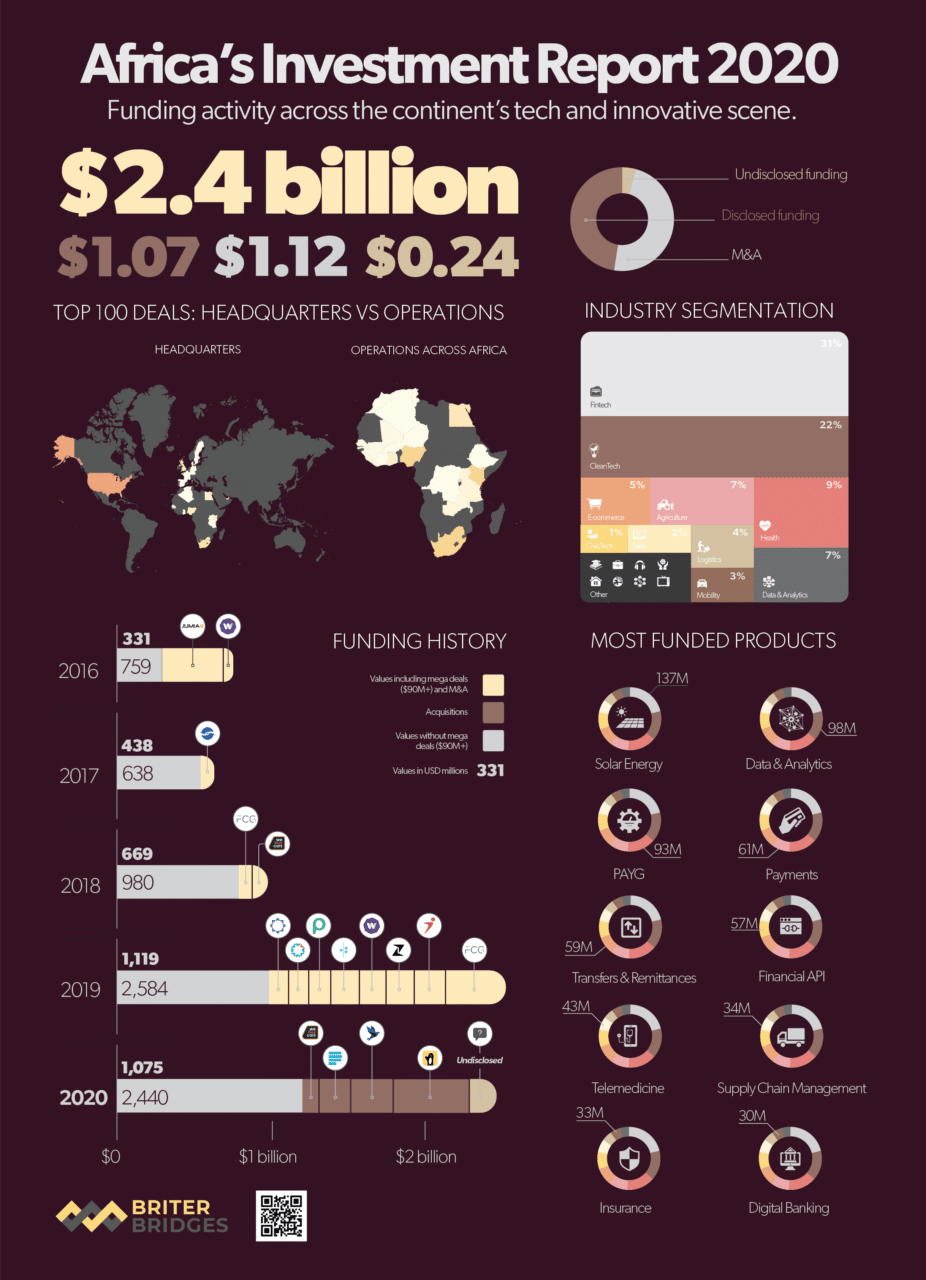 Second to the fintech space in terms of cumulative investments is cleantech, accounting for 22% ($295m) of funds deployed. And healthtech startups come a distant third with 9% ($117m).
Also, cleantech and healthtech took up third and fourth places on the M&A list with startups in their space acquired for $25m and $2m respectively. eCommerce, second only to fintech on the M&A list, had $107m.
A slight change in Briter Bridges' methodology
Over the years, different publications have come up with their year-end reports, and there's usually a common segment in each one: pairing funding activities to their countries of origin.
This methodology has given rise to the Big Four of African startup investments which have received the lion's share for a while: Egypt, Kenya, Nigeria, and South Africa.
Up until the second quarter of 2020, these four dominated with Briter Bridges reporting that startups from South Africa, Nigeria, Kenya, and Egypt had raised $112m, $74m, $62m, and $51m respectively.
Six months down the line, Briter is taking a less popular approach. Titled 'headquarters vs operations' in the report, this segment displays HQs of these companies to the countries they operate in Africa.
So why didn't Briter Bridges pair funding against countries of origin this time?
Dario Giuliani, Briter Bridges Director, tells Techpoint Africa that there was a lot of controversy last year about precisely what an African company is.
Further insight into these startups showed that many of them were incorporated outside Africa. However, they had operations in different countries on the continent, including the country where it all started.
"When that is the case, how do you pin down the funding to one country?" Giuliani asks.
That's why the firm decided to provide some clarity in the figures. For Giuliani, one of Briter's intentions was to keep the data unbiased to avoid problematic narratives.
"So what we did was make a breakdown between the headquarters and the overall geographical spread where they operate. That's why we didn't pair the numbers of deals with respect to their countries."
Now, Briter's methods might be debatable, but here's what we discover from their findings. African startups headquartered in the US, South Africa, Mauritius, the UK, Kenya, and Nigeria, in that order, were the top destinations for funding activities in 2020.
Another segment that looks contrasting from previous reports is its funding history and volume breakdown. Since 2016, it shows steady year-on-year growth, however with a slight decrease in 2020 from 2019.
The main message around this, Giuliani says, is that while there's a steady increase in funding each year, there are huge deals that push these numbers and therefore give rise to different opinions at the year's end.
For instance, in 2019, there were mammoth deals like Frontier Car Group ($400m), OPay ($170m), and Branch ($170m) among others. As these figures skewed African investments to $2b+, the question remained were these African startups?
What Briter claims to have done is to provide clarity to these figures, leaving little margin for people to complain.
"The reason behind this is to keep the data very objective," he adds. "Yes, we've had about $2b come into the continent. But when you break it down, it's just a bit more than $1b from African startups."