In a recent post, we looked at how the team at Taeillo -- a three-year-old startup -- is using augmented reality (AR) and virtual reality (VR) to disrupt the furniture industry. Interestingly, VR has begun to make its mark in Africa's filmmaking industry despite low adoption for reasons like cost and technical know-how, to mention a few. 
Nevertheless, in 2019, the opportunity to be a part of the 20th Belfast Film Festival presented itself as calls for "Feature/VR submissions from African filmmakers" were made.
Beyond Africa's shores, VR adoption is high with sectors like education utilising it to facilitate long-distance learning, which is particularly important in light of the pandemic ravaging the globe.
On the Nigerian scene
At the forefront of the VR filmmaking revolution in Nigeria is Lagos-based filmmaker and Founder of VR360 Stories, Joel Kachi Benson, producer and director of the award-winning VR documentary, Daughters of Chibok. 
In a fireside chat with Titilola Oludimu, Director, SME by Techpoint, at Techpoint Build 2020 in August, Benson talks about using technology to tell stories. 
Asked about the differences between traditional filmmaking and VR filmmaking, he opined that traditional tools fall short.  
"Traditional tools do not give the best interpretation of the experience a filmmaker wants to convey. VR gives me the opportunity to take people to places they ordinarily won't be able to access."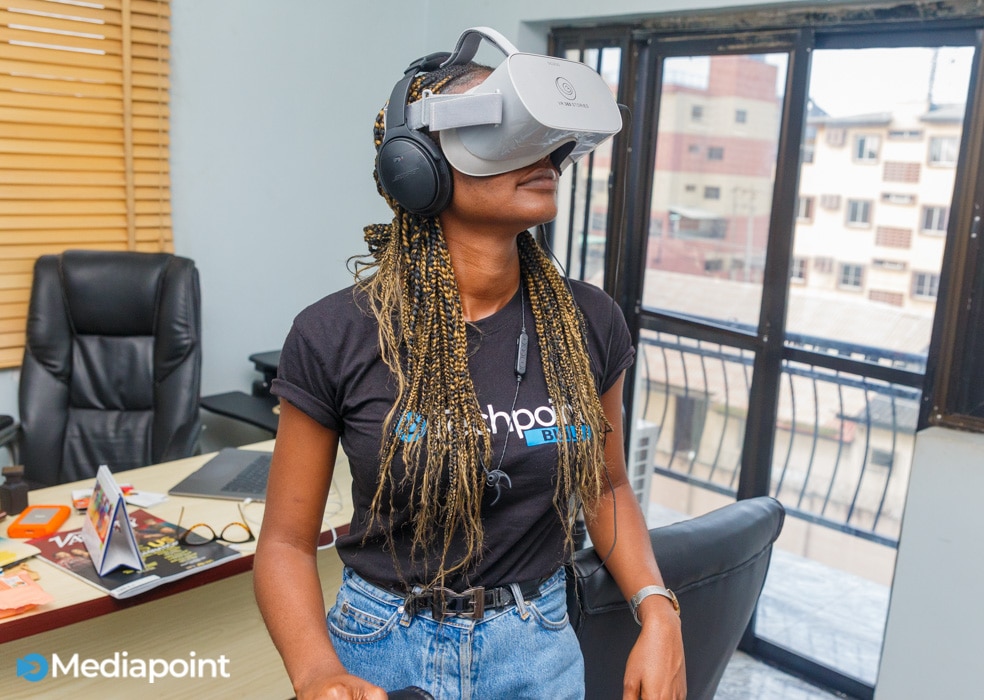 However, when it comes to the art of storytelling "the approach is the same as you must understand how to tell stories in the first place" before VR comes into play at all. 
Challenges of VR adoption in Africa
In Benson's experience, the technical aspect of making a VR film presents the greatest challenge. 
"As a filmmaker, you cannot be a present director; you have to be offset," he said during the chat. Benson also added that the post-production workflow is equally, if not more, challenging. 
One could be forgiven for expecting the cost of entry into the space to be the biggest challenge he mentioned. But the fact remains that if an unskilled filmmaker somehow overcomes their financial hurdles, the quality of films produced will leave little to be desired. 
Benson eventually addressed the cost of entry, saying that "a decent camera, the Insta360 Pro, for instance, can set one back by as much as $500," while the computers used to stitch VR footage, which are not the run-of-the-mill kind, "can cost as much as $3,000."
"How many people interested in VR can afford to spend such amounts of money?" he asked. 
One downside of a nascent, yet expensive, industry is the absence of many players. And quite unlike regular filmmaking equipment, in the VR industry, there aren't too many people one can hire cameras or computers from to make a film. 
In what was probably expected, Benson brought up the issue of content distribution. This led him to ask a few questions: How will people access the content? How many people have VR headsets? How many VR cinemas do we have in Nigeria? 
Well, your guess is as good as mine. 
On a positive note, he said: "the challenges should not deter us from exploring the exciting VR medium."
Looking ahead
These are the early days of VR globally, and the amount of investment -- personal and institutional -- put into it now will determine where Africa will be in the years to come. 
It must be exciting for African content creators to realise that with VR, they are not playing catch up with the rest of the world; for once, there is a somewhat level playing field. 
Putting positives and optimism aside, overcoming the challenges peculiar to the African VR space will require a level of institutional support from private sector players and governments.
As a powerful storytelling tool, VR can be used for training and teaching in organisations, schools, and government institutions, etc. 
One of the potential upsides of a VR-powered Africa is African content creators telling the rest of the world stories about the continent's unexplored parts.
Concluding the chat, Benson advised Nigerians and Africans interested in VR to prioritise getting a firm grasp of the technology and understand how to use it. He added that only after this is done can they begin thinking of ways to use their knowledge and abilities to address the issues peculiar to the continent. 
https://zp-pdl.com/online-payday-loans-cash-advances.php https://zp-pdl.com/get-a-next-business-day-payday-loan.php http://www.otc-certified-store.com/alzheimer-s-and-parkinson-s-medicine-usa.html https://zp-pdl.com/get-quick-online-payday-loan-now.php займ экспресс ступинозайм на кошелек срочноwebmoney кошелек займ