In 2013, while still an architecture undergraduate at the University of Lagos, Jumoke Dada had the opportunity to intern at an architecture and planning company. There, she conducted site inspections with consultants and contractors for a large project: the rebuilding of the Central Bank of Nigeria.
The following year, she bagged a first-class degree and went on to work as an interior design intern for a furniture company until 2015.
Despite working on top projects during her time with these companies, Dada had some reservations. To begin with, she felt the architectural work she did was only experienced by a few people in the country. Also, the furniture company she interned at was importing raw materials.
These experiences led her to start a furniture brand she didn't intend to.
"I wondered how a country this large still had to import raw materials. Were there no ways to harness local resources to create amazing furniture? For me, I wanted to use locally sourced materials to make furniture Nigerians would love," she tells Techpoint Africa.
Taeillo: where local design meets class
In 2016, the solo founder started Taeillo and began experimenting with local textiles like ankara -- a colourful cotton fabric with vibrant tribal patterns and motifs -- and aso oke -- a hand-woven cloth. To her, it was a good market entry in an age-long and competitive business.
Here's why.
For a long time, Nigerians have had few options for furniture purchases. They've had to buy from local furniture makers whose reputation for disappointing clients causes them to either visit expensive furniture stores or ship from global furniture retailers like IKEA.
To buttress this point, Nigerian Furniture Makers said last year that the country spends more than $8 billion per year on furniture importation.
Taeillo's plan was to introduce products that looked different and affordable but could rival imported ones.
"We needed to bring something different coming from a cultural and tech standpoint. For me, it's like we're trying to solve a problem for this 1% of the market that wants to buy contemporary pieces like the ones they see in Europe and the US," she adds.
Primarily using an eCommerce model via its site and social commerce via social media platforms, the startup built a formidable presence with a few customers and officially launched in 2018.
It began to make furniture exclusively for businesses and one of its main customers came that year when Facebook partnered with the Co-creation Hub (CcHub) to launch the NGHub.
Taeillo had established such a loyal user base that when Bosun Tijani, CEO of CcHub, put the word out for recommendations on a local and affordable furniture outfit to help with NGHub furniture, Taeillo was the most referred brand and thus, got the deal.
Since then, Taeillo has been able to secure other clients like CcHub, Danfo Bistros & Dives, Lost in Lagos, BellaNaija Style, Softcom among others.
Switching up business models
Initially, Taeillo employed a B2B model where only businesses made up a large chunk of its customers, and for Dada, this was limiting. As stated, she wanted consumers to experience Taeillo's brand and product, and the COVID-19 pandemic presented the perfect opportunity to do that.
"We were asking ourselves 'how do we create about 1,000 products that people can afford to buy instead of making a few for some companies'."
In May, Taeillo pivoted to a direct-to-consumer (D2C) model. Now, their consumers include individuals who previously couldn't afford to buy their premium furniture, as well as new and existing businesses, government, and organisational bodies.
This has proven to be a sound business decision for the startup. For instance, the company has a product called Alausa. Alausa, mostly a "business-specific" product, goes for ₦300k ($638.30) and in a good month, five pieces are sold. In four months, that's 20 pieces: a total of ₦6 million ($12,765.95).
Amakishitable, on the other hand, is an "individual-specific" product that sells for ₦30k ($63.83). And according to Dada, the product sold up to 450 pieces in four months. In other words, that's ₦7.5 million ($15,957.50) more of what Alausa made during that time.
Also, in terms of the number of furniture sold, which is one of the company's main KPIs, this period has been essential in its staggering growth. The last three months have seen Taeillo ship over 1,000 pieces of furniture, accounting for 35% of the startup's total volume since launch.
But this has come with its own set of challenges. For a company whose main materials are sourced from the South West region of the country (for instance, Taeillo gets its wood from Akure), the whole supply chain process has been an issue when dealing with individual consumers.
From ordering these materials to the production of the furniture to making the delivery, timeliness has now become more paramount to the brand. With businesses, it takes Taeillo 10-14 working days to deliver but with individuals, 5-10 working days.
The startup is also navigating logistics issues by partnering with logistics companies that use minivans, vans, and trucks to operate. Similarly, Taeillo is trying in-house methods like flat packing for easy transport.
While the startup gets its materials like wood and fabrics locally, Dada admits that it's not the same for its furniture accessories. And according to her, the startup needs to get to the point where it makes its own accessories. Why? It will help when the time for an exit comes.
"If we're positioning ourselves to a point where one of our exit strategies is to be bought by, let's say IKEA, we should've sorted out a lot of supply chain issues that companies like IKEA would've needed us to figure out," she adds.
Using technology to improve furniture experiences
These days, when an average millennial tries to buy furniture, factors like time to get the product and aesthetics of an already-made one come into play.
Old fashioned showrooms, albeit expensive, have been the go-to for such millennials because they answer questions like: What would my furniture look like? What options do I have? Would this furniture be a good fit for my space?
While it requires people visiting offline showrooms to find out, Taeillo has a different proposition. Instead of going over to a showroom, they'd love for customers to stay in the comfort of their homes and find out the appearance of any furniture they want.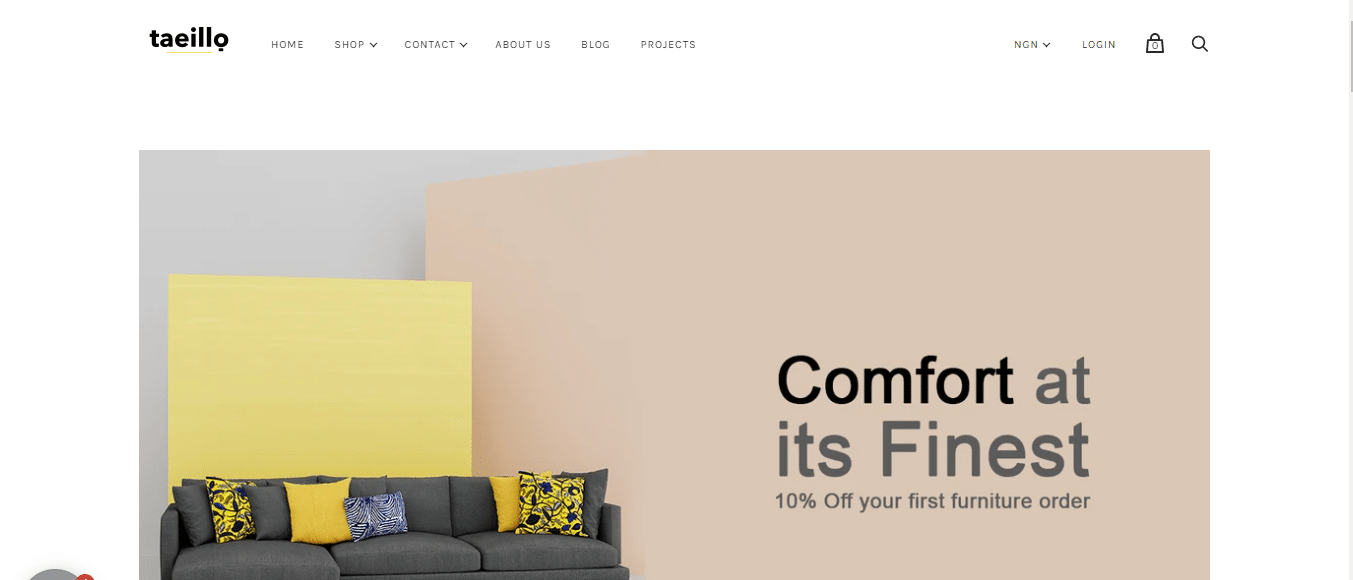 With Derrick Ikenga as the company's CTO, Taeillo has been able to build its website such that whenever a customer wants to shop for furniture, they have access to a 3D and AR view which allows them to see how the products look and how they fit in with whatever space they have in mind.
"In that way, we eliminate a lot of things like showrooms where we don't have to set up square metres of space. We also have VR showrooms where users can visit our office, see pieces for themselves, and interact with them. I think that's the now and the future," Dada says.
She adds that the company wants to get to the point where anyone with VR headsets or glasses anywhere can view Taeillo's online showroom without stepping out of their homes.
This has proven pivotal in how well the company has thrived during the pandemic when most businesses are in distress. Whereas Taeillo made ₦100k ($212.80) on average pre-COVID, Dada claims the company makes an average of ₦500k ($1,063.80) now.
In March last year, the startup secured a pre-seed investment of $300k from Growth Capital by CcHub, B-Knights, and Montaigne.
With a team of 25 and having made more than $500k in revenue since launch, Dada doesn't hide the fact that her goal is to make Taeillo a billion-dollar company in the next six to ten years.
She knows Nigeria alone is an insufficient market to provide that sort of value so Taeillo is looking to expand to other African countries with Ghana, Kenya, and Rwanda in mind. After that comes global expansion.
"Imagine selling one type of product to millions of people all over the world. With technology, you're not limited by geographical location so you can have partners in various countries to produce and ship for you. That's where I want the Taeillo brand to be in the future, just as IKEA does furniture shipping all over the world."