Nigeria's four major service providers -- MTN, Glo, Airtel, and 9mobile -- continued their battle for mobile Internet supremacy in Q1 2020. Last year, it briefly looked like a two-horse race between MTN and Airtel, but the country's data war is getting even more interesting.
According to industry data from the Nigerian Communications Commission (NCC), Nigeria's Internet subscribers hit 135 million in Q1 2020, a staggering 19.9 million increase from Q1 2019. In the same period, active telephony subscribers have jumped from 173.7 million to 189.2 million.
This growth is especially noteworthy considering that Internet subscriptions hit a landmark 100 million in Q1 2018, and have since continued on a bullish run.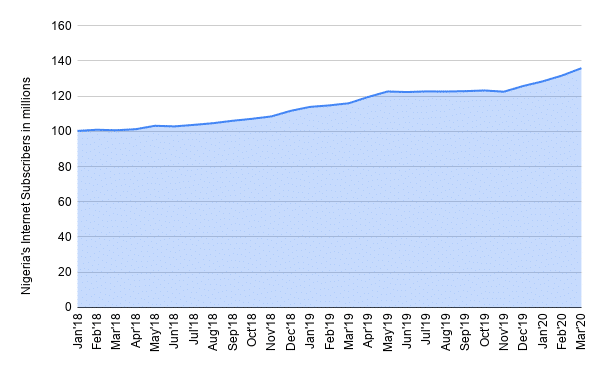 The NCC's Internet subscription figures further reveal that among the big four telcos, Glo received the lion's share of Internet subscriptions in Q1 2020 with over 4.9 million subscribers, a staggering 1,194% increase from Q1 2019 when it gained 381,438 subscribers.
MTN followed closely with 3.16 million Internet subscribers, a 19.4% increase from 2.6 million in Q1 2019. Airtel had a 55% increase from 1.45 million Internet subscribers in Q1 2019 to 2.3 million in Q1 2020.
However, in the same period, 9mobile continued its free fall from the past three years with the loss of over 306,107 Internet subscribers, a worse showing than in Q1 2019 when it lost 277,427 subscribers.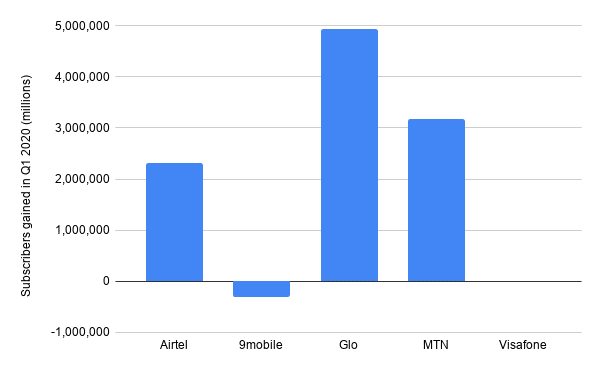 While these numbers clearly show a massive increase in Internet subscriptions since the turn of the year, they do not necessarily paint the full picture of Nigeria's Internet market.
According to the NCC, MTN's subscribers hit 57.2 million in Q1 2020, but MTN's report for the same period puts active data subscribers at 26.8 million. This means that about 30 million Internet users are inactive.
MTN defines inactive subscribers as those who subscribed 5mb or less within the past nine months.
While the NCC reckons that Airtel currently has over 36.8 million Internet subscriptions, Airtel, in its Q1 2020 prospectus records 16.7 million active data subscribers in Q1 2020. Leaving over 20.1 million as inactive.
Though MTN and Airtel alone post these numbers (for active data subscribers), considering the large share they command in Nigeria's telecom market, one might expect similar outcomes for other telcos.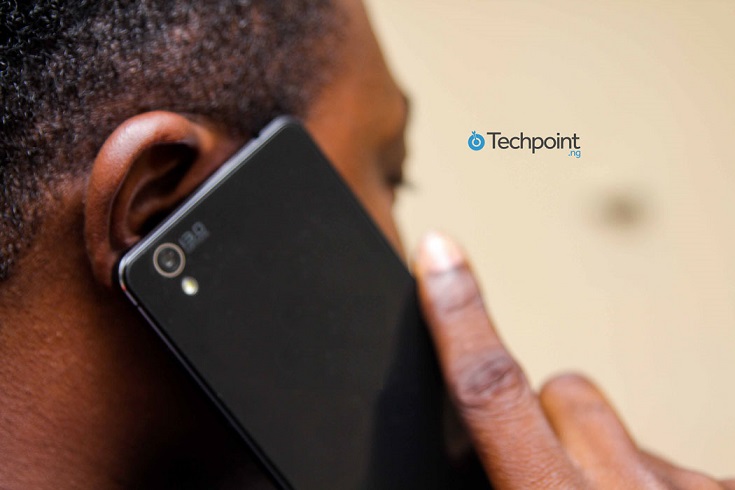 Also, despite the massive increase in Internet subscribers, voice revenue (calls and SMS), remains the cash cow for Nigerian telcos.
In Q1 2020, MTN raked in ₦227.6 billion ($587.5 million) from voice calls and SMS, almost five times the amount generated from data (₦46.6 billion -- $120.28 million ), in the same period.
According to Airtel Africa's Q1 2020 report, voice revenue from across its 14 markets stood at $510 million (₦197.58 billion), more than twice it's data revenue which hit $253 million (₦98 billion).
Nigeria alone accounted for $234 million (₦90.6 billion) and $120 million (₦46.4 billion) of the company's voice and data revenues respectively.
MTN and Airtel both state that the pandemic has reduced voice revenues and caused a corresponding surge in data traffic. While MTN believes that the surge in data revenues might not offset the loss of revenue from voice, Airtel is optimistic that it will.
Unlike previous years, Nigeria's big four telcos have slowed the rate of reductions in data prices. Not even the advent of COVID-19 could spur another data war, despite the surge in Internet activities.
According to Gbolahan Awonuga, secretary for the Association of Licensed Telecommunications Operators of Nigeria (ALTON), the increase of VAT to 7.5% and the hike in Right of Way (RoW) charges by some states earlier in the year has tied the hands of most service providers in Nigeria.
With the recent reductions (or total waivers) in RoW charges by some Nigerian states, the country's telecom market might be in for some interesting times ahead.