For most businesses and startups, the harsh economic realities caused by the COVID-19 pandemic are beginning to have multi-dimensional effects. Startup founders and employees are either filled with uncertainty at best or pessimism at worst.
Recall that the world experienced similar levels of recession from 2007 to 2009 and 2000 to 2001, but with COVID-19, while mortality rates have been relatively low when compared to the legendary killers of 1918 and 1347, the economic effects and the impact on individuals have been sudden and horrific.
According to the Kauffman Foundation, since the great recession, younger firms have been the number one creators of employment.  To put this in proper perspective, over half of Fortune 500 companies were created during a recession or a bear market.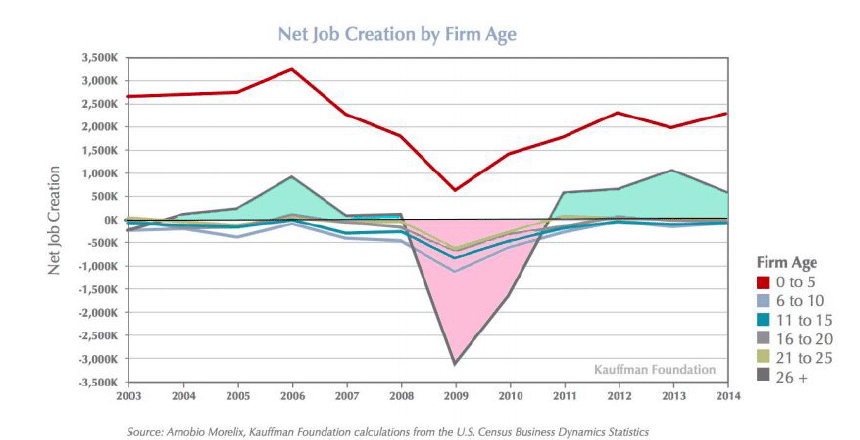 Currently, tech companies founded during the global startup revolution — minus the much older Microsoft and Amazon — have created five of the ten largest public corporations in the world: Alphabet (Google), Amazon, Facebook, Alibaba, and Tencent.
Startup policy researcher, Startup Genome, states that in the past 80 years no other major sector — oil and gas, automobile, finance, or telecom — has ever produced more than three of the top ten global corporations.
According to the report, while previous trends point to older and more established firms cutting down staff, new tech firms can be found creating jobs as they exploit business opportunities created by the recession or pandemic with disruptive business models.
So far, tech companies and innovators have witnessed increased importance during the pandemic. The extended lockdown engendered the use of video conferencing and workplace apps, and several people became creative in their use of various social media platforms.
In Africa, various startups and individuals have come up with novel and innovative solutions to help individuals cope with the effects of the pandemic.
Besides health, edtech platforms ensure continued learning, eCommerce and logistics platforms continue to drive supplies of essential items, and the rise of digital activities is being fueled by the infrastructure from fintech companies like Interswitch, Flutterwave, and Paystack.
Startups in Africa are under threat
A survey by Startup Genome that featured 1,070 startups from 50 countries around the world, revealed that a majority of startups are in the red zone, with less than three months of cash runway.
"The first to run out of cash will be those who had started to fundraise in the last few months, nearing the end of their runway before the crash," Startup Genome states.
According to a report by AfricArena, an African tech ecosystem accelerator, a lot of pre-seed to Series A startups will likely shut down their businesses within the next three to nine months.
[auto-iframe link=https://techpoint.africa/2020/04/28/impact-covid-19-african-startups/embed tag =first]
According to Startup Genome, if revenue and expense levels remain unchanged, three out of every ten startups might die out globally in the next three months, if additional capital is not raised.
Unfortunately, there's not much to be expected in the way of capital as global VC deals are predicted to drop in 2020, a scenario that can already be seen in countries like China where VC investments have shrunk by 50-57% in the two months following the onset of the pandemic.
"If similar drops are recorded in other parts of the globe, then startups might be set to lose roughly $28 billion in funding," the startup genome states.
In Africa, a favourable funding landscape appeared in the first quarter as African startups raised $350 million in Q1 2020 and Nigerian startups raised a total of $55.7 million within the same period.
However, according to AfricArena, Africa is set to lose nearly $1 billion in VC funding by the end of the year.
[auto-iframe link=https://techpoint.africa/2020/05/06/african-venture-capital-to-drop-by-40-at-the-end-of-the-year/embed tag=second]
Besides the drop in VC funding, the pandemic has led to massive job lay-offs around the globe. While Startup Genome states that larger tech ecosystems are expected to recover, they have also been the most affected.
On April 23, Crunchbase reported that startup lay-offs had reached over 20,000 in the US. Ride-hailing company, Uber, founded during the last great recession, is one of the latest tech unicorns to lay-off staff due to the effects of the pandemic.
After the onset of the pandemic in Nigeria, there have been unconfirmed lay-offs by some startups, and more recently, software talent company, Andela, fresh off some major upheavals in the past year, laid-off 135 staff across 4 countries, citing the impact of the pandemic on its client base as the main factor.
[auto-iframe link=https://techpoint.africa/2020/04/13/startup-and-employees-uncertain-future-lockdown/embed tag=third]
Policy investments are necessary
While a drop in VC funding is a trend that can be found in previous global economic crises, as reported, based on previous trends, startups are key to the economic recovery of most nations.
Currently, a number of palliative measures have been introduced by various governments to cushion the effects of the pandemic on the economy and in some cases, for tech-enabled businesses.
This has been done through tax breaks, reduction in VAT, and the earmarking of intervention loans for SMEs and startups.
Denmark is covering 75% of salaries for companies that do not cut staff, Germany is offering to cover 60% of the new salaries for former full-time — now part-time — employees, and the UK is considering a Runway Fund with a convertible note scheme for companies that cannot access bank loans.
Last month, the Nigerian National Information Technology Development Agency (NITDA), set up a committee to help ICT companies cope with the effects of the pandemic. The government has also introduced a ₦50 billion intervention fund for SMEs and small businesses that have been adversely affected by the pandemic.
While these are laudable initiatives, more palliative measures and urgent implementation of current measures might prove to be a stitch in time.
[auto-iframe link=https://techpoint.africa/2020/04/16/financial-nigerias-lockdown-extension/embed tag=fifth]
According to Startup Genome, as the coronavirus crisis deepens, and if startups are not supported, the lay-off of startup employees will have more ripple effects on the talent pools of local economies, than one would expect from lay-offs by traditional companies.
"Studies we observed suggest that for every high-tech job, 5 additional jobs are created in the service economy — losing your high-tech jobs will lead to ripple effects much beyond your startup ecosystem," the report states.
Startup Genome's analysis shows that while some startups inevitably die, as a portfolio, government support will produce more jobs in the present and future at a lower "cost per job" saved.
For Africa, the creation of a favourable business environment will also be of utmost importance, to ensure the survival of its growing tech ecosystem. Even with little funding, the right policy parameters could prove to be worthwhile for the myriad of innovative individuals on the continent.