It has been a difficult few weeks for commuters and road transporters alike since the enforcement of the motorcycle ban in most parts of Lagos state, and devoid of any other alternatives, most parties are seemingly coming to terms with the new development.
Based on the provisions of the Lagos State Transport Sector Reform Law and the federal constitution of Nigeria, tech lawyer and policy expert, Timi Olagunju, in a recent chat with Techpoint, revealed a legal loophole that could possibly reverse the order.
---
Suggested Read: The legal loophole that could possibly save MAX, Gokada and ORide in Lagos
---
For now, however, some ride-hailing platforms are seemingly looking to exploit a different kind of loophole in the recent okada (passenger motorcycle) ban.
In an interview with Techpoint, CEO of Gokada, Fahim Saleh, explained that as part of its re-strategising process, the company will be launching its delivery service (Chop) within the next month.
However, in another report, we discovered that Gokada may have actually launched its delivery service, in partnership with e-commerce giant, Jumia.
Similarly, Techpoint can also confirm that Nigerian logistics giant, GIG Logistics (GIGL), is in talks with OPay's ORide regarding a possible partnership, as the latter may also be looking to pivot into the delivery space in Lagos.
GIGL Lead, expansion and growth, Odafe Ojonah, reveals that both companies are already in talks that could see the multiservice platform, OPay, bring in its bikes in order to back GIGL's delivery service.
Though OPay acknowledged that talks are ongoing, nothing is certain as there have been no other official comments about the proposed partnership.
In fact, a source close to the matter at the company stated that a pivot to deliveries itself is still an ongoing conversation, amongst other possibilities.
On the other hand, Ojonah confirms that another ride-hailing platform, 1st Ride, has already concluded a partnership with GIGL and its bikes have been absorbed and given the GIGL brand.
Business sense and oversaturation of the logistics sector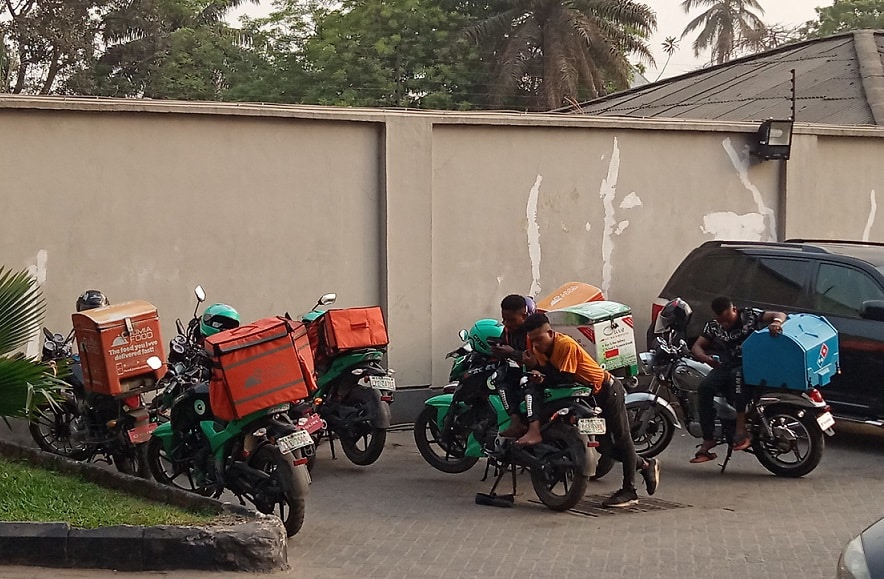 For both Gokada and ORide, these moves could be significant, as both players have little knowledge in terms of logistics and delivery despite their experience in the ride-hailing market.
Ojonah explains that with the okada ban comes the need for ride-hailing companies to pivot, and given their lack of experience in the delivery space, partnering with an already-established player makes even more sense.
For example, he adds that with the partnership, any ride-hailing company could access GIGL's wide distribution network, resources and a customer base that has developed trust over the years in the company's delivery services.
However, since these ride-hailing platforms were initially meant for passengers, a massive pivot to logistics raises questions about the risk of oversaturation.
For Ojonah, this might not necessarily be the case.
According to him, logistics is important to businesses across all sectors. He also adds that the increasing popularity of social commerce, food deliveries, fast-moving consumer goods (FMCGs) in ecommerce, has increased the need for delivery services, nationwide.
"In this present age, people no longer want to leave the comfort of their homes, when there is a reliable delivery service that can bring whatever they want to their doorsteps," he concludes.
Since the new order clearly exempts bikes engaged in deliveries, a proposed pivot to deliveries might seem to be a no-brainer for ride-hailing platforms.
Recall that in 2012, when the initial okada ban was enforced by the Babatunde Fashola-led administration, bikes with engine capacities of 200cc and above were exempted: a loophole exploited by MAX, Gokada and ORide.
However, as pointed out by a policy expert in an earlier piece, the government didn't anticipate that such an exemption would turn into large-scale transport services in the state.
---
Suggested Read: Lagos Okada Ban: A policy expert walks us through some burning questions
---
If ride-hailing platforms begin to pivot in numbers to the delivery space, could it possibly attract fresh regulatory attention in the next few months? Only time will tell.