The year 2019 can aptly be described as the year of creative telco ads and slogans showcasing various deals for data bundles in Nigeria, as each service provider tried to claim the lion share of Nigeria's Internet population.
Stiff competition amongst the telcos has caused repeated beat downs in data price, and the rapid spread of 4G technology. On the flip side, most users can now attest to the fact that data seems to be draining more rapidly and the cost of accessing the Internet is still relatively higher than in other countries.
---
Suggested Read: Surprise! Nigeria supposedly has the most affordable internet in Africa 
---
According to industry statistics from the Nigerian Communications Commission (NCC) for November 2019, MTN gained the highest share of Internet subscribers with 850,285 subscribers, more than twice as much as Airtel, 307,070, while Visafone rounds up the gainers' table with 7,939.
In the same month, the self-anointed grandmasters of data, Glo shockingly lost ~1.7 million subscribers with the only other losers, 9mobile, shedding 210,374.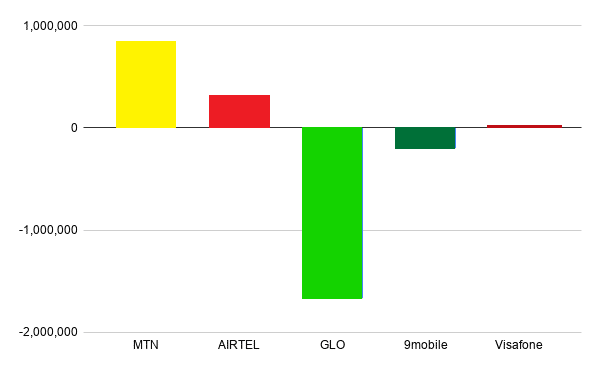 Speaking to some Glo users, the majority affirmed that the telco has relatively cheap data plans, but while a precious few praised its speed, the web surfing speed leaves much to be desired.
Of the big mobile network operators, Glo has been leading the way with cheap data plans, and in the opinion of some users its relative sluggishness lets the data "last longer".
Judging by the massive loss, it may seem that more subscribers are valuing the speed and quality available on other networks to the quantity of data. The only complaints here are fast draining data bundles that "defy reasonable explanation".
Likely as a result of Glo's shocking loss, the number of Internet subscribers reduced by about 716,846 between the months of October and November, as gains made by MTN, Airtel, and Visafone could not make up for this loss.
---
Suggested Read: The race for data supremacy in Nigeria appears to be narrowing down to just MTN and Airtel
---
Encouragingly, compared to January 2019, it appears Nigeria now has more Internet subscribers. According to the NCC, Nigeria gained more than 8.6 million Internet subscribers, increasing by 7.56% from ~113.9 million in January to ~122.5 million.
In the year 2019, despite trailing its competitors for up to 5 months, MTN has gained the highest share of Internet subscribers with over 7.08 million, closely followed by Airtel 3.46 million, and Visafone, 26,290 subscribers. Glo, on the other hand, has lost 276,671 while 9mobile records the heaviest loss at 1.74 million subscribers.
It is somewhat telling that by October 2019, Glo had gained 1.3 million subscribers, but what it lost in one month (~1.7 million), was not far away from what 9mobile lost (~1.74 million) for the entire 11-month period.
---
Suggested Read: Airtel and Glo slowly closing up the gap on MTN in Nigeria's Internet market — NCC report
---
An observation of the NCC's industry stats reveals that the growth curve of Internet subscribers in 2019 followed a similar trend to the preceding year of 2018.
While the 8.6 million Internet users added in 2019 seems a little better than the $8.2 million gained in 2018, the percentage growth for 2018 stands at ~8.2% compared to ~7.5% recorded in 2018.
For the telcos, it was a mixed bag of improvement, underperformance, decline, and business as usual.
MTN's 7.08 million Internet users in 2019 is a marked improvement from its intake of 4.4 million subscribers in the same 11-month period of 2018. On the other hand, Airtel slightly underperforms, gaining only 3.4 million Internet users in 2019 compared to 4.13 million in 2018.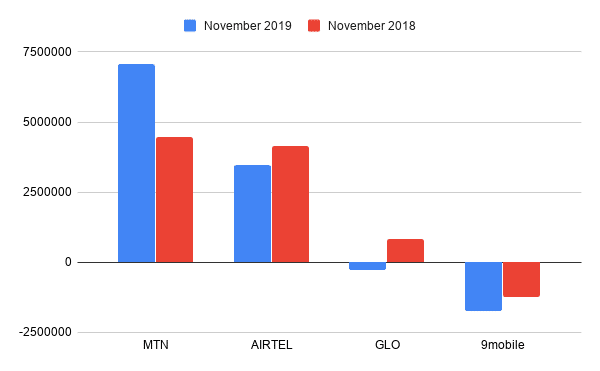 However, 9mobile lost a little more in 2019 (1,747,111) than it did in 2018 (1,219,474). Glo also declined considerably in 2019, with its loss of 276,671 Internet users compared to the 834,000 subscribers it gained in 2018.
Last year, Nigeria's Minister of Communications and Digital Economy, Dr Isa Pantami gave directives to telcos to reduce the cost of data, rapid data deduction and improve the quality of service but it remains to be seen if telcos would follow through on this.
From the numbers we've seen, it is safe to say that interesting ads and catchy slogans are paying off for some, but for others, providing something more substantial is probably needed going forward.