No business or institution, anywhere in the world, can boast of having it all figured out at the start, not even the "almighty" banks. Over time, banks have continually iterated their operations to see what works. From accepting deposits to lending, merchant invoicing and client satisfaction, they are yet to attain the perfect model around their operations.
In Nigeria for instance, service providers like Interswitch have helped catalyse the operations of financial institutions by providing digital infrastructure. In recent times, a new era of tech startups that are unbundling banking activities -- the likes of Flutterwave and Paystack -- have already innovated around payments. However, there's still so much ground to cover, especially when it comes to satisfying the finite minds at the end of the banking product chain -- humans.
This is a fact that became apparent to Tosin Eniolorunda -- while working at Interswitch.
It began with an exit
Leaving a seemingly promising career to chart an entrepreneurial course may be an impossible mission for many, but not so for Tosin. Realising a gap in the industry, he quit his job in 2015. Over the following few months, he was joined by Odun Adeboye, Felix Ike (both also ex-Interswitch), Adrian Agho and Emeka Ibe. Together, they formed TeamApt to take on the challenge. Soon after, Tunde Ogidan joined in from Interswitch to complete the founding team.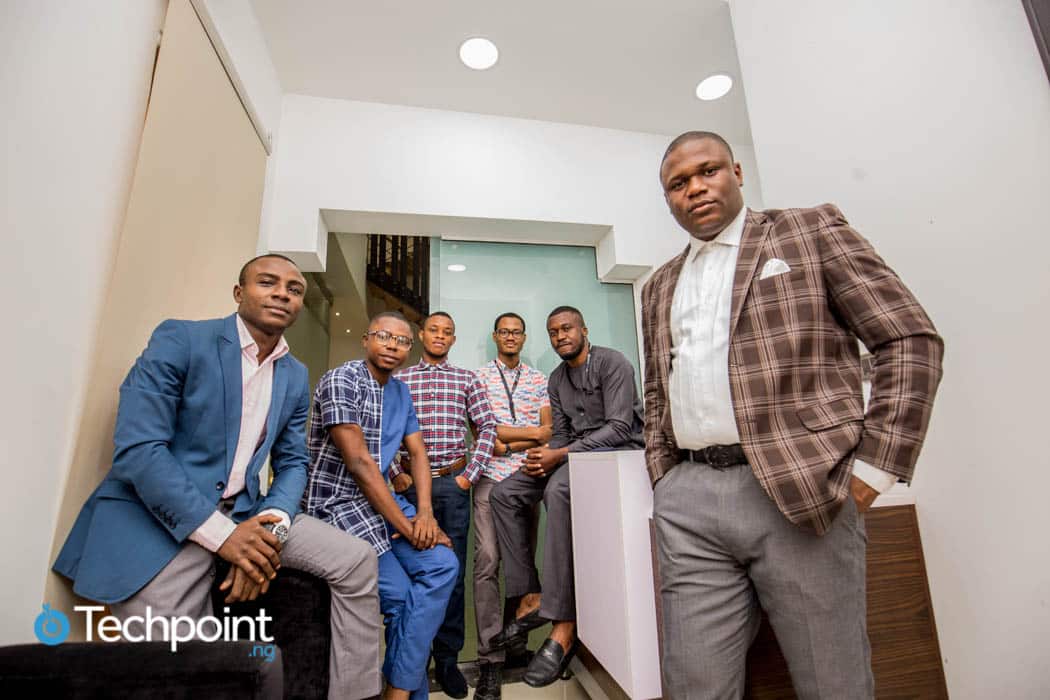 They had a defined goal; to provide end-to-end service (front-end and back-end) as well as full system automation, credit/debit reconciliation and any other digital products that would help banks accelerate their activities and set them on the same pedestal with the digital age. With this, the solution completes a cycle -- from the merchants to the banks and back to the merchants.
Money and happiness are fundamental to human existence. At the centre of money and happiness is the banks because that's where people save their money. We believed that if we could build technology solutions that implement these properly, we would have won because it's not going to change till Jesus comes. Even if money changes from fiat to blockchain. That's what drives us. " -- Tosin Eniolorunda, Founder and Managing Partner, TeamApt.
Quickly, they began their initial projects, around the major pain points at that time -- PoS credit/debit reconciliation for merchants. According to Tosin, this was a critical challenge because back then, banks did PoS settlement in bulk. They did not break down and analyse sales volume and process. As a result, merchants couldn't really tell which customer paid for what and the amount paid.
In 2016, TeamApt successfully completed and launched its first digital PoS acquiring solution -- which is now used by almost all Nigerian banks.
"By the end of 2018, we should have closed 98% of the banks," Tosin believes.
From TeamApt to 'BootstrApt'
It is the desire of most startups to woo potential investors. However, the case differs for Tosin and his team. They decided not to take external funding, at least, not at the early stage of their business.
While their decision is benched on so many reasons, Tosin explains their core concern. In the bid to satisfy investors, a lot of businesses are usually trapped. As such, they make less attempt to take risks or innovate spontaneously, as they deem fit.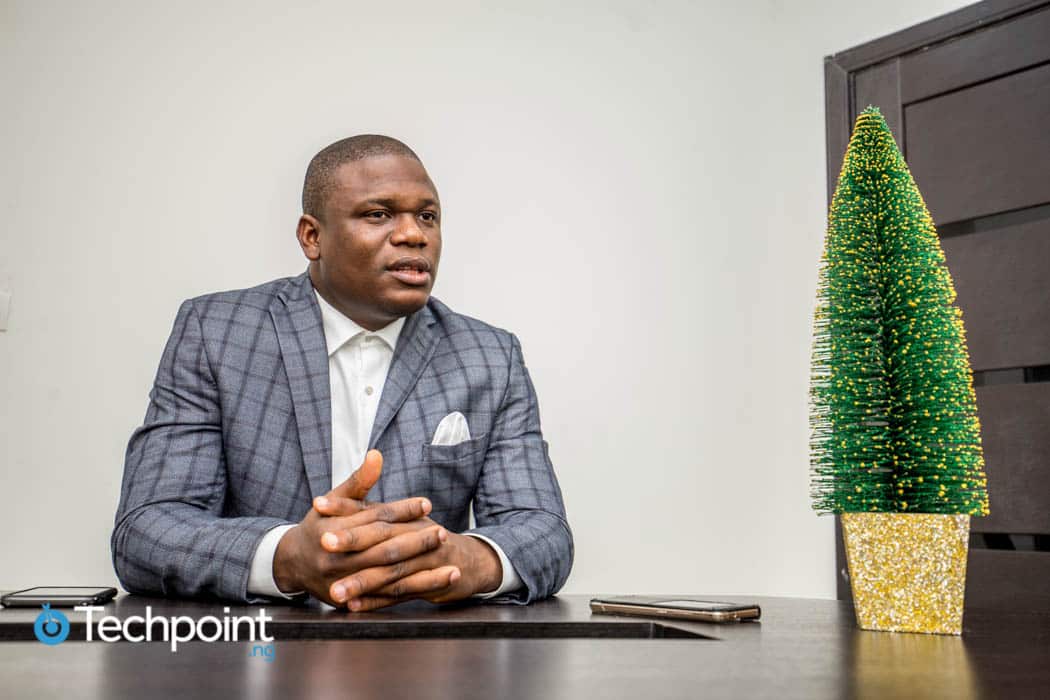 Obviously, the team wasn't ready to deal with investors at the expense of retarding their innovative prowess. Especially not at the very early stage of their company. They would rather create value.
"Since people will jump on you when you have value, it's better to prove that you have value first, then come back to place demand on that value," Tosin remarks.
He also claims TeamApt hasn't raised institutional funding till date. This begs the question of how they at least got their initial projects off the ground. As anticipated, Tosin was the major financier of the project. His personal savings played the role of "investor", the majority of which came from side hustles. Other side projects the team was engaged in also helped to keep things afloat.
Go-to-market strategy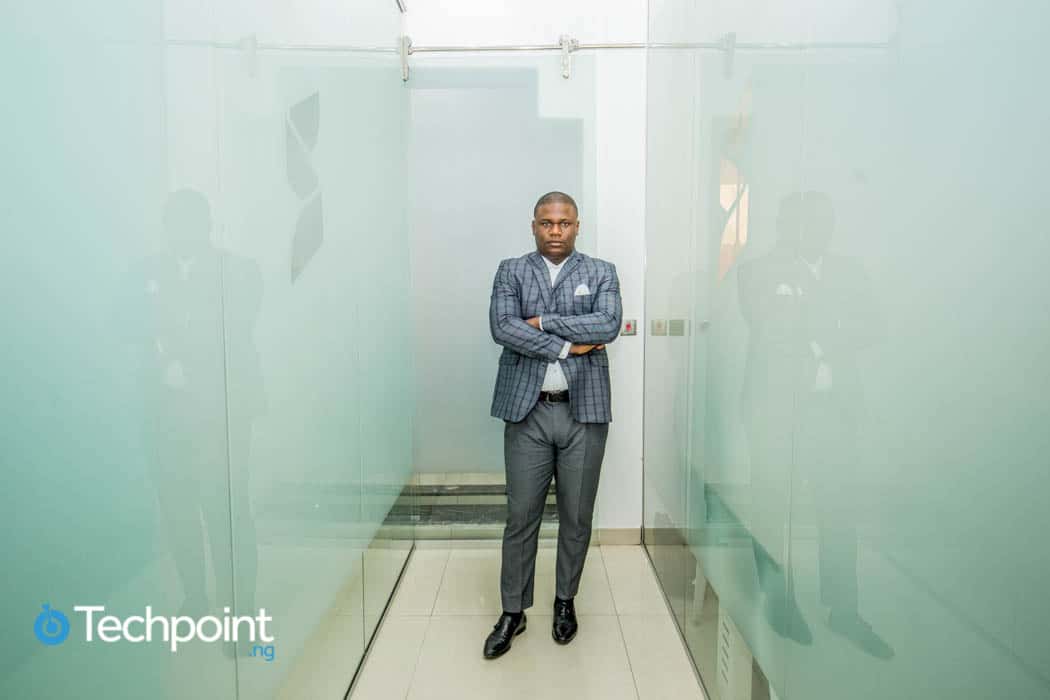 When you start without having a lot of funds or revenue, you don't start out being cool. You start out being roughed." -- Tosin.
For most startups, penetrating the market is usually a daunting task. Tosin himself confirms it. However, unlike B2C models where money plays an essential role, especially when it comes to product marketing, providing B2B solutions gave TeamApt an edge in breaking the entry barrier.
"In B2B solutions, you don't need so much money to close deals. In B2C you need to do marketing, go out and make noise. (For us,) it was more of showing the banks the problem they had and how we could solve it."
Believing in and betting on the solution and value they had created, they decided to give their solution to a bank to try out for free. The hope was that if things went well, they could use it as a reference for subsequent banks. Fortunately, Fidelity Bank opened its doors first. A top executive at Fidelity bank -- one of TeamApt's early adopters -- confirms this.
"We wanted a more efficient and automated way of reconciling these transactions, then TeamApt came along, we tried them with one or two products to reconcile and it worked out. So we decided to go all in."
TeamApt gradually entered its growth cycle as more banks began to gain interest in them, and in less than 2 years, the business grew to 7-figure (in dollars) annual revenue.
From Fidelity to Infinity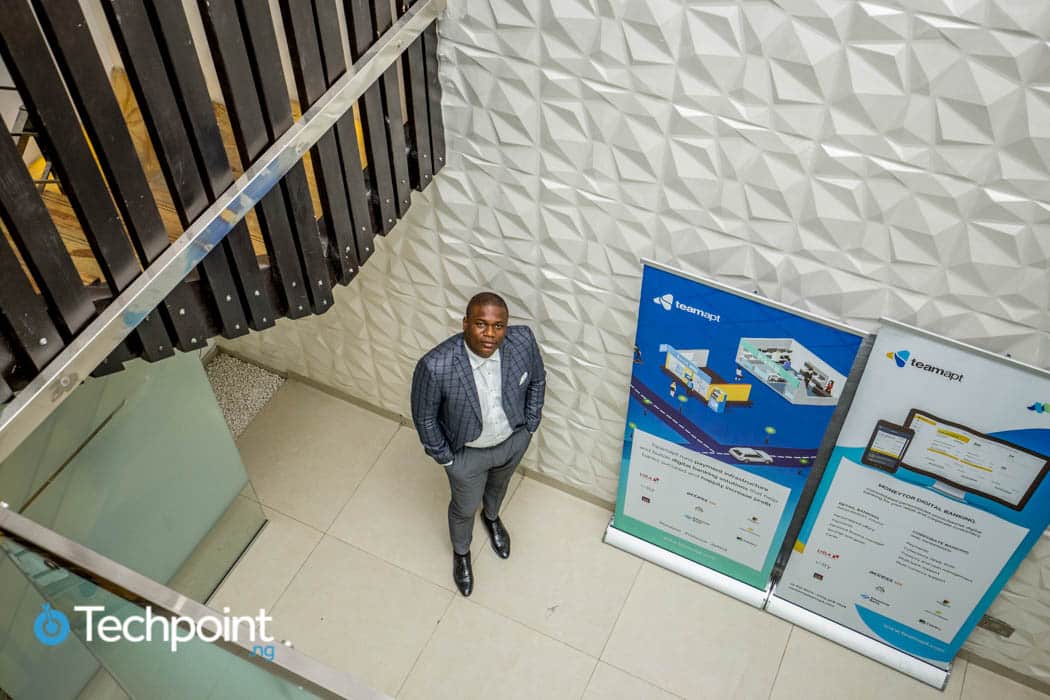 Since the first banking solution proved effective for Fidelity Bank, they didn't hold back in referring TeamApt to other banks. From Fidelity Bank to First Bank, to Access Bank, to being among the solution builders for the newly launched ALAT by Wema, TeamApt has no doubt made remarkable progress within few years of inception.
Seeing the fast adoption rate by other banks, the team seized the opportunity and pivoted fully into digital banking solutions (for people and businesses), with financial happiness -- their core propellant -- still in the picture.
The same way people have the need to transfer money, recharge, get statements -- which they easily do from their phones today, businesses also have the need to pay salaries, pay taxes, etc. Today, we are not aware of one single solution that businesses can use in handling their business banking altogether. We are positioning ourselves to be that."
TeamApt has gone ahead to initiate the digital banking system with First Bank, UBA, FCMB, and some other banks, amounting to 10. This time around, execution and penetration weren't so difficult since they already had a presence in most banks.
TeamApt now builds apps that will be much more encompassing and actually service the digital needs of people in the future. One of which includes the first instant transfer app that is based on blockchain.
"The industry is changing and people are changing," Tosin explains, "younger people whom we call digital natives do not want to go to banks. If the banks do not upgrade to suit the needs of these digital folks, they will lose out."
No such thing as a smooth sail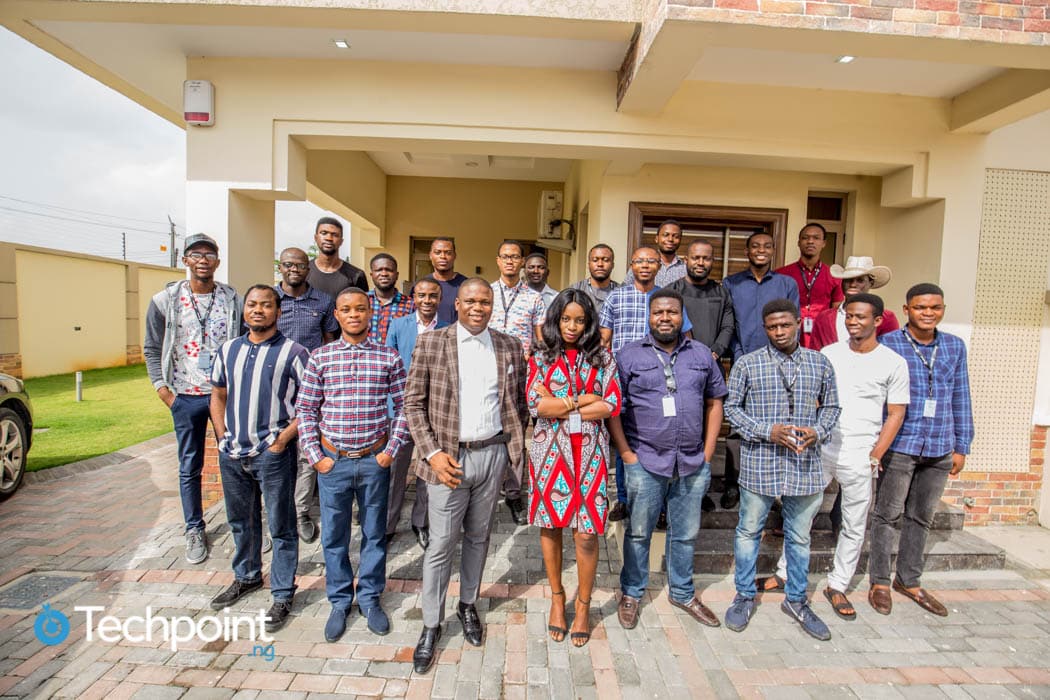 Of course, the team's decision to bootstrap was no walk in the park. Globally, more than 70% of businesses fail in their first 2 years. This is coupled by a statistical revelation that even in developed economies, most startups cannot boast of profitability in at least to first 3 years of launch.
In spite of these, TeamApt managed to pull off a 7-figure annual revenue (in dollars) bass. This exponential growth within a short period was achieved by continually investing revenue back into the business, especially in the early days.
In the future, the team intends to go directly to businesses. However, it's currently betting on its dealings with the banks to achieve that goal of happiness, especially since banks already have most of the corporates and customers that are financially included today.