11 years of providing Broadband connectivity solutions to clients across 10 sectors of the economy is testament to our solid infrastructure and service delivery. We are called e.Stream Networks Ltd.
As an ISO 9001 Quality Management Certified Organization, we have built a solid relationship with our clients helping them achieve their business objectives with our convenient connectivity solutions.
Our partnership with global and African carriers to continually provide topnotch QoS (Quality of Service) for our clients is the essence of our business today by using a variety of up-to-date technologies-RADIO, FIBRE, VSAT, and 4G LTE.
Being 100% customer-centric, we take pride in our swift service deployment and unrivalled service support through the active participation of our skilled engineers and service management professionals.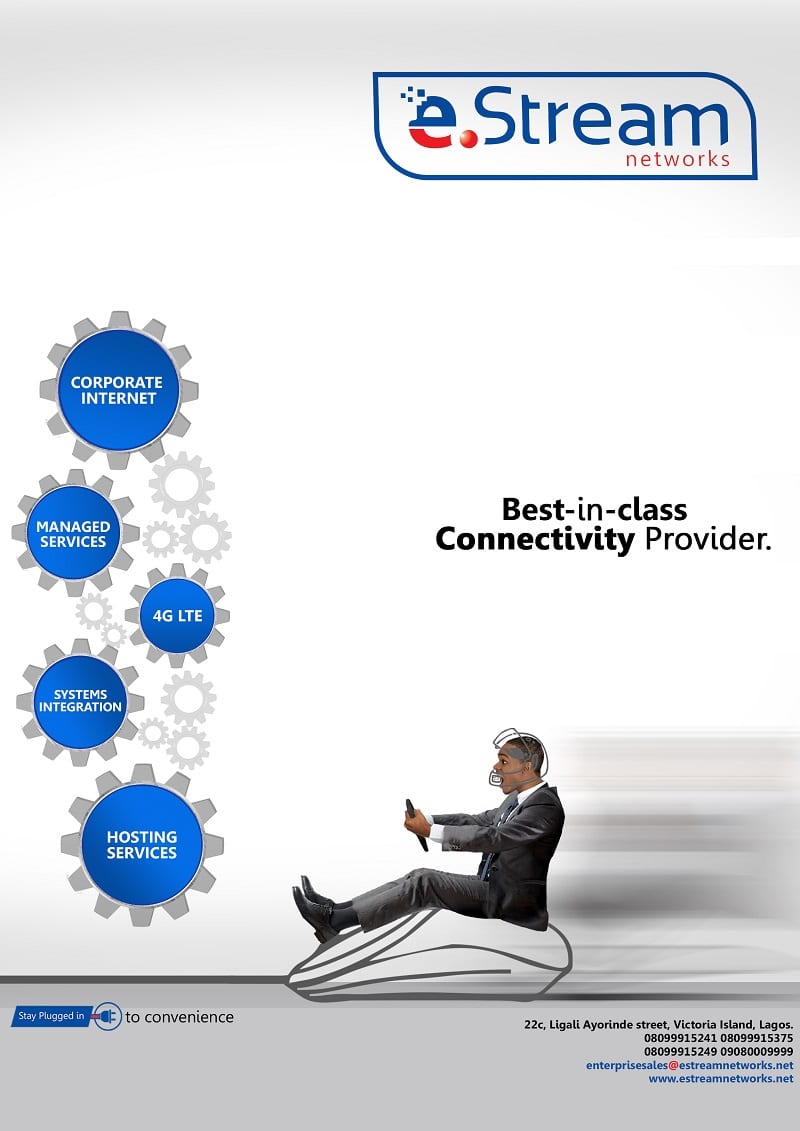 For any business to truly connect to its network, data and customers, simply connect with us by choosing from an array of our connectivity solutions;
Corporate Internet Access
4G LTE Internet Access
Managed Solutions
Professional Services
Hosting Services
Service Highlights
Enjoy a dedicated internet access capacity from 5mbps- 310mbps
Enjoy a shared internet access capacity from 5mbps- 30mbps
Wi-Fi access point for LAN internet distribution
Firewall device
A dedicated Service management professional
*All Internet data access is uncapped.
Introducing e.Stream's 4G LTE Internet access
Our 4G Lte internet access is targeted at small offices/Home offices (SOHO) and can be shared on smartphones, tablets, notebooks and wireless internet terminals.
Subscribers can now experience;
 Much better browsing quality
Increased browsing capacity at a download speed of about 10mbps
Easy video and Audio streaming
Clear video conferencing
Visit www.estreamnetworks.net for data plans and coverage areas.
We mean it every time we say we'll take away the complexities of your existing Internet service providers and offer you seamless connectivity. How else could we have won "Broadband Company of the Year 2017" if not for the excellent performance history for the past eleven years?
Check our clientele here and choose us.
Photo by Brett Sayles from Pexels