I'm not sure if this is good news for anyone, or even good news at all, but Instagram ads which were previously unclickable because Instagram wanted people browsing photos, not the web are now openable. Why? Because Instagram advertisers demanded more vivid ways to influence people who "lead to meaningful results for their businesses."
So for the first time, your Instagram will start showing clickable links, but only in its new multi-photo carousel ads which tell a story by letting you swipe through four branded images in sequence. The "Learn More" button, when clicked, will open the URL in an internal browser within Instagram. Users can go back to their Instagram feed with a tap of the top bar.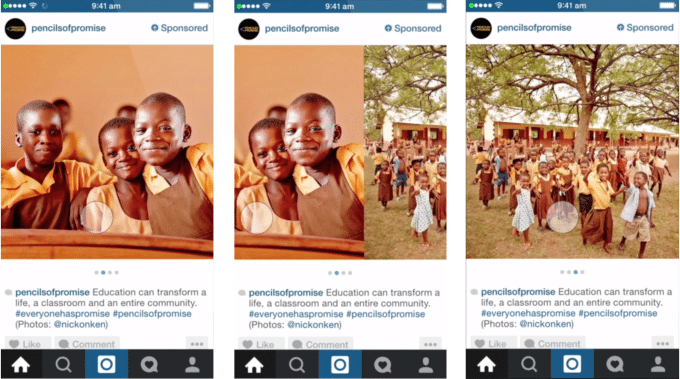 Above you'll see a carousel for Pencils Of Promise, a non-profit that builds schools. A single photo might have been easy to scroll by. But if someone is interested, they can swipe through to see more photos of the students the organization helps, and at the end, click through the Learn More button to donate. A fashion brand could show a model wearing a complete look, or outfit, on their first slide. Swiping though, you could see close-ups of the dress, handbag, and sunglasses, with a link out to buy these items at the end.
For now, these ads will just include photos, I bet videos would soon be allowed too as well as option to share the carousels. Snapchat's my story is definitely a hit, and Instagram might want to open a similar creative medium to everyone, including advertisers.
Hey, we all hate that ads are getting more powerful on Instagram, but it's the revenue they generate that make the app free. When Instagram first began showing ads in October 2013, it endured a temporary backlash from users, but the complaints eventually died down. About four months ago, Instagram added the use of video ads.