In 2017, Babatunde Akin-Moses took a break from work to study for an MBA at the Lagos Business School (LBS). In the seven years before that, the graduate of Economics from Bowen University had worked in finance and strategy roles at organisations such as Shell, PwC, KPMG, and Pezesha. He also ran a small laundry business on the side.
At LBS, he would meet Mayowa Adeosun and Onyinye Okonji who would later join him as co-founders at Sycamore, a fintech startup they began in 2018. While in school, the three co-founders began to look at the data around small business financing in Nigeria. Having run small businesses themselves, it was a problem they understood and the data showed that SMEs in Nigeria had a hard time accessing capital for their businesses.
In 2020, a survey of MSMEs in Nigeria by PwC revealed that obtaining finance for business operations was a major challenge for 22% of the survey respondents. For those who had obtained some form of external financing, 48% said they received financing from friends and family.
Despite seeing a clear need in the market, Akin-Moses and his co-founders did not have the capital to finance a lending business, but as they conducted more research around the problem, they came across the peer-to-peer lending model used in the United Kingdom and Sycamore was born. Akin-Moses says the name Sycamore is a reference to the biblical story of Zacchaeus climbing a sycamore tree to see Jesus and is a metaphor for the company's vision to provide financial upliftment for its customers.
Sowing the seeds for financial upliftment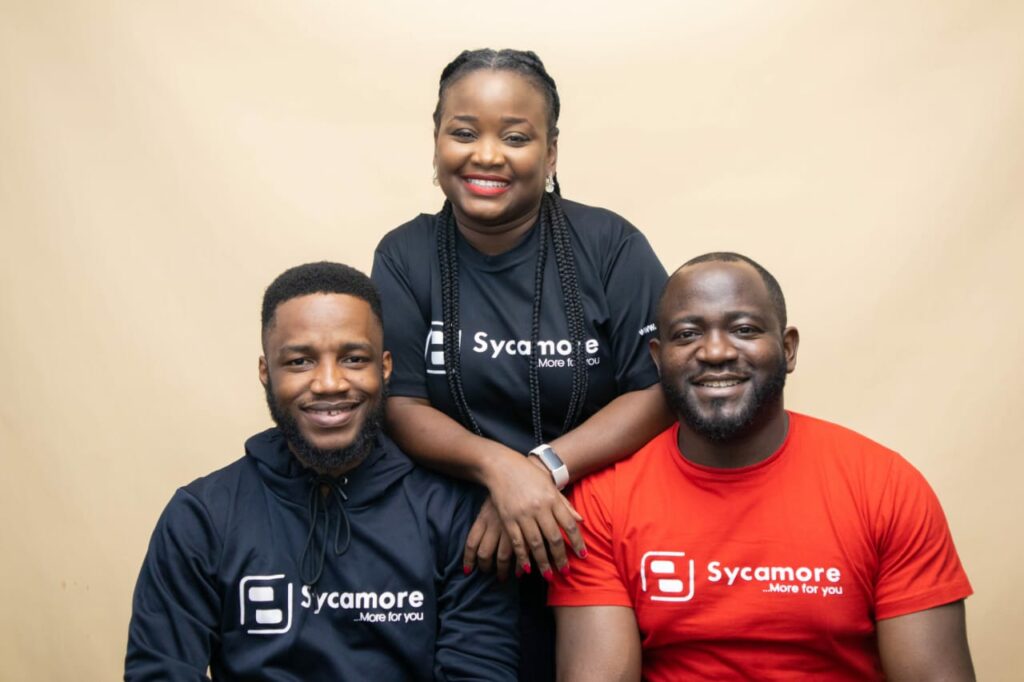 Having identified a problem and a solution, the team set about building the first version of Sycamore. Their idea was to facilitate SME lending using technology but with no technical skills, they outsourced the building of the website while spreading the word about what they were doing. This was where their class at the Lagos Business School came in handy. After sharing what they were doing with the class, a classmate reached out with a loan request for her business. The trio also got their first angel investment from their classmates.
"It's funny that aside [from] our savings, we had our initial angel investors from our class and even our first set of customers because we just told our class, look, we're starting this business and this is what we're doing. Someone needed a facility for some business and she took it and that's how the business started."
In addition to being able to lend to businesses, their first set of customers helped them validate the possibility of issuing loans without meeting in person.
"The thing about that first customer that really validated the idea is I was actually doing a part of my MBA program in Spain but we were still able to facilitate that transaction even if the co-founders were in different countries. I was in Spain. Onyinye was in France and Mayowa was in Nigeria but we were able to do everything from the website."
What services does Sycamore offer?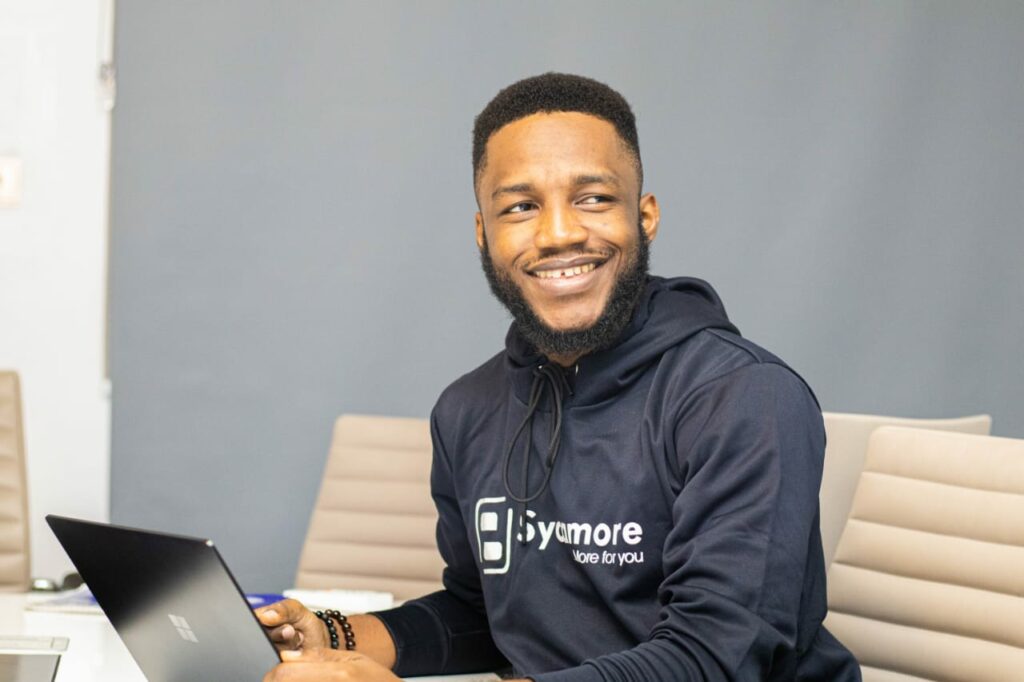 Sycamore has come a long way since 2019 and now offers additional services on its website and mobile app. Users can lend to friends or family through the app earning some money through interest rates but without the hassle that comes with lending to friends and family. Akin-Moses explains that building a solution to enable peer-to-peer lending was the result of numerous requests from users who wanted a relatively safe way to lend to their friends.
"People were asking how they could safely lend to their friends and people they know with some assurance of getting their money back. When we started getting more and more of those questions, we started to look at the data and then we saw that all over the world, people are getting more credit from friends and family than any financial institution, so we decided to make loan friends strictly for communal lending."
Lending money to friends and family is a common practice but can often be tricky. You would frequently hear people say you should not lend money to friends and family or advise you to only lend what you can part with. The data also backs this notion.
Finder.com analysed data from more than 1,000 participants in the United States and concluded that Americans owe more than $150 billion to friends and family annually. For both the lender and the borrower, failure to pay often leaves a strain on the relationship. Consequently, 31% of Americans say they would choose debt over borrowing from friends and family.
With this in mind, I asked Akin-Moses about the repayment rate for this service. According to him, about 90% of the people who take loans from friends on Sycamore repay the loans. This is aided by the fact that Sycamore runs it like any lending service and requires users to tokenise their accounts before loans are disbursed.
"The person you're giving money to, the app requires them to tokenize their account. So basically the borrower won't get the money out until they've attached a debit card. So just the way you would pay for DSTV or Uber, when it's time to repay the loan, it will just repay your friend automatically, which is more convenient for everybody."
It is not uncommon to find people who are unable to pay after the deadline has passed but the Sycamore app continues attempting to debit the borrower until the loan is repaid.
Since its launch in 2019, Sycamore has given out loans valued at more than $15 million to its customers and currently serves 50,000 users.
Challenges encountered running a fintech startup
While Sycamore has had limited venture financing, Akin-Moses states that two of its biggest challenges have revolved around regulations and talent management. Nigeria's regulatory environment is notoriously chaotic and fintech startups are frequently on the receiving end of sudden changes. For example, the CBN's decision to stop commercial banks from trading cryptocurrencies in 2022 affected the operations of cryptocurrency startups. Still, Akin-Moses adds that startups occasionally benefit from these policies.
"Because we're operating in fintech, every now and then, the regulatory environment can be uncertain. You can wake up and there's a new policy and then have to think, okay, how are you going to manage around this? In some cases, they can actually work in your favour. For example, we saw an uptick in our user base this cashless period."
Attracting and retaining talent is another challenge the startup has faced. While employees leaving has always been common, for Nigerian businesses, it has worsened in the last few years as the economy soured and insecurity increased.
"We're in a very competitive environment and right now you're not only competing with other companies, you're competing with other countries because people are saying that they're no longer leaving because the company is bad. They're leaving because they have challenges with the country."
While explaining that attracting and retaining talent has gotten harder, he says Sycamore works hard to ensure employees have the best environment for work.
"We always prioritise people in a lot of our decision making and we've made the work environment very conducive. I think anybody that follows us online would pretty much get a sense of a very healthy culture. People are the key, they are the ones that make things happen and without them, there really is no Sycamore, both people internally (employees) and the customers."
Looking to the future, Akin-Moses is excited about the potential of developments like the Startup Act passed into law in 2022 and the CBN's open banking guidelines. For Sycamore, the goal is to deepen its suite of products. There's a plan to facilitate cross-border lending, allowing Africans in the diaspora to lend to Africans back home. There's also a plan to begin operations in other African countries.
"We have a lot of interesting ideas and the good thing is that as much as we are seeing negative things, there are a lot of positives happening too."