The Air Clicks are one of Lesley John Jumbo's many creations, and the first I saw on Instagram (IG) during my usual mindless scrolling sessions.
Air Clicks look like a hand band that suddenly gives you telepathic powers. I watched Jumbo control a makeshift toy car, making it go back and forth on IG. With a similar gesture, he played and paused a video on his laptop.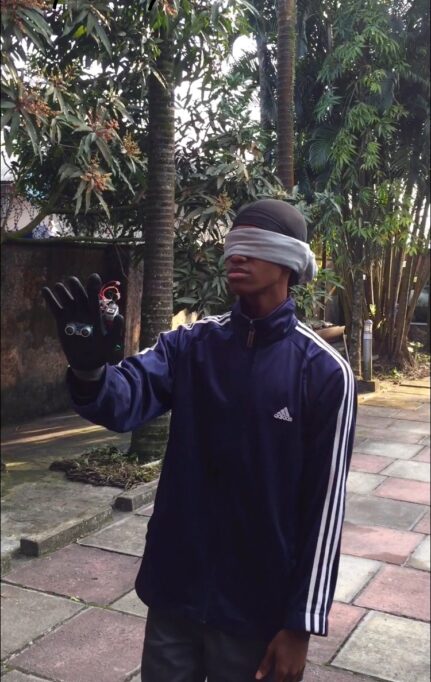 According to science fiction writer Arthur C. Clark, any sufficiently advanced piece of tech is indistinguishable from magic, and trust me, Jumbo's creation was like something straight out of a sci-fi movie.
After taking a look at Jumb's other creations, I knew I had to speak with him.
Jumbo is a 17-year-old embedded systems developer from Rivers State, Nigeria. He developed his love for hardware and innovation after attending an artificial intelligence (AI) boot camp.
Though the hackathon motivated Jumbo to start designing and building hardware components, he'd always had a knack for keeping up with the latest tech.
He was also fortunate to have friends who shared that same mindset, and they came together to start building systems they found interesting.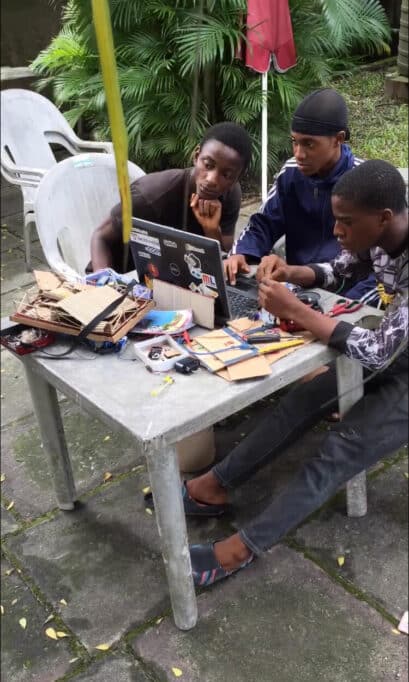 I spent most of my teenage years — and even now — looking for how to watch the latest movies and play games. So it was strange to see a teenager like Jumbo and his friends spend their time constantly learning about new tech trends, gadgets, and how to make them.
"In my household, we're like this strict family, so I'm indoors most of the time. Though I go out for important things, it isn't the kind of home where you can do anything you want. But with smartphones, we can see what was happening everywhere."
Being indoors made discovering new things easy. He became curious and wanted to know how things worked, why and how they were built, and the boot camp was where he realised he could work on things he was curious about.
 Why hardware? 
It probably sounds like a cliché, but hardware is hard. That's why, in case you've wondered, you rarely see features of hardware startups or funding stories about them.
From Monsuru Anifowose, the drone builder, to Kemisola Bolarimwa, who designed and built a cancer-detecting bra, the few daring hardware innovators we have in Nigeria have admitted that it is a difficult venture that costs more time and money than your regular fintechs.
According to Anifowose, hardware is what makes a country technologically superior.
In one of my conversations with him, he said, "In this whole ecosystem, it is easy to think that fintech is everything." To him, the fintech industry has peaked. "There's nothing that they do abroad that we don't already do here in terms of fintech," he said.
When it comes to hardware, however, Africa is leaps and bounds behind the West.
It cost Anifowose $450,000 and three years to create the prototype of an unmanned aerial vehicle (UAV).
Jumbo knows he has what it takes to become a software developer and start earning a lot of money at his age, but according to him, "It might sound weird to say, but money has never been my motivation."
He said he's never made any money on the projects he has spent months working on.
"I want to see my creations, feel them, and touch them," he said.
However, his passion comes at a cost.
"There is no time to rest, there is no time to play — not that we were even interested in playing — we just wanted to get the job done; we want to see it work.
"There were times we even got sick from doing these things because we came together every single day to work."
Despite the price he has to pay to create the things he loves, Jumbo said there's never been a time he felt like giving up. "A lot has happened, but nothing has made me say I'm never doing this again."
Sourcing for materials to build his projects could have been the one thing to stop Jumbo from pursuing his passion, but luckily there's a hardware startup called Techoville Innovations Nigeria, close to his lab, aka. his parents' yard.
The startup saw how driven Jumbo and his team were and had no trouble supplying them with parts.
Nonetheless, the team still needed money to get supplies that Technoville Innovations Nigeria did not have. This made Jumbo take up photo editing as a side hustle.
"The startup gave me some stuff to start with, but along the line, I needed more things, so I started saving the money I made from picture edits and the money I was given for food — mostly the money I'm given for food — and mom also supports me sometimes."
 From smart trash can to Air Clicks  
Jumbo started building hardware tech products in 2022. His first attempt at building a hardware product was something he calls the smart trash can.
According to him, the smart trash can gave a whole new experience to trashing; it essentially made you want to use the trash rather than litter.
When the smart trash can detects a person close to it, it automatically opens the lid for the person to drop their trash.
It took Jumbo and his team a month to make the smart trash can but now, he can easily make it in two days.
The Air Clicks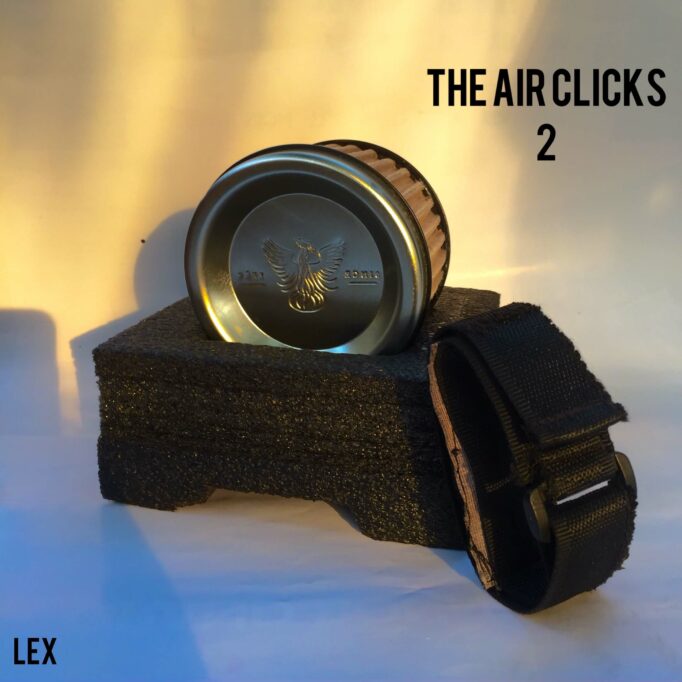 Jumbo describes the Air Clicks that led me to his Instagram page as one of the most innovative things he's ever created.
They are like a hand band you strap around your palms that puts the control of appliances paired with it in the palm of your hands.
"Creating the Air Clicks was a rigorous process. I had to learn a new language just to complete the project. I code in C, but it also needed Python, so I had to learn it."
One of the major components of the Air Clicks are the ultrasonic sensors, which Jumbo coded to take data from the environment. However, Phython is needed to translate the data the ultrasonic sensors receive.
Within a month, he learnt Python and the ultrasonic sensors were able to take commands to perform a certain way when an obstacle was at a certain degree or distance.
On his Instagram page, Jumbo demonstrated how the Air Clicks can be used for a variety of things, from replacing your TV remote to turning a regular laptop into a gesture-controlled device.
Jumbo's motivation
I naturally assumed Jumbo would be inspired by some of the most innovative minds in technology, such as Elon Musk and Steve Jobs, but surprisingly, he couldn't care less about them. One of the people that motivates him is Nigerian tech YouTuber Fisayo Fosudo.
"I'm not a fan of the Tesla and Amazon CEOs," he said. "I get my motivation from designers and people who do videography and video editing. I don't even know how; I just watch them to motivate myself."
He explains why with an Albert Einstein quote.
"Imagination is more important than knowledge. Knowledge is limited. Imagination encircles the world."
While designers and videographers are some of his biggest sources of motivation, he still takes inspiration from the likes of Tobi Oyinlola — a researcher at the Massachusetts Institute of Technology (MIT).
Looking into the Future
Jumbo wants to learn more, and that is the primary thing on his mind. Online resources are great, but with hardware, he needs physical and hands-on tutelage.
"I went to Udemy, Coursera, and all of them, but, honestly, I get tired because this is not something you can just sit down with and learn online. I need physical training, and it is not something I've come across recently, and since I can't find that right now I'll keep learning online."
He also hopes to start a company from what he's doing now. Something he can make money from, but his biggest desire is to inspire.
"We want to make this thing a company, we want to produce gadgets and make money, but aside from that, we want to inspire a lot of Nigerians to do this. I'm happy because we're already inspiring a lot of people."
Parents in the neighbourhood already contract the services of Jumbo and his team to help teach their children about technology.
"Anytime I'm walking on the street with my friends, they're like, 'Are you not the guys I saw on the street the other day?' And I'm like, yeah. We are really happy that people value what we're doing."
Schooling is also part of his plans, but Jumbo has never been a fan of school. Interestingly, he's one of the best students in his class, but "I don't feel comfortable in school," the recent secondary school graduate said.
However, he still plans to further his education by studying mechatronics engineering at the University of Port Harcourt, Rivers State, Nigeria. Jumbo has big dreams, he hopes to go from building smart trash cans in his parents' yard to manufacturing tech products on a scale his mind cannot even begin to conceive.