In 2021, Wave, a fintech startup based in Senegal, raised $200 million in Series A funding, making it the first unicorn from Francophone Africa. It is also the only unicorn to date to operate predominantly in the Francophone African region.
Every year since 2018, more than $1 billion has been invested in African startups, but in reality, they are invested in a handful of countries, with Nigeria, Kenya, South Africa, and Egypt the usual beneficiaries. Lately, Ghana has frequently featured on this list, but what these countries, apart from Egypt, have in common is the English language as their official language.
Replicating successful business models in Francophone Africa
In 2022, Tunisia, Senegal, and Algeria raised a combined $383 million, but that was less than all the funding South Africa ($550 million) raised in the same year. While funding to French-speaking countries has not kept pace with their Anglophone counterparts, Mstudio, a venture studio based in Abidjan, wants to bridge that gap and support entrepreneurs in the region to build impactful startups.
"We really want to bridge the gap between the Big Five and our Francophone ecosystem where we have less startups and lower investment funding," Leslie Ossete, one of the studio's Co-founders, told Techpoint Africa over a call.
Mstudio stands out for its approach to venture building. Ossete explained that it intends to replicate successful business models from West Africa, Latin America, and Asia rather than create new ones.
"We are not here to reinvent the wheel. We basically just work on business models that have worked very well in English-speaking Africa. We also look a lot at Latin America and South-East Asia. We try to see what business models we can replicate in Francophone Africa, where the ecosystem is still very new and there's a lot of space for things to do, so we're not here to do Facebook 4.0 or Instagram 2.0. We're just here to do proven business models."
Ossete co-founded the studio with Cedric Mangaud, who previously co-founded Saviu Ventures, a venture capital firm predominantly investing in Francophone Africa startups. While investing in the Francophone Africa region, Mangaud discovered that startups needed much more than money, with many founders requiring technical and business support. Mstudio was built to provide that model.
Besides replicating successful business models from similar regions, Mstudio focuses on the informal sector, with a keen eye on solutions that serve women and youth. Like many investors in Africa, Mstudio is sector-agnostic.
"The vision is to transform the informal sector. We really believe that this is where the population boom is happening in Africa. If we can provide them better services with technology, then these people can actually access better opportunities in life."
According to the International Labour Organization, more than 80% of employment in Africa is in the informal sector. Even in Africa's urban centres, experts estimate that the informal sector is responsible for 80.8% of the continent's jobs.
Understanding why Mstudio would focus on this sector requires a closer look at the numbers; 95.8% of the informal sector comprises young people between the ages of 15 and 24. Women are also heavily represented, making up 92.1% of the informal sector. Furthermore, young people are more likely to adopt new technologies. With smartphone and Internet penetration expected to rise in the coming years, Mstudio could reap huge rewards by serving this segment.
So far, it has created four startups that should launch by the end of Q1 2023. Two of the startups, Tajiri and Djoli, help restaurants manage their inventory while easing sourcing challenges, and, according to Ossete, are inspired by the likes of Vendease and TopUp Mama. The third, Lonia, is an edtech startup providing learning solutions for young people in the region. Customers on Lonia can pay for courses in instalments and through mobile money.
Providing an enabling environment for growth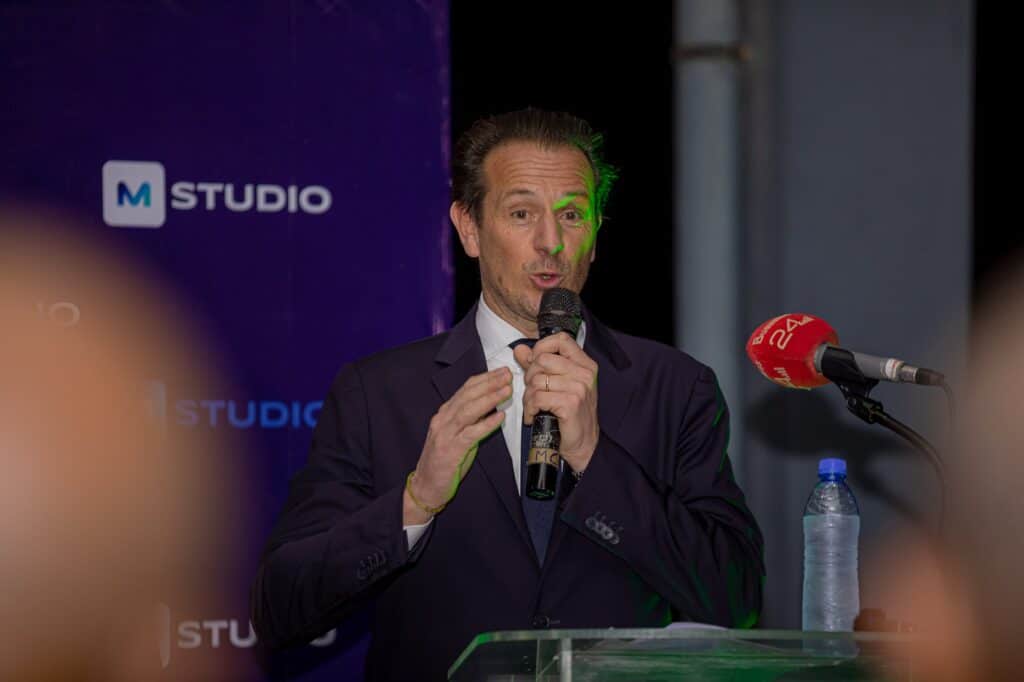 Although the startups it has set up are only just beginning operations, Ossete pointed out that by copying similar business models to those in Anglophone Africa, Mstudio's startups are well positioned for partnerships and even exit opportunities.
"What we foresee is that a lot of startups in Nigeria and Kenya that wish to come to Francophone Africa will also see this as an acquisition or partnership opportunity."
As startups struggled to raise capital in 2022, more startups considered getting acquired by larger competitors. A report by TechCabal revealed that acquisitions grew by 41% in Q3 2022. Many experts expect acquisitions to increase as more startups struggle to raise capital or gain market share.
Mstudio identifies three types of entrepreneurs to lead its startups. The first set are senior startup employees to whom Mstudio pitches their ideas. The second set of prospective founders are diasporans planning to return to the continent after their studies or after working in developed countries. The last category of founders is second-time founders, who have run digital businesses before.
The founders Mstudio choose go through a three-month entrepreneur-in-residence programme where they receive €15,000 to validate their idea and build a prototype. Following the completion of the programme, they pitch to an investment committee before being officially admitted to the studio. Over the next 12 months, these startups raise a pre-seed round of €250,000 from a partner VC firm and support from Mstudio valued at €500,000. This year, the partner VC firm is Saviu Ventures. During these 12 months, they are expected to launch an MVP and achieve product-market fit, after which they'd raise a seed round. Mstudio will provide support for them until they get to the Series A stage.
Building a startup in Africa is tough, and strategies that work in other regions often fail here, but in Mstudio, startups could have the necessary support to build successful businesses.
Ossete herself was an entrepreneur, co-founding BuuPass before serving as its CEO. The transport tech startup recently raised $1.3 million in a pre-seed round. Besides that, she has also worked at larger tech organisations such as Bolt and Wave and brings lots of experience to the table. Mangaud also has lots of experience as an investor in the region, and Ossete believes this support would be vital in ensuring the startups they start would succeed. Mstudio is headquartered in Abidjan, and Ossete explains that the hope is that the startups they create can scale across Francophone Africa, considering countries in the region speak the same language and use the same currency.