"Cryptocurrencies basically have no value, and they don't produce anything. They don't reproduce, they can't mail you a check, they can't do anything, and what you hope is that somebody else comes along and pays you more money for them later on, but then that person's got the problem. In terms of value: zero."
This is one of Warren Buffet's takes on cryptocurrency as an investment. Arguably one of the greatest investors of all time, the American billionaire and CEO of multinational conglomerate holding company, Berkshire Hathaway Inc. has spared no words in describing just how bad crypto is as an investment vehicle.
Interestingly, this year has been a dark one for crypto investors, with the value of cryptocurrencies taking repeated hits and the bankruptcy of one the biggest crypto exchanges in the world, FTX, seemingly the final nail in the coffin.
Over $2 trillion has been wiped off the crypto market's total capitalisation. Anyone who invested in the flagship cryptocurrency, bitcoin, in the last 12 months should be staring at huge losses now.
With a bad bear market trend coupled with the collapse of several crypto powerhouses, perhaps Buffett's prediction that cryptocurrencies will have a "bad ending" could be coming true.
Warren Buffet is not the only one who feels crypto will come to a terrible end. On November 14, 2022, The Times of India published an article titled "Crypto Is Now Dead" that shook Twitter. Techpoint Africa's Editor-in-Chief, Muyiwa Matuluko, also tweeted that the "Crypto bubble is going to burst and never going back."
How hard did the FTX news hit the market?
Before the FTX mess, the crypto market was already suffering its worst bear market since 2017. Bitcoin had dropped from a $67,000 high in 2021 to $17,000 towards the end of October 2022.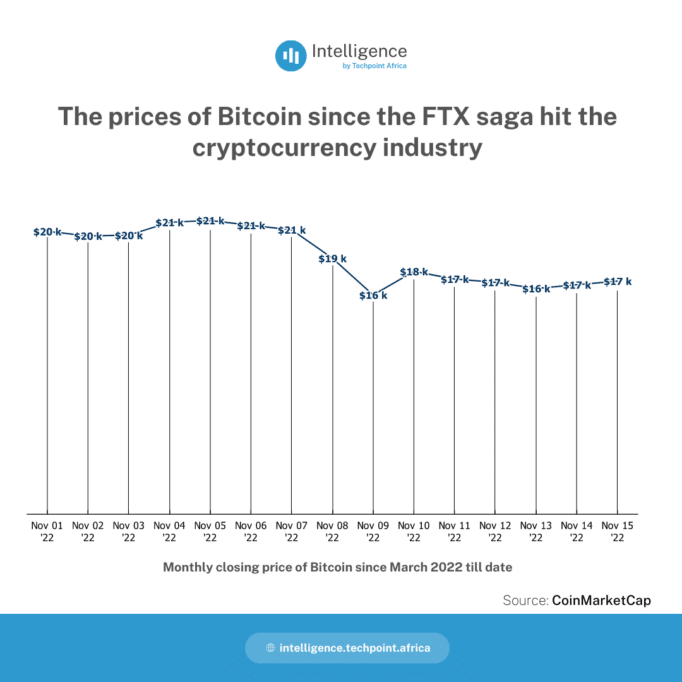 But by the beginning of November 2022, it rose to $21,000 only to fall back to $19,000 on November 7, 2022, the day after Binance CEO, Changpeng Zhao (CZ), revealed that his company would be selling off FTX's native coin, FTT.
Binance selling off huge volumes of FTT meant the token's value would drop tremendously. Knowing this, FTX users decided to sell off their FTT, resulting in $8 billion worth of withdrawal requests that FTX could not handle.
By November 9, 2022, news of FTX's trouble made major news headlines, and the price of bitcoin crashed to $16,000. At the time of writing this, bitcoin still hovered around $16,000.
Consequently, if you invested in bitcoin in November 2021, you would have lost 318% on your investment.
Has this happened to the crypto market before?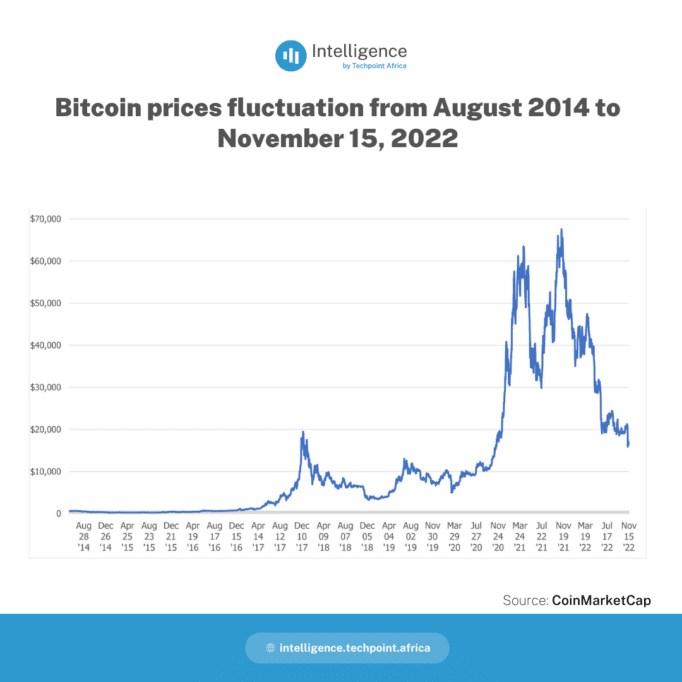 Interestingly, this is not a first for the crypto market. In 2017, it suffered a similar hit when it crashed following a huge crypto boom that saw bitcoin go from $400 in 2016 to $19,118 in 2017. However, bitcoin went down to $3,000 in 2018, losing 447% of the value it had accumulated in 2017.
By 2019, the market began to show signs of recovery; it continued on a positive trend, and by 2020, bitcoin surpassed its ATH of $19,118 in 2017 by 93% to reach $36,833. Despite some minor crashes, the market stayed green until recently.
Is crypto dead?
"Crypto has died so many times, it's not going anywhere, and it's not FTX crumbling that is going to destabilise the entire system."
This was the response of Micheal Ugwu, angel investor and CEO of Freeme Digital and crypto/Web3 specialist, when I asked if the crypto market would recover from the FTX debacle.
Bitcoin and the entire crypto ecosystem have been presumed dead as many as 466 times but have always managed to rise from the ashes to record super-high bull runs. Ugwu believes this death pronouncement is no different because the crypto market was around long before FTX.
"This collapse doesn't change the proposition that bitcoin presents: decentralised, immutable, censorship-resistant, transparent, reliable, and secure money.
"There are some of us in this space who look at things from a specific lens, and that lens isn't necessarily speculation. It is more of looking at the limitations surrounding how I store value and how I move value. I can't speak for people like me in the US, but I know that in Nigeria, there is a massive issue when it comes to moving value around the world with a Nigerian bank account."
While Ugwu admits that the FTX fallout will definitely have effects on the crypto market at large, he believes macroeconomic forces will play a bigger role in the crypto market.
"We're still in a very tough macro environment," he said. The International Monetary Funds' (IMF) World Economic Outlook Report October 2022 showed that the global economic slowdown was far worse than expected.
While macroeconomic forces determine where crypto goes from here, looking at the market from a technical perspective raises some hopes.
The Relative Strength Index (RSI) chart shows that bitcoin and ethereum are 35 and 40, respectively.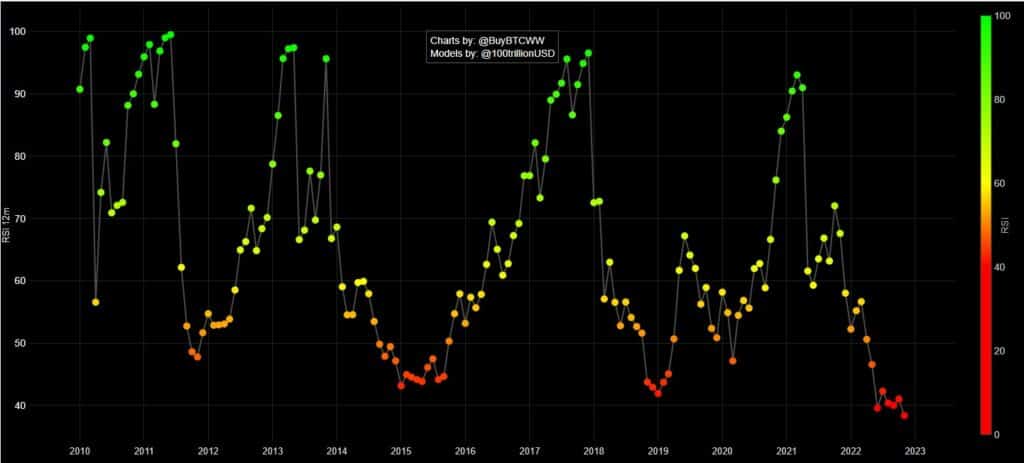 The RSI is used to know if an asset is oversold or overbought. It is measured between zero and 100; a low RSI level means the asset is oversold, while a high RSI level means an asset is overbought.
An RSI of 35 means bitcoin is currently oversold, signifying that it is trading below its actual price. Typically, this means the price is expected to bounce back; however, the crypto market is always full of surprises, and only time will tell if it is dead or alive.