Photo courtesy of BukiHQ Media
In April 2022, Burna Boy became the first African artist to headline at Madison Square Garden in New York. As New York is the media and brand capital of the world, this concert showed the world that African music is now a big deal.
In recent years, African music has grown beyond expectations, African artists are currently selling out stadiums, topping the Billboard charts and winning the Grammy award in spectacular fashions.
With different infusions and creativity, Afrobeats is the new cool and nostalgia drug for the music world. Nigerian artist and producer "Ckay" went global with his Emo-Afro pop single "Love Nwantiti" which topped Billboard charts in over 42 countries and generated over N4billion in royalties according to a report by THISDAY. Wizkid sold out three nights at the 20,000-capacity Indigo arena in London.
Growing smartphone penetration and decent access to Internet services have made Africa united in music and also made a push far beyond Africa's borders to a global audience.
"African music streams numbers were at an all-time high in 2021 on all streaming platforms, We saw Wizkid and Tems make history with Essence." Johnson Jason, Vice President of Marketing and Brand Strategy at Audiomack Africa.
This growth has fueled the interest of music streaming platforms like Spotify and Apple Music to invest in the African music industry. In 2020 alone, Audiomack and YouTube expanded into Nigeria; in early 2021, Spotify expanded its operations to Nigeria and 3 more African markets adding to its previously existing 5. Also, we saw multiple major record labels strike deals with local labels as they strategically position themselves for a share of Africa's growing music earnings.
Music Distribution and Market entry for independent artists remain a big problem
Now, as swift as African music and its industry is moving, the access for independent artists to break into the market remains tough. Independent artists continue to struggle to get their music distributed, career managed and marketed efficiently. It is gradually becoming a norm whereby if an artist is not signed to a record label chances of breaking out is very slim regardless of how talented the artist might be.
Boomkit, a Musictech startup, is tackling these problems head-on banking on its founder's industry experience and technology-driven solutions.
Boomkit is building an ecosystem for Independent African artists where they can manage, produce, distribute and monetise their music while maintaining 100% ownership of their crafts.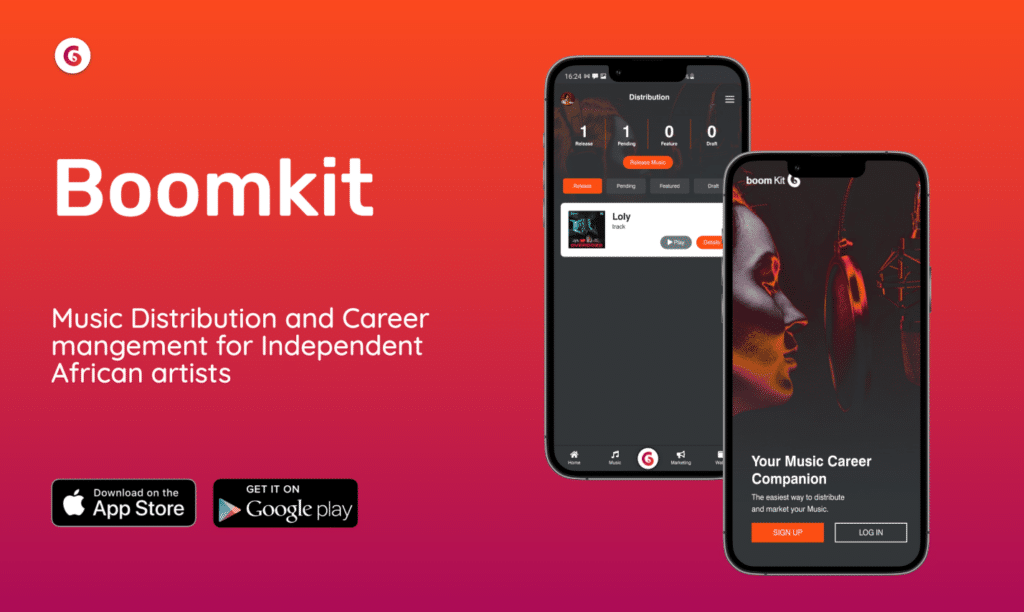 Co-Founded by Abiola Hamzat, a music business executive with over 9 years of industry experience. He has worked with several signed and independent artists, this gave him first-hand insight into the struggles of these artists.
On Boomkit, Artists will be able to purchase beats from veterans music producers across the continent, distribute their music to all digital platforms, receive their earned revenue, get access to marketing tools and also track the performance of their entire catalogue with an in-depth career wide analytics for better decision making on the side of the artists.
"We do all the heavy lifting for artists and allow them to focus on making good music and that is what matters," said Abiola.
Making impacts one step at a time
According to Ridwan Jimoh (CTO/Co-founder), "Boomkit was launched in October 2021, without a penny spent on marketing, We have successfully onboarded 10,000+ artists and 3000+ songs distributed globally through the platform."
Songs of Grammy-winning artist Al Walser, Samklef, Ill Bliss, Tha Suspect and several other big names have been distributed through Boomkit since its inception.
Within the first year, Boomkit secured two global industry partnerships.
Boomkit currently makes money through three major sources: subscriptions, addon purchases and transaction fees.
Funding for Independent Artists - The Elephant in the room
Funding is a big issue faced by indie artists, It's a cliche as old as time itself but one that remains still incredibly relevant. "A lot of artists have creativity, passion, and dedication but the one factor holding them back is money, independent artists need to raise funds for their album project, live concert and media promotions and when you're paying for everything out of pocket things add up quickly. " Explained by Eldee the don, a veteran music artist in his Podcast.
"Currently, traditional record labels are the only source of funding for independent artists in Africa. Funding from a regular bank is also not possible because banks are not set up to understand what collateral they need to secure their loan against. Hence the need for an institution like Boomkit that is focused on artists and their contents." Said Abiola.
Boomkit is tackling this issue by providing funding to artists on its platform through royalty advance and its SupportME feature. With SupportME on Boomkit, an artist can receive donations from fans directly on their BoomPage (a minimalistic website for Boomkit artists) This creates a new source of revenue for independent artists. With Royalty advance, the credit is secured against their projected earnings from music sales.
Building a record label for Gen Z in Africa
Boomkit is trying to redefine record deals for African artists with the use of data, According to Abiola, Boomkit's next-generation record label aims to analyze music consumption and listening habits to identify promising talent and then sign the talent through licensing deals rather than traditional contracts. He emphases that he sees this as a partnership of equals, where the interests of scaling up the success and reach of an artist signed by Boomkit are equally aligned. The type of value-add that the Boomkit team will bring will vary depending on the artist and what they need most but will include things like public relations, marketing, branding, and having a more direct line to the online distributors it partners with.