We all know what it is like to split a bill – from rent to groceries, a dinner with your friends, down to everyday living costs. Your mind quickly goes to payments for services like an Apple Music family plan, Spotify, or even Netflix. Splitting bills is more common than people like to publicize.
And with good reason. The conversations that come with a shared payment can range from straightforward to downright awkward, and often ends up on the latter end of the spectrum. Issues come up, like where the accrued funds will be held or having a proper record of how much each person is due. Maybe someone (even you) might not be able to handle such payments at that time.
Imagine the frustration that comes on a night when your bank's network is down and the host has to wait for transfers to come in before paying. Or worse, sorting the whole bill and not getting paid back on time, or even at all.
The truth is, despite the methods people use to offset these challenges, Nigeria's payment ecosystem has not yet accounted for a convenient and seamless experience for splitting payments.
The Untold Side of Payments
Everyone has to pay for something at some point, but the dynamics change when a group of people comes together to handle a payment. Since the dawn of crowdfunding movements, factors like trust and personal financial responsibility have been considered before deciding to engage in a split payment with another person(s).
These considerations led to the birth of **SplitCash, a fintech startup with a vision to create a world of simple and secure shared payments for everyone.
Co-founded by Bolu Okunaiya, Olumide 'Lumbex' Akinnodi, and Chijioke 'CJ' Mac-Eze, the idea for SplitCash had been lingering in their minds for a long time. "[It was] different things happening, mostly people forgetting to pay back their bills," Bolu said.
"We built something similar to this before, where you could simply request money from another user.
"It didn't really work because if you take a Bolt with 5 guys, you have to send 5 money requests and you have to track them all."
In addition to the issue of conveniently collecting cuts, splitting a payment carries the awkwardness of engaging a friend for their cut of the bill. SplitCash arrives at the intersection between finances and friendships, fostering financial accountability and retiring money-related awkwardness between friends.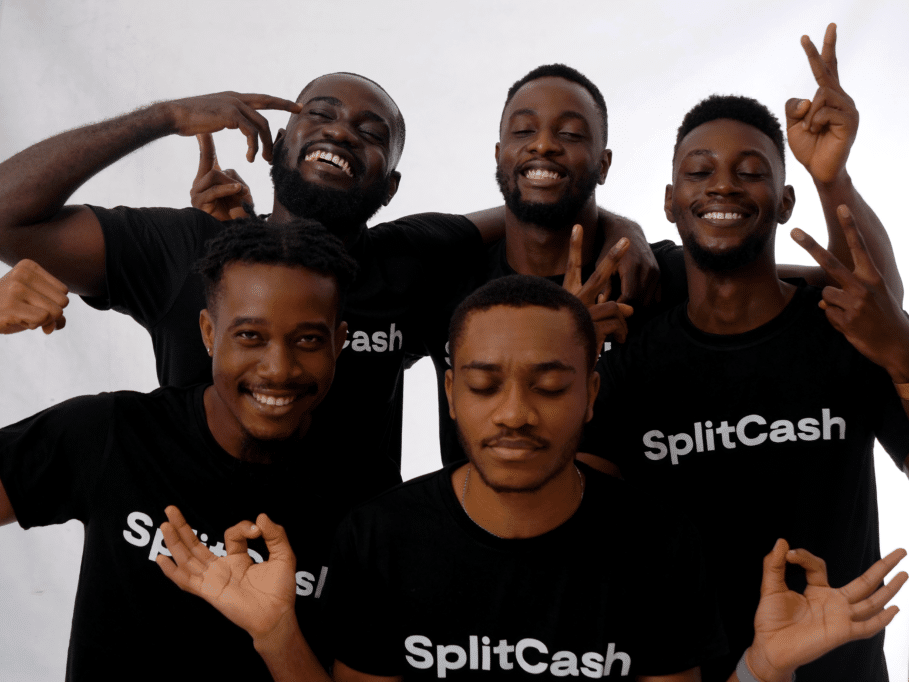 A New Way To Solve Old Problems
The app recreates real-life bill-splitting scenarios; like unequal payments, covering for someone, and an avenue to save finances for crowdfunding.
A Split is a shared payment that is carried out between two or more people. Once email, phone number, and BVN verification is completed, you can search for your friends via their username or "Split Tag" — they can easily be found once you have their registered phone number saved on your phone.
Splits can be created equally and also unequally; by adjustment, the exact amount, and by percentages.
Your money is held in a wallet that can either be funded by transfer or your bank card.
Even without the app on your phone, you still can split payments with your friends on a mini web version of the app. Through a uniquely generated link, you can join splits, as well as check the progress of ongoing splits down to the point of payout.
The most important thing to highlight is the bank agnostic stance of the company. Olumide speaks passionately about this saying, "SplitCash isn't meant to replace your current payment platforms. The problem we want to solve is the problem of shared payments.
"So whatever payment platform you currently use, keep using it. But when you have to deal with a shared payment, think SplitCash."
Pursuing A Cultural Reset
One of the major goals highlighted by the co-founders is to change the way the public thinks about and handles shared payments. Olumide had an interesting answer when asked about the difficulties putting the app together so far.
"This is what we do, we've been building for a while now.
"It's [about] getting more users, building a system they would love to use, and the social aspect of it; putting the Split idea in their heads."
Design lead, Mac-Eze believes a cultural reset and product functionality go hand-in-hand. "Connecting the vision was the easy part because we all want to eradicate some habits when it comes to sharing bills.
"We want to create a movement and imbibe a new culture, and we also want to be different from other payment products. That is why we chose edgy energy for our brand visual identity.
Big impact calls for strategic innovations. Subsequent releases will assist in promoting communal spending, collective financial responsibility, and transparent, straightforward conversations about finances between friends — one split at a time.
What's to come?
We all know that the person with the card usually bears the brunt of payment. With the Split Card, the responsibility of payment stays with the group. All Split features can be accessed through this card, which can not access any funds until a split has been approved and linked to it.
The 'Circles' feature will allow friends who frequently split bills together to do so in one click. A user can be a part of multiple Circles at once.
Suppose you have a friend who is your +1 to a function. There will be a feature to cover for that friend which will be indicated on the app's payment page.
Probably the most interesting feature of them all is the 'Splitverse' feature, which Olumide describes as "take[ing] the experience of paying for things away from people you know.
"For example, I might want to take an online course that costs $40, but I might not want to pay for it all. If I can just find someone who wants to take the same course, we can get that same value at a lesser price," Olumide says.
With so much in store, Bolu has high hopes for the value SplitCash will bring — to Nigeria's tech ecosystem, the users, and eventually, the world. "We're trying to revolutionize split payments, and I see us doing that. I see us reaching a billion-dollar valuation, breaking norms."