Y Combinator, a US-based seed-stage accelerator, is a household name in Africa's startup space, especially if you've paid attention to stories across major tech publications. 
When this company burst onto the US startup space on March 11, 2005, the early-stage startup investment space was markedly different than it is today. To quote co-founder Paul Graham, "You'd get that first $10k from your friend's rich uncle. The deal terms were often a disaster; often neither the investor nor the founders nor the lawyer knew what the documents should look like."
Graham wanted to standardise seed-stage funding for startups, and he enlisted Jessica Livingston, Robert Morris, and Trevor Blackwell. After a pretty shaky start, their success is palpable for any neutral observer.
If you opened this article out of curiosity, it would help you understand what YC is — a company that helps technology startups rapidly grow their business. The parlance for such companies today is an accelerator.
You'd find other popular companies like Techstars, 500 startups, and AngelPad. YC, however, has grown to have a significant global presence, with a significant impact in Africa.
It organises an intensive three-month programme for technology founders globally twice a year and funds them with $500,000 (previously $150,000). It wasn't until three years post-launch that YC invested in Canada's A thinking Ape, a company outside the US.
In 2009, YC supposedly made its first entry into Africa with the now-defunct Petasales. However, there's little to no information about them online. In 2012, Senegal's Wave got into Y Combinator, signifying a major entry into Africa for YC. However, both of Wave's founders are not African.
Oolu (a Senegalese energy startup) and Saida (a Kenyan lending startup) went through the accelerator in 2015, with Saida's founders seemingly the first African founders to get in. And nearly every year since, African startups have gotten into YC.
The obsession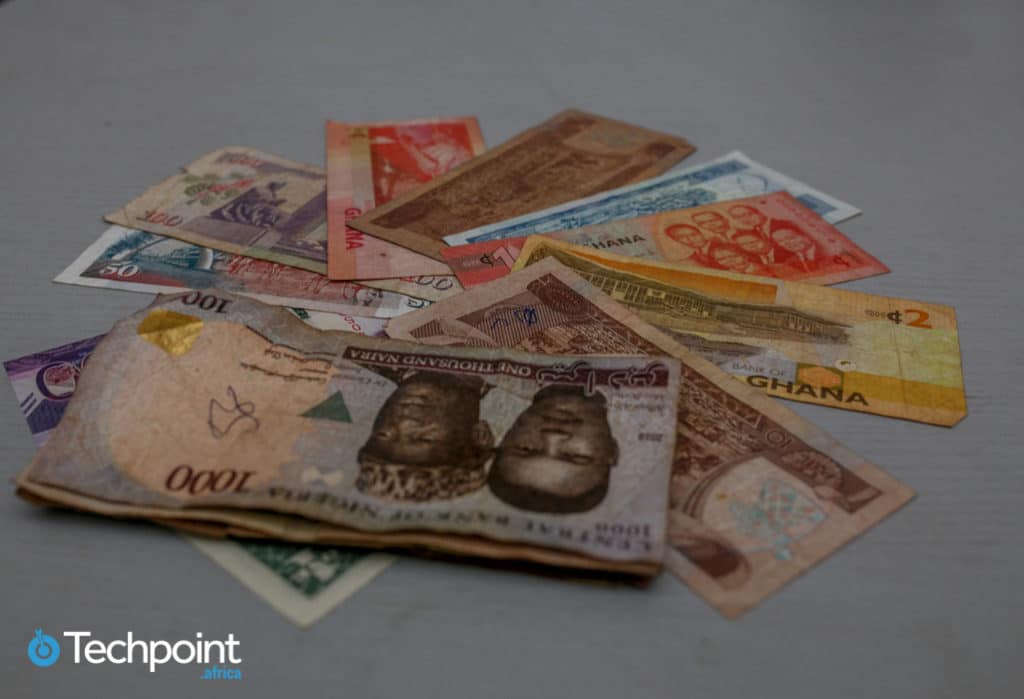 Now would probably be a good time to read our analysis which seems to show that the Nigerian founder's increasing interest in YC was mainly a ploy to raise more investor funds. While there's significant room to explore, some YC founders believe fundraising is a byproduct of YC's biggest attraction — its high-value network.
Few founders describe the experience like Perseus Mlambo, CEO of Union54, a Zambian fintech.
"There is a lot of strength in knowing that whatever problem you will encounter, there are thousands of other founders who have faced that problem, and are going to respond to you with a guide on navigating that problem," Mlambo insists.
He opines that this network serves as a key instrument for solving problems of hiring and fundraising.
"The best talent wants to work in high growth places and the education that you go through on YC positions you to be ready for that growth. And inevitably, the best capital allocators will take notice," he maintains.
For two Nigerian founders, Ikenna Nzewi (CEO of Releaf) and Pelumi Aboluwarin (CTO of Nomba, formerly Kudi before its rebrand), YC's biggest impact has been more business-focused.
After working on Releaf on the side during college, YC's $120k investment helped Nzewi and his co-founders go into business full time.
"Our previous business model was focused on attracting investment into Africa's agricultural sector, but YC pushed us to go into the market and learn things first-hand," he reveals.
Releaf has recently focused on building the core technology infrastructure to power agricultural production in Nigeria.
For Aboluwarin, the learning process helped Nomba identify and focus on the most important metrics early on.
"This has been a part of our culture till date and helps us keep our eyes on the nombas (pun intended). While it sounds trivial, it is easy to slip into the state of 'playing startup' without being conscious of actual value delivered to customers and shareholders," Pelumi explains.
Aboluwarin's reference to 'playing startup' points to a scenario we uncovered in our piece referenced above — founders shunning actively growing a business to focus on just fundraising.
Combined, Africa's YC-backed startups had raised $1.3 billion as of March 2021, with two of them, Wave and Flutterwave, reaching a billion-dollar valuation. Their headline-grabbing stories show investor attraction for YC-backed companies.
However, 60% of the total funding for YC-backed African startups has come from just four startups — Flutterwave ($474.5m), Wave ($200m), Thrive Agric ($56.8m), and Reliance Health (48.3m). 
Since our data show that 80% of YC-backed African startups have raised less than $10m, Nzewi and Aboluwarin's viewpoints lend further credence to our discussion.
In the past decade (2010-2019), 41% of Nigerian startups that cumulatively raised over $1m went through an accelerator. Chief among them were Y Combinator and Techstars, whose alumni had raised a combined $87.7m as of 2019.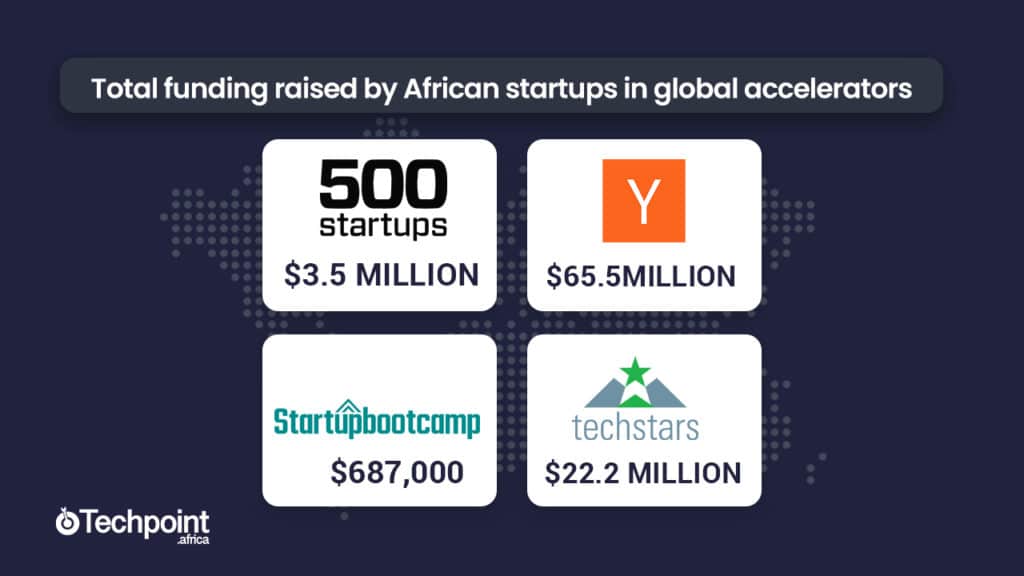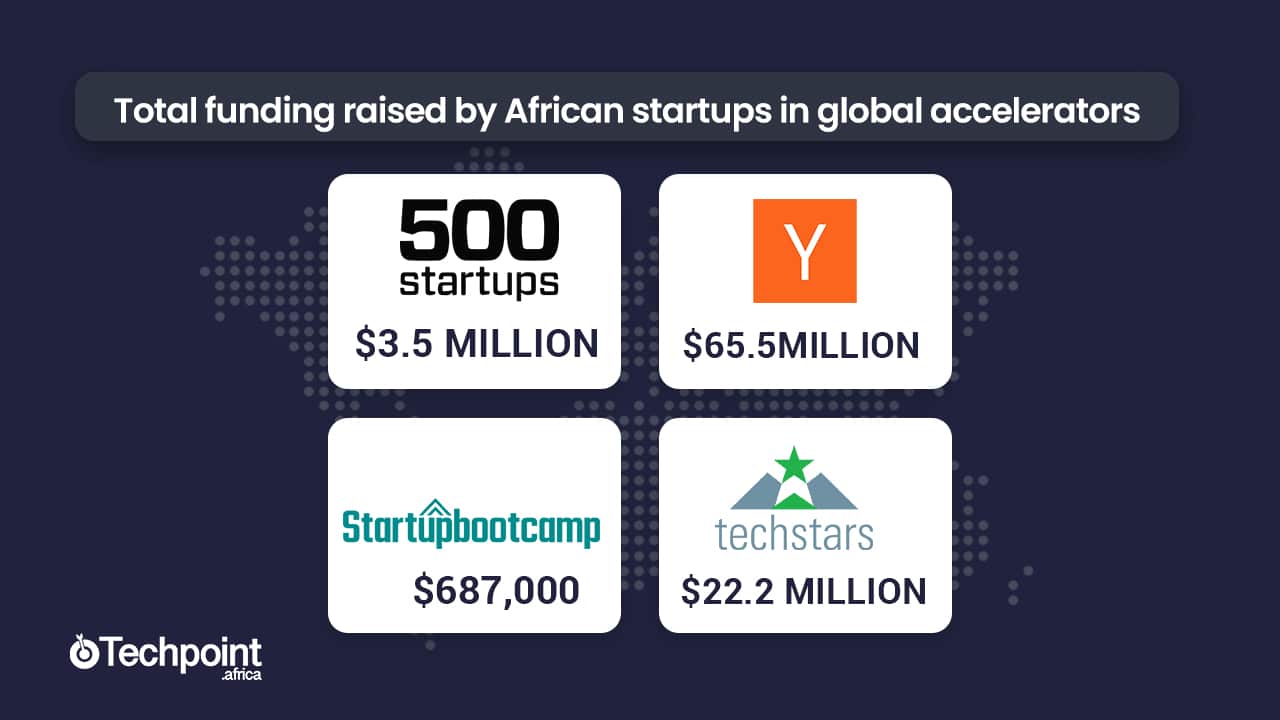 While such numbers prove success via an accelerator, 59% of startups that raised over $1m in the past decade didn't go through an accelerator.
"Not getting into YC doesn't mean you're a bad company," said Kyanne Kassiri, Venture partner at Lateral Capital, in a 2021 tweet. "Getting into YC doesn't mean you're a good company," he added.
Mlambo explains that YC is not a magic pill, "you only get out of it what you put in. It will not magically make your business viable, nor will it guarantee that you hire the best talent in the marketplace."
This suggests that accelerators are just one of the several possible weapons in a founder's arsenal.
Nzewi maintains that getting into YC shouldn't be an end in itself for up and coming founders.
"It is essential to be clear on why you want to join the programme and the business goals it will support you to achieve. That way, you can be more strategic about how you navigate the process," he explains.
Interestingly, YC's considerable influence apparently has ripple effects.
The startup game is changing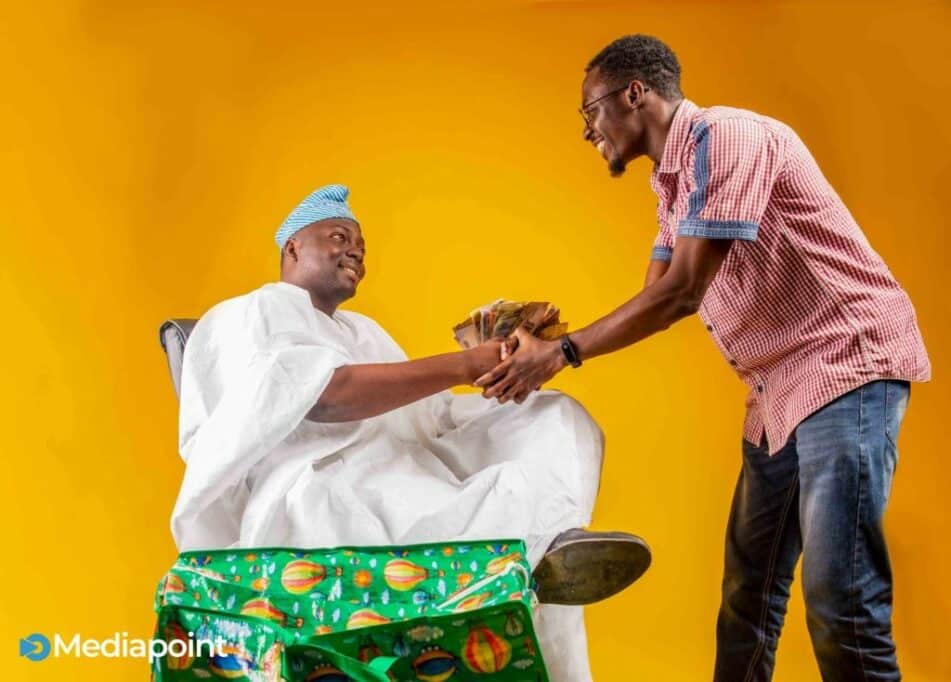 In case we haven't mentioned up to this point, some of Africa's most successful startup stories have come from Y Combinator alumni.
Paystack was acquired by Stripe (another YC alumnus) in 2020, and the Flutterwave is possibly Africa's most valuable private company. With such crown jewels, it shouldn't surprise you to see a significant influence on other startup founders, VCs, and accelerators.
Adesoji Solanke, Director, Frontier / SSA Banks & Fintech Equity Research, Renaissance Capital, reminds us that the YC process has, directly and indirectly, influenced the documentation and incorporation processes for African startups.
"Increasingly, you will find that many of the African companies have US-registered vehicles, which today is a broad expectation if you're looking to raise international venture funding," he adds.
For context, before YC agrees to invest in your startup, you'd have to incorporate in Delaware, and they'd help you set things up. It's no coincidence that many African startups that have raised significant funding are incorporated outside the continent.
Fun fact: Barring Interswitch, all of Africa's unicorns — Flutterwave, Chipper Cash, Andela, OPay — are incorporated outside the continent; the same applies to the publicly traded Jumia.
MallforAfrica (now defunct), whose launch predates YC's Africa activities, was incorporated in the UK, so we can't exactly say YC encouraged a strange practice. But the accelerator has apparently made it more popular.
"Not that anything is wrong with being US-incorporated in itself, but it's important to note that this also brings the added need to have financial, legal, and other service counterparts in the US given the requirements that come with being US-incorporated," Solanke adds.
He, however, reckons that this practice could come with unforeseen challenges, like Mercury's recent decision to freeze the accounts of several African startups with arguably weak justifications.
Solanke reveals that YC is also influencing the processes for African VC firms, particularly in setting the baseline expectations of documentation requirements they now adopt in assessing investment opportunities.
"It is also not uncommon to see some funds use the YC process as an initial screening layer for what goes into the funnel that they assess for potential investment opportunities or encourage their early-stage companies to join prominent accelerator programmes like YC," he concludes.
The ripple effects can also be found in startup valuations and the industries that get the most funding.
In several ways, YC alone is not responsible for these trends. Incubators like CcHUB, talent development companies like Andela, and technology-focused media have shaped the continent's startup landscape in diverse ways.
Unlike most things, change is permanent, so we have to ask, what are the various ways startups evolving, and what would be the drivers of those changes?