In 2021, African startups raised approximately $5 billion, almost three times what was raised in 2020. While more funding has gone into the ecosystem, technical talent has not grown at the same pace.
Per the Africa Developer Ecosystem Report, professional software developers in Africa grew by 3.8% to 716,000 engineers in 2021. As with funding, most of these developers live or work for startups in Nigeria, South Africa, Egypt, or Kenya. 
Furthermore, as the shift to remote work becomes more popular, African startups have to compete with foreign startups for an already scarce pool of developers. These startups, which can pay significantly higher wages than their African counterparts, now employ 38% of African developers.
This development is both an opportunity and a cause for concern. For Sultan Akintunde, Founder of non-profit, DevCareer, ensuring a steady supply of talent for Africa's digital landscape is vital to the ecosystem's long-term success. In addition to his work at DevCareer, Akintunde is also co-founder of technical talent accelerators, TalentQL and AltSchool.
Out of a desire to support new African tech talents, Akintunde gave out free software development. Only 5 of the 200 people who got the courses gave any feedback.
Worried that his effort was futile, he decided to use Twitter for a crowdfunding campaign — the plan was to give laptops to ten developers.
Despite the support on the social networking site, he could not raise any money in the first week. Fortunately, the crowdfunding effort took off, and he raised enough money to get the laptops. Providing laptops is easy, but how do you ensure they are used for the intended purpose?
Enter DevCareer
With support from some volunteers and generous sponsors, Akintunde launched DevCareer in 2019 to support Africa's burgeoning ecosystem. Since its inception, he says that the organisation has supported over 5,000 Africans with laptops or courses.
Laptop4Developers is the organisation's most popular initiative. As its name implies, it gives laptops to a few individuals who cannot afford them yearly. With over 30 laptops given out in the past three years, the organisation plans to give out 100 laptops to 50 men and 50 women in 2022.
$100k to provide laptops
For this cohort, the organisation received a $100,000 grant from non-profit organisation, Pledges; fintech startup, Kuda Bank; cloud solutions startup, Deimos; and identity verification startup, Dojah. The three-month programme provides them with enough resources and training to land their first jobs. To do this, Akintunde reveals that DevCareer is partnering with other organisations to get jobs for cohort members.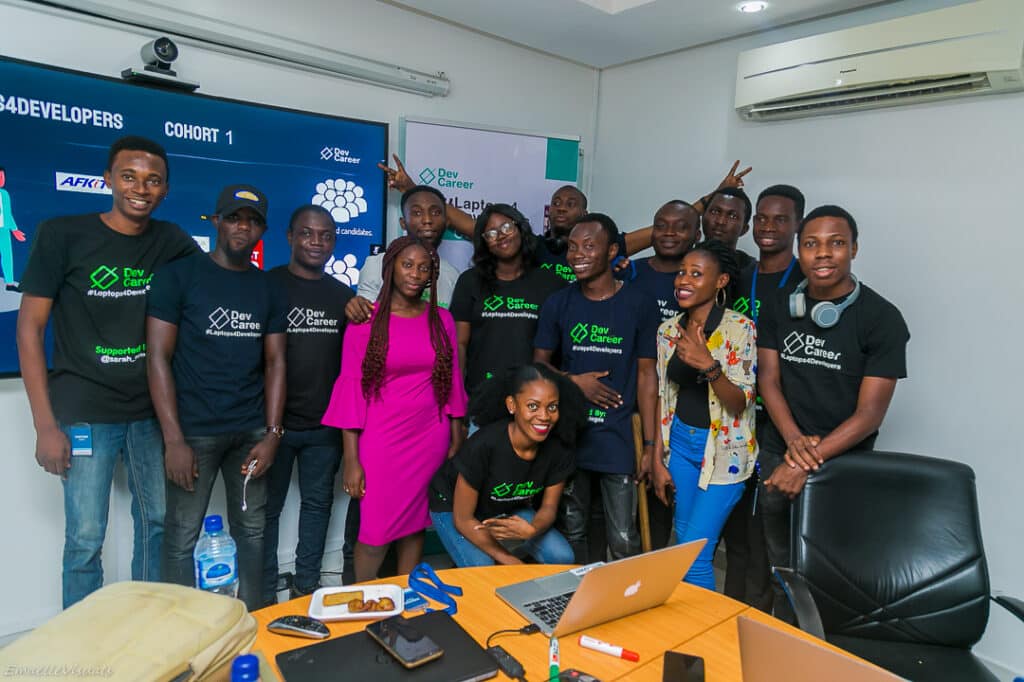 "Before the programme starts, we're going to partner with companies, so we're pairing them with a company for a two-month internship immediately after they finish. Previously, when you finished your programme, we assisted you in getting a job for the first five months, but we don't want to do that again," says Akintunde.
According to Andrew Mori, Deimos CEO, "DevCareers and Deimos share a focus on developing and empowering engineers. We are proud to sponsor and support their mission of helping more individuals get a start in technology.
"With increased digitisation, plus a fast-growing African tech ecosystem, engineers are in high demand, which is leaving a gaping hole in supply. Even with this high demand, Africa is starting to cement itself as a region of enormous engineering capability and capacity. Today's junior software engineers are tomorrow's seniors, and we are proud to play a part in that."
To ensure that only those who are newbies get the laptops, DevCareer physically verifies applicants after they have gone through a two-step assessment.
"That verification process helps us a lot because we're giving out laptops. One of the criteria is a two-step assessment before getting to the interview part of the process. People who already know this work can help others take the test, so this is a security measure."
Anyone who has taken an online course knows how difficult it can be to stay committed and finish on time. However, Akintunde says everyone who has gone through the Laptop4Developers programme has completed it, with graduates getting jobs at startups like Flutterwave and Bento.
Even after getting accepted, participants do not go home with the laptop for the programme's first two months. DevCareer has formed partnerships with tech hubs in some states in Nigeria where participants study and where the laptops are kept.
These hubs include Wennovation Hub, Impact Hub, and CcHUB in Lagos; Olotu Square Hub in Port Harcourt; and 720 Degree Hub in Abeokuta.
Building a talent pipeline through partnerships
There seems to be a consensus that there are not enough talents in Africa, but Akintunde believes it is a subjective discussion.
"When we say there are not enough talents, are we talking about senior, mid-level, or junior talent? There are specific fields where we don't even have any talents in Africa. When you look at fields like game and motion design, we have very few people there."
He also believes that the low number of talents could be attributed to the growth of the local tech ecosystem. Some of the continent's most prominent startups have been running for less than seven years, and he believes that while these startups find their feet, it falls on other organisations to ensure a steady supply of talent for the tech industry.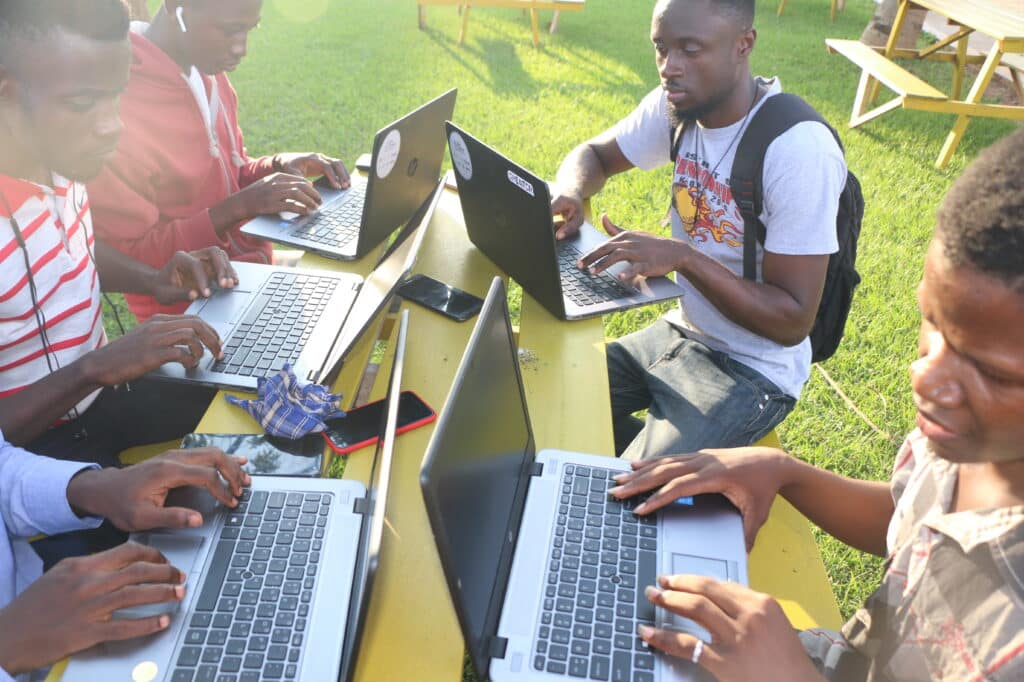 However, he believes that startups can still play a role by building partnerships with organisations that train or place talents in jobs. This focus on partnerships explains why the organisation has decided to raise funds from local businesses.
Enogieru Osasenaga, Grant Portfolio Manager at Pledges, said, "Laptop4Developers has brought forth an interesting model that upskills youths and ensures that they remain on the same path after the training. We understand that people get to achieve only as far as they can perceive; thus, our goal, in this case, is to broaden that horizon so our target communities see limitless possibilities."
As crucial as engineers are to startups, other roles are needed to drive growth and move from an idea to a business, and Akintunde reveals that DevCareer intends to target other roles in tech. For a start, the plan is to take in at least five designers in the current cohort, with plans for more in the future.
As a non-profit, DevCareer is dependent on individuals' donations, and Akintunde admits that such an approach could make it impossible for them to reach their goals. In response, DevCareer is launching what Akintunde calls a sustainability plan leveraging community. With this plan, graduates of each cohort commit to providing funds to train one person in the next cohort.