When we talk about gift card trading in Nigeria the first two platforms that come to mind are Cardtonic and Patricia's Glover. These two single-handedly turned what was once non-existent or perceived as a myth in Nigeria into something that could be done at the comfort of your home.
Once upon a time in Nigeria, converting digital assets to actual cash seemed like an impossible task. It's not that it was too difficult, but there was little or no knowledge about these digital assets here amongst Nigerians. So whenever someone came in contact with any of these assets and needed to change it to cash it was always an issue.
The owners of both Cardtonic and Patricia's Glover had similar experiences which prompted them to enter the market. Their diligence, transparency, and consistency over the years have massively contributed to growing not just gift cards but the digital asset trading market in
general.
If you are new to Gift card trading and you are looking for the best platform to trade your gift cards this article would come in handy. I would be analysing both platforms, their features, pros, and cons and you would be deciding for yourself the platform that suits you best.
Cardtonic
Cardtonic is a modern state-of-the-art app to sell gift cards in Nigeria. Cardtonic is customer-oriented, the platform prides itself on customer satisfaction. Going into the market due to a digital asset exchange drought in Nigeria, they have not only made converting gift cards to cash possible but also easy.
Their app is easy to navigate, with the "3 step gift card trading process", you can complete a trade on their platform within a few minutes.
You can sell over 40 gift cards on the platform.
Advantages of the Cardtonic App
Excellent customer service
No Withdrawal Limits
The app is easy to navigate.
Disadvantages of the Cardtonic App
Does not have a "Buy" Feature
Limited solely to Gift card trading.
Glover
You have met Patricia, but do you know Glover? If you do not already know about them, let me fill you guys in. After the circular issued by CBN on the 5th of February 2021, informing deposit money banks to desist from all bank transactions with individuals and companies trading cryptocurrencies, all digital asset trading companies took a big hit. Some more than the others.
Thankfully Patricia was able to recuperate. They decided to try a different strategy and decentralize. On Friday the 19th of March, Patricia transferred all gift card transactions to Glover. This was when Glover was officially given birth to. What this meant was that
All Gift card transactions would be Transacted on Glover instead of Patricia
A new account number different from that on Patricia would be needed to trade your gift cards on Glover
Only Fiat currencies would be used to purchase Gift cards E.g Naira
Glover was founded to create a world with all financial possibilities. Founded in 2018, Glover specialises majorly in the buying and selling of gift cards.
Advantages of the Glover App
Pay bills
Airtime to Cash
Purchase airtime and data.
Disadvantages of the Glover App
Only Fiat Currency is allowed to Purchase Gift Cards.
Complicated UI/UX.
Features of both platforms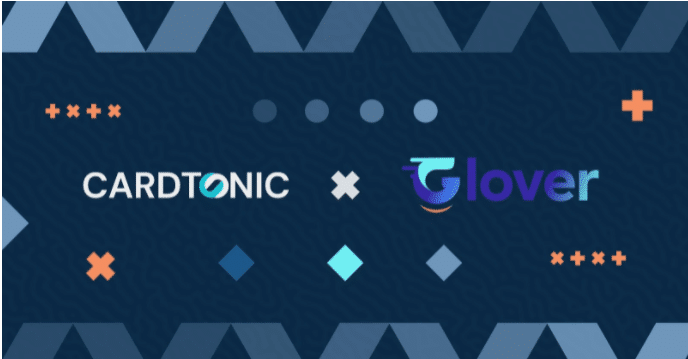 When looking to register on a Gift card trading platform, card owners have different preferences that urge their decision. Although people are unique and taste vary, I would be looking at the most common features that card owners look out for on a gift card trading platform.
1.Secure Platform
In my opinion, this should be the very first thing every card owner should look out for. Before trading on any platform, adequate research should be conducted. You should be asking questions like; Do they have a website, social media, do you know people who have traded on their platform, have they ever been featured in newspapers, or on tv, etc?
Fortunately, it would interest you to know that both Cardtonic and Glover are 100% secure. Both platforms have displayed exemplary track records over the years, be rest assured that your cards are secure on either platform.
2.Rates
One of the most important aspects of standing out as a digital asset exchange platform is having good rates. Now, it is necessary to understand that gift card rates vary. They are never constant. Gift card rates are dependent on the demand. If a particular card is in high demand, the rate of such gift cards would be high and vice versa.
Currently, Cardtonic has better rates than Glover. As of today, a 100 GBP steam gift card on Cardtonic is 39000, while on Glover is 37000 Naira. A $100 Razor gold gift card on Cardtonic is 36,500 Naira and on Glover 32,000 Naira.
3.Variety
Now, a couple of people also look out for platforms that can perform more than one function. While some prefer their Gift card trading apps to solely be for the purpose of trading gift cards, Some Gift card owners would want to see what more their app can offer.
In terms of variety, the Glover app is currently better than the Cardtonic app. On your Glover app, you can do a couple of other cool things other than trading gift cards alone. Such as; Renewal of certain subscriptions, purchase airtime and data from all major network service providers in Nigeria, Convert airtime to cash, etc.
4.App Review
We all know how difficult customers can be, they are usually stingy with their ratings. Sometimes, it is not the fault of the platform, there are tons of bugs or app downtime that occur even with the biggest apps. We probably have experienced a time when Instagram or Whatsapp temporarily shut down.
Other than those few times, Customers usually rate apps due to the convenience it provides. Is it easy to navigate? how is the speed of service the app provides, Do they have constant and responsive customer support, etc.
Currently, Cardtonic Gift card trading app has better ratings than Glover. on the Apple iOS store, Cardtonic has an average of 4.7/5 ratings & reviews, while Glover has a 2.4/5.
5.Buy Feature
Certain people are also looking for a platform where they can purchase their favorite local and international gift cards.
Currently, Cardtonic does not offer the "Buy" Feature on their platform. On the other hand, that feature is present on the Glover app.
Conclusion
After reading this, it is impossible not to have fallen in love with either platform as a gift card trader. Like I said earlier, your decision would solely be dependent on your taste.
Whichever platform you decide on, you would be sure to have a great experience.