On May 12, 2021, Elon Musk, Tesla CEO, tweeted that the company would no longer accept bitcoin as payment for its vehicles.
His reason was that bitcoin takes a lot of energy to mine, and it would be ironic for Tesla, a company that protects the environment by selling electric cars, to directly encourage activities that potentially harm the environment.
Upon that announcement, bitcoin, the most popular cryptocurrency, drastically dropped by 17.82% in the early hours of Wednesday, May 19. Ethereum and some altcoins were also affected as the former crashed by 45.54%.
You might be wondering how one man could, to an extent, determine the value of cryptocurrencies. Well, the reason is apparent.
Recall that on February 8, 2021, Musk reportedly announced that Tesla would be accepting bitcoin as payment for its electric cars in the 'near future' after investing $1.5 billion. That investment was said to have sent the price of bitcoin up to $43,000.
And on March 24, 2021, Musk tweeted that Tesla would start accepting bitcoin in the US as payment for its cars. 
The news led to a surge in the price of bitcoin, as it rose to $56,000, leaving investors smiling. 
However, with the decline of the world's first-ever cryptocurrency to less than $38,000 on Thursday morning, May 20, investors seem to have lost all their gains.
While bitcoin and some other cryptocurrencies are bleeding, investors are teary. 
Victor Asemota, a Nigerian businessman and startup investor, tweeted, "I take it back. Crypto is now worse than equities. I have lost all my gains this year and the last in a few hours."
Faith*, a crypto investor, tells Techpoint Africa, "There is no stable coin anywhere. A lot of people will stop trading crypto after this. But I have a question, what else is left to lose after this? When all is over, the only way is up."
Meanwhile, Toyin, a crypto trader who has been trading for four years, believes that crashes are part of crypto investment.
"There has always been a crash every year. Some people don't know this, and that's why they panic. Crashes are normal," he says.
Techpoint Intelligence reported the dips in the prices of bitcoin over the years in percentages.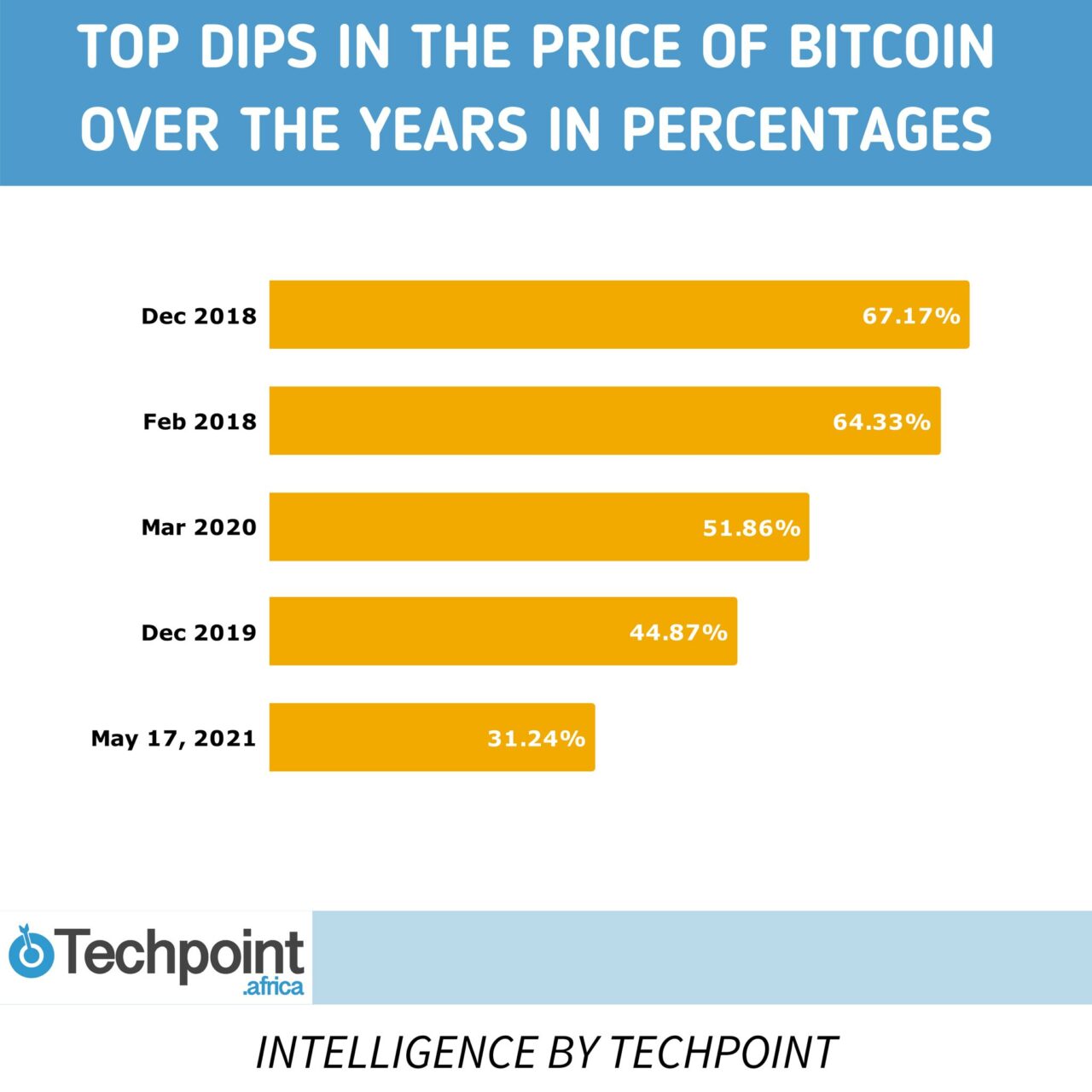 In December 2018, there was a 67.17% decline compared to 64.33% in February of that same year. And in 2019, a drop of 44.87% was recorded. But that's not all.
As a result of COVID-19, in March 2020, Bitcoin crashed by 40%, following the crash of major markets, including stock exchanges.
Similarly, the altcoin market declined with a significant fall in Ethereum by 39%.
The market capitalisation, in 2020, also crashed by 52.25%, from over $260 billion to $126 billion. And now, the market capitalisation, which crashed by 20.87%, is at $1.59 trillion.
Comparing the market capitalisation of 2020 and 2021, what is happening now is not as significant as the market's crash of March 2020.
Perhaps, the dip is normal, and as some investors expect, there'd be a rise soon. As at press time, bitcoin had reached a $40,000 mark.
Responding to the crash, a crypto trader reminded other traders in a tweet of the 2017 crash by 83.5% and how bitcoin traded for $3,230 from $20,000.
Recall that early this year, the Nigerian federal government issued a circular to prevent the use of cryptocurrencies by prohibiting banks and financial institutions from facilitating payments for cryptocurrency exchanges.
However, we reported that Binance, a leading crypto exchange platform, recorded a surge in African users on its platforms. There was an increase of 2228.21% in P2P users on the platform, with Africa recording 386.93% in P2P.
Besides, between January and April 2021, the trading volume of crypto-crypto transactions increased by 28.61%, while there was a 114.33% surge in users across Africa.
TechCrunch reported that Coinbase, the first crypto platform to enter the New York stock market, experienced some outages due to panicked selloffs, affecting its share price.
Given the volatility of digital currencies, there'd probably be a surge in the cryptocurrency market soon. But one can't help but wonder what would happen to the number of African cryptocurrency users after the crash. Will there be a decline or an increase? Only time will tell. 
* - Not real name
Featured Image Credit:  Pierre Borthiry on Unsplash