PREMIER Hub innovation Centre is now accepting applications for the I-startup Southwest 3.0 (The third Cohort) and the first edition of the Lagos startup Challenge.  
These incubation Programs backed by the National Social Investment Programme under the Office of the Ministry of Humanitarian Affairs is empowering startups to pursue their dreams and contribute towards building sustainable businesses and creating more jobs.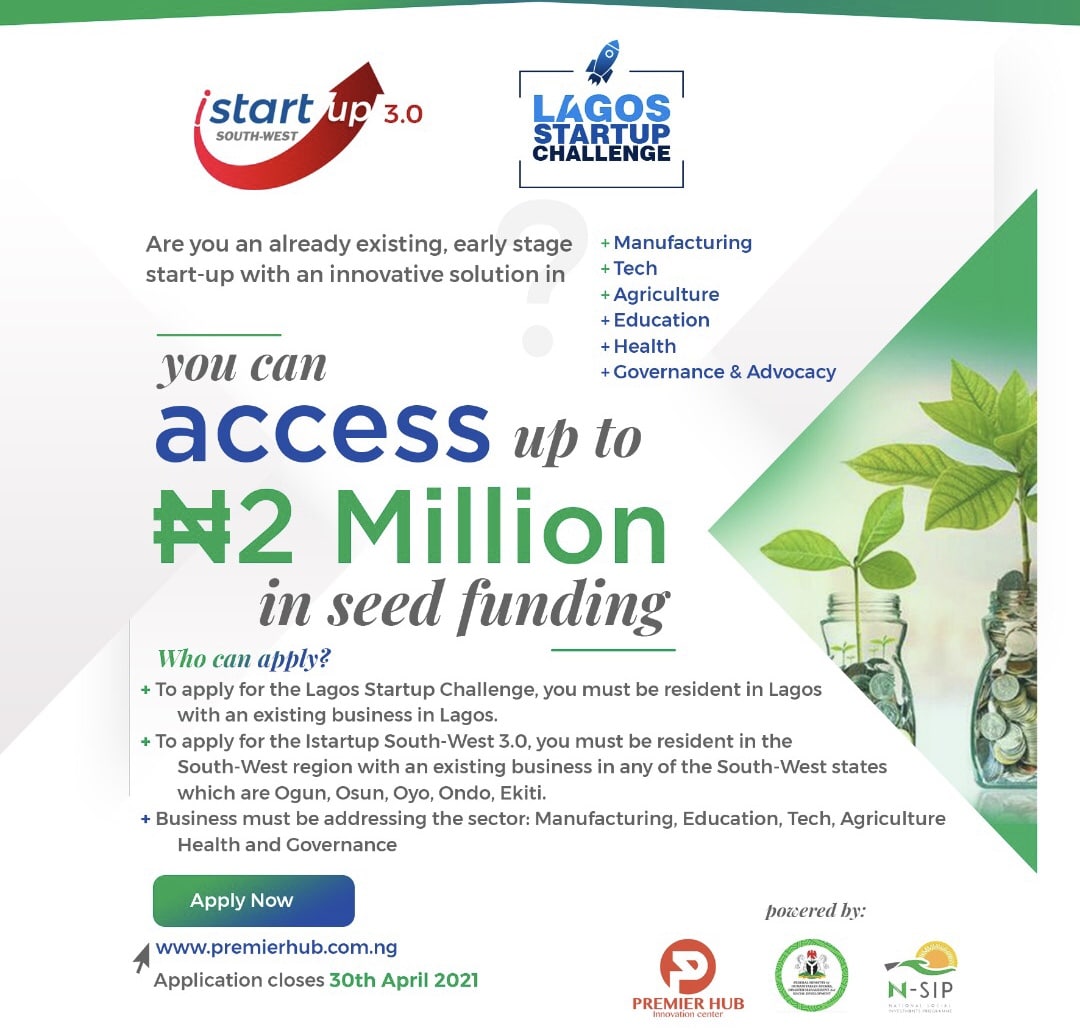 The 12-week incubation programs will engage selected startups with physical & Virtual activities including training and mentorship by experienced facilitators and founders from different industries.  These startups will also receive equity funding, business advisory services, access to network & pitch to Investors, as well as free and discounted services, amongst other benefits. 
Having completed two cohorts of the I-Startup Southwest program, Premier Hub seeks to plug into the identified gaps within the enterprise space and seeks innovative solutions in Manufacturing, Education, ICT, Agriculture, Health and Governance sectors.
WHO CAN APPLY ?
1. To apply for the LAGOS STARTUP CHALLENGE, you must be currently resident in Lagos with an existing business in Lagos.
2.  To apply for the I-SOUTHWEST 3.0, you must be currently resident in the Southwest region with an existing business in any of the southwest states which are Ogun, Osun, Ondo, Oyo ,Ekiti, Lagos.
3. Have a business idea addressing these sector Manufacturing, Education, ICT, Agriculture, Health and Governance
WHY YOU SHOULD APPLY FOR ANY OF THE PROGRAM?
1.  Provides Startup Grant between 500k -2M Naira to validate product & gain market fit.
2.  Accepted startups enjoy hands-on mentorship from leaders in their business sector.
3.  Provides opportunities to connect with potential customers and investors. Startups will get introduced to a network of investors at the end of the program for possible follow-on investments.
4.  The intensity of the program gives businesses the chance to really develop strong business models and pivot if necessary. 
5.  Provides validation of the businesses
6. Access to the program's alumni network, Startups get to meet previous cohort founders and learn from their experience firsthand.
*This programs are free of charge
Interested candidates are invited to apply via the website www.premierhub.com.ng.
 Deadline is set at April 30, 2021