It is common to see freelance photographers at various functions in Nigeria jostling for the attention of arriving guests. And it seldom ends with arrivals as they continue to take pictures long after the guests are seated. Of course, this only happens if the guests decide to patronise them.
These freelance photographers attend events despite the presence of official photographers hired by the event organisers.
As I sat at a wedding reception recently, I couldn't help overhearing a prospective client refusing a freelance photographer's services: "don't bother, the picture would only go to waste."
There were looks of disappointment on most photographer's faces. And had an artist been present, a masterpiece called "Photographic Disappointment" could have been painted before the event ended as guests declined the photographers' offers.
Freelance photographers typically gatecrash events and try to convince attendees to take a picture or two, with a promise to deliver a printed copy — usually sold for at least ₦200($0.52) — before the event ends.
But there is an associated risk as guests might either reject the pictures, which truthfully are mostly of poor quality or leave the event before the photographers return with the printed copies. Needless to say, the business is a high-risk one.
As if the rejections and 'disappearing' customers are not enough, some attendees own smartphones with cameras that do an excellent job.
I even found myself turning one of the photographers down and saying, "Your service is not needed because I have a phone with a good camera."
This isn't a particularly good place for these photographers, especially given how badly the pandemic affected the global event sector in 2020.
Sadly, this is the reality of some photographers.
The market is generally bad
Before considering the fate of photographers, camera manufacturing brands are not having a good time either. Following a peak in annual global camera shipments in 2010, there has been a consistent, sharp dip.
According to this report based on data gathered from the Camera & Imaging Products Association (CIPA), the number of camera units sold between 2010 and 2018 fell from 122 million to 20 million. As of Q2 2019, there wasn't any sign of improvement as only 7 million units were sold.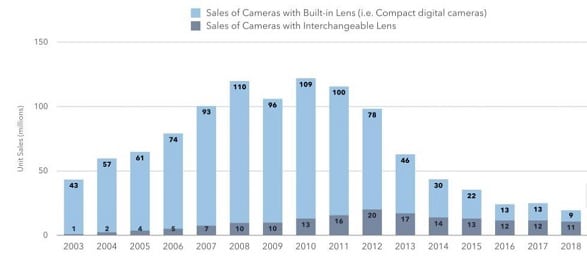 Market leaders like Sony, Fuji, Canon, and Nikon are now expected to scramble for the lean market interested in digital cameras while less known brands struggle for survival.
With more sophisticated smartphone options available, photography enthusiasts have more alternatives. Most times, they do not only choose based on what device offers the best picture quality but also consider what they can afford.
For instance, a Samsung Galaxy phone or an iPhone might cost more than a relatively good DSLR camera priced between $52 and $970. This means that sometimes cost is not always the determinant when choosing a device for photography.
According to a professional smartphone photographer, it makes financial sense to choose a smartphone over a digital camera which costs a lot. But passion still counts.
"My choice of phone photography was influenced by the urge to document every aspect of human life: the stress, the laughter, the smiles, and the pains that come with everyday living."
Apart from the convenience of portability his smartphone offers, it has a good camera and gives him different editing applications options.  Then there is also the plus of uploading to social media platforms at the tap of a button.
That phone manufacturers understand this perfectly is not in doubt. And this is evident not only in annual smartphone sales but also in each update's camera quality.
Some time ago, we took a look at phone brands and their obsession with smartphone camera features.
Between 2010 and 2019, Apple recorded a 444% increase in iPhone sales. This is a similar situation with other smartphone brands, but it might not entirely count in this narrative since not all smartphones have good cameras.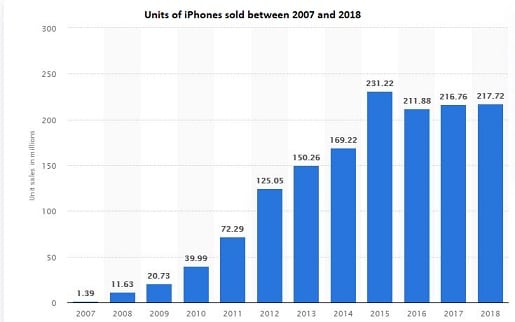 Still, Samsung topped the list of global smartphone vendors between 2019 and 2020.
Impact on the art and business of photography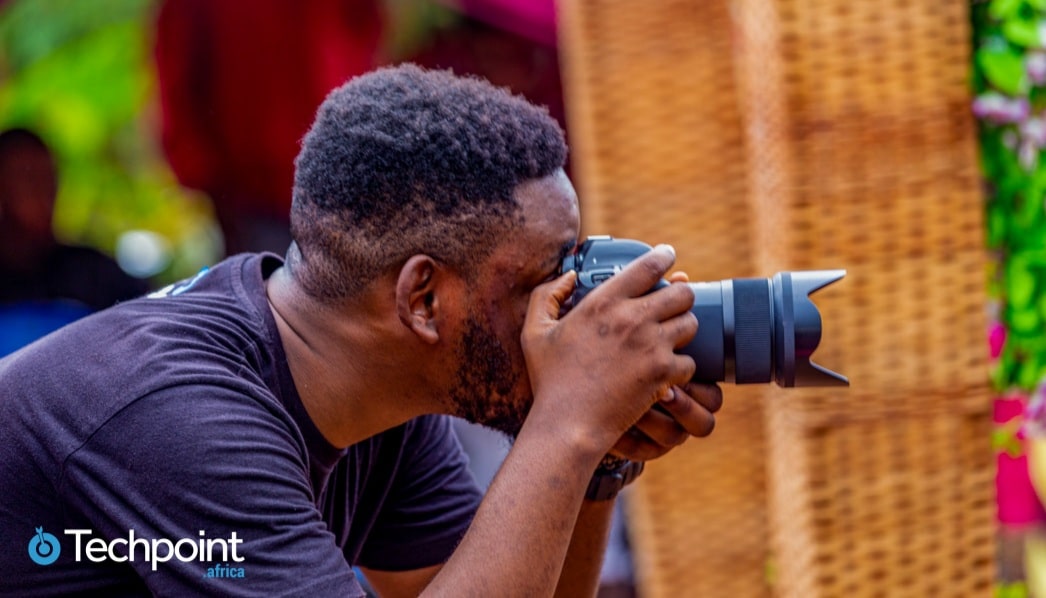 There has been an undeniable surge in creativity.
For Sulola Abiola, who is only a year into creating art through smartphone photography, the attraction came from admiring another professional's works online. It wasn't long before he decided to turn it into a business.
He believes that smartphone photography has gone beyond a means of improvising or a temporary alternative for digital cameras. Adding that it is a niche that is huge enough to compete within the photography industry.
On the other hand, Adewale Segun, a professional portrait and event photographer in Ondo State, Nigeria, somewhat agrees with Abiola.
He recollects his early days — in 2013 — when practising photography was tasking because of the use of analogue devices. But the evolution of cameras has brought digital devices that are regularly upgraded to meet market demands.
Since he has expertise in shooting and editing, the availability of more digital software helped him handle his jobs with a touch of perfection. However, he admits that he enjoys this privilege because of self-development.
"Many old photographers have dropped out of the business except for some of us who are very good at using computers. Every year, different photo editing applications and software are released."
He believes that his business has been affected a little because people who own smartphones have reduced their studio visits.
However,  Adewale believes that this is a more trying time for people still depending on outdated methods like paper photo printing as they might continue to run the risk of rejections.
https://techpoint.africa/2020/12/18/nigerian-photographers-during-pandemic/
As some Nigerian photographers' experiences in 2020 revealed, the pandemic has boosted people's confidence in self-service. Smartphone sales in Africa didn't reduce as much as was expected last year, and it remains to be seen how deepening smartphone penetration would further impact the continent's photography industry.