Seemingly leveraging the current demand for deliveries of essential services during the lockdown, Africa focused e-commerce platform, Jumia, has apparently expanded its e-commerce footprint to South Africa.
According to a report by Jumia, though it has faced supply chain challenges and has had to suspend deliveries on non-essential items due to the lockdown, it has recorded an accelerated growth in its e-commerce service, especially for fast-moving consumer goods (FMCGs).
---
Suggested Read: Why groceries could be the magnetic pull needed by the Nigerian e-commerce market
---
With little fanfare, the Jumia portal (www.jumia.co.za) was launched on April 9 2020, to provide consumers in South Africa, with essential hygiene and sanitary products like diapers, soap bars, disinfectants and liquid hand wash, as well as to aid retail distribution.
The launch was enabled by partnerships with major consumer goods companies like Reckitt Benckiser (makers of Dettol and Harpic),  and Procter & Gamble ( Pampers, Always, and Oral-B).
Jumia co-CEO, Sacha Poignonnec believes that the portal's launch, which was done with such reputable partnerships, will offer safer shopping solutions to South African vendors and consumers.
Prior to the launch, Jumia's presence in South Africa had been limited to just Zando, its online shopping platform. However, as a result of the lockdown, Zando had to temporarily suspend full operations.
According to Grant Brown, CEO of Jumia and Zando South Africa, the newly launched platform will leverage existing Zando infrastructure to facilitate the distribution of essential products for vendors and consumers in South Africa.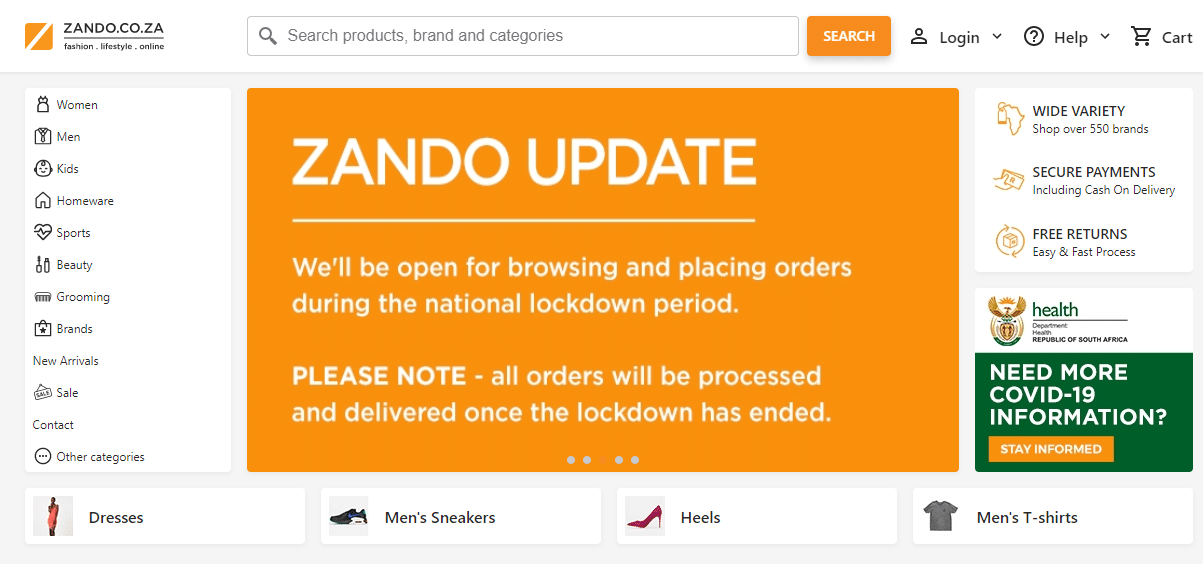 The company also stated that it has taken additional measures such as contactless deliveries for prepaid packages, to ensure the safety of its delivery agents, consumers and partners alike.
Through its partnership with Reckitt Benckiser, Jumia also claims that it will be reinvesting any initial commissions it makes on goods like Dettol, JIK and Harpic into discounts on the consumer price.
This move comes after the e-commerce platform shutdown operations in countries like Rwanda, Tanzania and Cameroon. These moves, according to co-CEO Jeremy Hodara were strategically made to focus the company's efforts on its key markets.
With the shutdown of businesses non-essential goods services, Jumia, through its Zando brand, risked substantially reduced business activities in South Africa. But a timely launch of the news portal will likely keep things running.
A glance at the website reveals several sanitary and hygiene products from its major partners, but there are currently just few grocery items. According to Brown, the company welcomes more brands and partners in the provision of services on its platform.