Editor's note [Updated on December 3, 2019]: In making an example of Simeon Ononobi, this article originally insinuated that his current startup, ThankUCash is successful solely because his wife is a co-founder. This ignored the important fact that there are 4 co-founders on the team. This inaccuracy has been corrected below. 
---
Most innovative ideas form beautifully in the mind and even become more vivid after launching. The founder imagines how the business breaks even after the first year, scales in five years, and everyone lives happily ever after.
But this is how it looks in reality. A founder bootstraps a startup because it is in a popular industry, say eCommerce, getting a lot of entrants. The business starts out well as the team is able to convince retail shops to adopt it. But a few months after it launches, it begins to experience some challenges that have to do with logistics, operations, and staffing.
Having exhausted personal savings and grants, the founder is restricted and can't possibly innovate further. At this stage, getting investors interested becomes practically impossible.
This results in halting operations to restrategise, all the while leaving faithful clients on the platform stranded. Many months go by and there's no telling whether the business is finally gone or not. Then suddenly, the entrepreneur moves on to another business, following feedback from his previous clients.
There are several other variations this reality can take. So, this begs the question of what point to call a business quits?
Signs of failure
There are cases where founders decide to write their postmortems even before they launch. This is likely a way they prepare for the worst. And while some are comfortable speaking about it after failing, others simply move on to other profitable ventures in a manner that leaves the public bemused.
A founder running a successful enterprise had this to say as his hack for staying afloat.
"First of all, it boils down to customers. Before I start any business, I ask myself if the market is hot. I don't do business because it is cool or I feel it is going to revolutionise the world. Now, if you are playing in a hot market and you have customers, you don't have a choice but to evolve slowly, else it would crash on you."
The truth is that success is not promised through market validation or creating a balance between product offering and market need. Founders may need to be aware of their startup's vulnerabilities and act accordingly.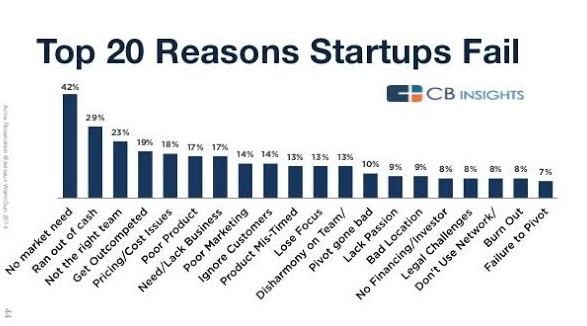 More clues
While giving up on an idea at the slightest challenge may initially come off as cowardice, a founder needs to be sure if the factors responsible for the ailing startup can be remedied or not.
Without disputing the stereotype around funding, which contributes largely to startup death, there are also a number of other factors at play. Probably the first valid sign is when a business stops making money.
Akin Alabi, founder of NairaBet, bluntly revealed in an interview that the reason anyone starts a business is to make money. An aberration to this should possibly raise an alarm. Apart from this, what seems to require even closer attention is the market needs.
Sometimes, until you get into the system it may be impossible to find out what works and what doesn't, especially when operating in an emerging market.
Before calling it quits, Ability Elijah, founder of defunct music distribution startup, CakeTunes, asked himself whether Nigerians really buy music online.
He later advised anyone looking to launch in the music industry saying,  "One word for the wise, quit that music startup while it is still early or your business will die a miserable death like mine."
According to him, such founders will lose a lot of money,  unless they have the cash to burn on such complicated business.
In a related story, Josh Okpata, founder of online rental and leasing startup, Eazyhire, made a statement after hitting a brick wall.
"Running a community where people can lease or share stuff is quite unconventional and in Nigeria, that terrain is still very murky. We had two legal retainership agreements and I cannot tell you how much we spent on arbitration. Initially, we were making assumptions that the system was going to work, but the reality is that the system doesn't work," Okpata relayed.
As expected, entrepreneurs taking the chance to go out on their own and starting a company comes with a willingness to take calculated risks. But without customers the best founder with the best idea would likely falter.
What does your gut tell you?
During a speech at an event organised for female startup founders in October 2019, Iris Shoor, CEO Oribi, shared two experiences of startup exits, one of which really stood out.
Apparently, she co-founded the second startup with her husband. However, they broke up and she remarried; a year later she didn't feel it was right to remain with the startup. At this point, she knew it was time to let go. She'd rather prioritise her personal life over her professional life.
For his part, Simeon Ononobi, founder of SimplePay, says the startup crashed because he took the journey alone.
"My first startup was a lonely road and it crashed because at some point I couldn't share anything with anybody," he admits in an interview sometime this year.
He currently runs tech-enabled customer loyalty platform, ThankUCash, which he co-founded with three other partners, including his wife, Madonna Ononobi.
"One of the most important advice I will give is that you need to get people to share your dream with you. You need to have co-founders. It is really depressing when you try and start alone. Have a support system," he added.
---
Suggested Read: 5 things to consider before going into business with your friend
---
Maybe 'fail early' is really a thing
Achieving success while anticipating a possible failure seems more practical. At some point, founders must learn to respond to failure, or signs of it, swiftly.
Then again, maybe it's all about knowing when to walk away by sincerely acknowledging that the business no longer works.
After all, the statistics around startups' success rate is quite low; only 4 out of 100 startups make it to their 10th year.
As it is, not enough is known about when founders decide to shut down business operations or pivot to a new product.
---
Also read: Is your startup failing? Tell your employees