This article was published in November 2019
---
In 2018, during a ₦200 billion loan facility signing by MTN Nigeria, the company's Chief Financial Officer, Adekunle Awobodu pointed out the possibility of conducting a 5G network trial, following a successful one in South Africa.
True to his words, MTN commenced its 5G network trial in Abuja, Nigeria on Monday, a first for any country in West Africa.
Beyond Abuja, MTN will also be conducting network trials in two other locations in Nigeria: Calabar and Lagos. The network testing in Abuja is powered by Huawei. Calabar and Lagos are powered by ZTE and Ericsson respectively.
Speaking during the trial in Abuja, former Nigerian Communications Commission (NCC) Executive Vice Chairman, Ernest Ndukwe -- who is also a board member of MTN Nigeria -- expressed his delight in the fact that Nigeria is one of the countries championing 5G trial on the continent.
Apparently, 5G connectivity requires huge infrastructure investment and according to a top official of MTN, the government will be playing a pivotal role with respect to regulations, as expected, as well as infrastructure development.
Speaking at the trial in Abuja, the Minister of Communications and Digital Economy, Dr Isa Pantami pointed out that the federal government is conversant with the fact that the information and communications technology (ICT) sector is one of the critical sectors of the economy.
To this effect, he revealed that the government is working on an executive order to address critical national telecoms infrastructure.
The minister acknowledged the delay in getting approval from the regulatory authority. In spite of this, he looks forward to a successful deployment of the network.
As fast as the speed of light
During a comparison test on both 4G and 5G networks, it took just 15.78 seconds to download a 2.3 GB video on the 5G network. The same file on 4G took exactly 5 minutes, 3.84 seconds.
While download speed on the 5G network was about 1 Gbps, it can apparently go as high as 4.1 Gbps. According to Dolapo Adeniji-Adele, RF Technical Specialist at MTN, factors like server load, as well as the device contribute to the download speed.
On the other hand, the download speed on the 4G network was just about 68.2 Mbps, which is a little fraction compared to that of 5G. Worthy of note is that the 4G network is on the 2600 MHz band and 5G on 26 GHz.
Unlike fibre optic that requires laying cables, 5G infrastructure basically works on cloud-based architecture.
For the trial, MTN secured a 100 MHz spectrum in Calabar and 20 MHz in Abuja. As, expected this resulted in a significant difference between the Internet speed tests in Abuja and Calabar.
Demoing @MTNNG 5G in #Calabar, via video call over 5G from #Abuja; Incepto-Demo. Peep the download speed (second test). #MTN5GDemo #ExperienceTheFuture pic.twitter.com/o67O4mJN4H

— Techpoint Africa (@Techpointdotng) November 25, 2019
Voice services are still a cash cow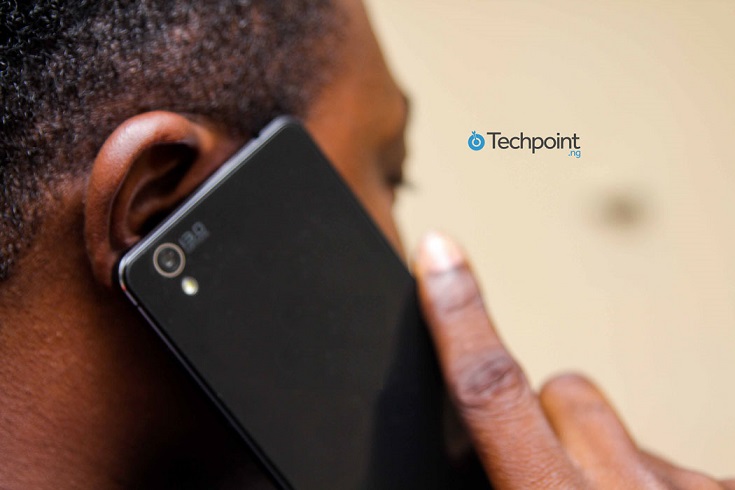 In a report for Q1 2018, the MTN Group recorded a 15.2% year-on-year growth.
While 5G has the Internet speed advantage, voice calls are expected to continue to be a key medium of revenue for MTN.
MTN says it is already working to enable 'Voice over 5G', the first of its kind in Africa. In a demo, a voice call over 5G connected in under 2 seconds.
Possibilities for non 5G-enabled devices
There's the worry about the level of penetration of 5G-enabled devices. But with a customer premises equipment (CPE), users will be able to experience the fifth generation network at home and on any device, irrespective of whether the device is 5G or even 2G-enabled. All that's needed for connection is a device that has a WiFi capability.
The CPE will run on WTTx -- an access solution that uses wireless to provide fibre-like broadband access for households.
According to another technical specialist with MTN Nigeria, the CPE can provide experience of up to 1 Gbps.
Use cases for 5G
"5G offers tremendous benefits in terms of speed, latency (less delays), efficiency and security. This pilot offers a unique opportunity for us to explore use-cases and applications in Nigeria, and we are excited about its potential for our country and our company" noted Mohammed Rufai, Chief Technical officer, MTN Nigeria.
In a live demo to showcase the relatively low latency of the 5G network, an artificial intelligence goalkeeper responded faster to a penalty kick on 5G than when on a 4G network.
All the goalkeeper relied on was communication, from a sensor, on the trajectory of the ball. Because of the comparatively lower latency on 5G, the goalkeeper was able to react quickly.
A major difference between 5G and 4G, is latency. On 5G, data is sent and received more than 100 times faster than 4G. Here's @MTNNG demonstrating a real-life use case with an AI goalkeeper. #ExperienceTheFuture. pic.twitter.com/ewRHRfQ7vx

— Techpoint Africa (@Techpointdotng) November 25, 2019
This projects a promising future for sectors like tele-medicine, where a surgeon can remotely operate on a patient using robotic hands.
In another live demo, MTN Nigeria's Chief Transformation Officer, Bayo Adekanmbi chatted live with the Minister and his delegates through a hologram, demonstrating the use case of fast Internet speed for remote meetings or live performances by artistes.
Regardless of the successful 5G trial, MTN is not abandoning older generation cellular networks any time soon. According to a top executive, they will continue to roll-out 3G and 4G networks across the country for the next few years.
The 5G demo centres in Abuja, Calabar and Lagos will continue to run for 3 months, utilising the trial spectrum allocated to MTN by the NCC. During the course of the 3 months, it will also extend to four other cities.
Also Read