The introduction of 5G around the world is exciting, with various systems already in place in Europe for subscribers to enjoy the next level in network connectivity.
According to Professor Maziar Nekovee -- an expert in advanced communications, telecoms, and mobile technologies -- those with access to 5G in London are now able to reach speeds of up to 700 megabits per second. That is 10 times faster than anything 4G provides.
This excitement is contagious and some African countries have begun to explore it. For instance, Nigeria recently approved a dedicated spectrum for 5G deployment trials in line with its Vision 20:2020 goals.
Also, South Africa and Lesotho have already blazed the trail by providing the continent's first standard commercial ready 5G network.
---
Suggested Read: More companies target South Africa for 5G roll-out in Africa
---
These are remarkable developments considering that the GSMA Intelligence report stated that it had expected 5G to be commercially available in the African market as far ahead as 2025.
It's one thing to be fired up about a type of technology being developed and quite another to know how it will be useful. But we think we have a few ideas of how 5G can change things in Africa.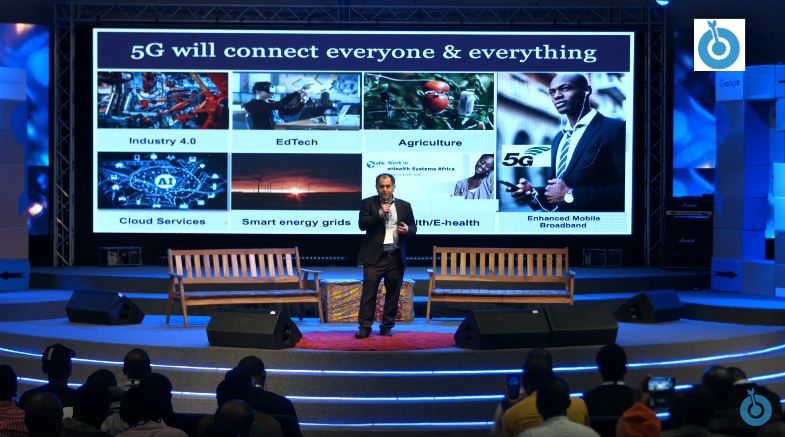 5G is so fast, it will blow you away
Speaking during his keynote session at Techpoint Inspired 2019, Nekovee described 5G this way:
"...we can now reach speeds of up to 700mbps, that's 10 times faster than 4G. Which means that before you can read the label of a High Definition (HD) DVD, it's actually transmitted to you..."
It goes without saying that Africans will gain higher quality broadband connectivity which will lead to better streaming and downloading experiences for the consumer.
But of course, this network is not just about how fast it is, but also how quickly it can transform industries. As GSMA Head of Spectrum, Brett Tarnutzer, puts it:
"…it [5G] promises to accelerate the digital transformation of all industries and sectors, and to unleash new waves of innovation that will benefit billions of people."
Nowhere is this truer than on the African continent. The potential in research and education is present, especially in a continent where people often have to supplement their skills with Massive Open Online Courses (MOOCs) and online degrees.
This speed and acceleration of progress affect other facets as well, as Nekovee further points out.
Enabling new technologies such as artificial intelligence and big data
The difference between every other network and 5G is that the latter enables other technologies to grow alongside it, like Artificial Intelligence (AI) and big data, among others.
"5G is going to be the connectivity infrastructure that is going to enable industry for all. So the use of big data, mobile technology connectivity, and AI to enormously increase productivity will be applied."
The Internet of Things (IoT) and Virtual Reality (VR), amongst others, have been testing grounds for 5G due to the high Internet network and data they require to function optimally.
They also give users immediate feedback on what is going on. These are true, especially where live streaming VR content in video without lag time or buffering is possible.
For instance, live streaming 4K videos in VR of sport events with anything other than 5G would cause the video to buffer a lot. But thanks to the partnership between Vodacom and Nokia, where 5G network was used in Africa, this was possible for a successful VR exhibition event at the Durban July horse race in 2018.
This is just the tip of the iceberg. High-speed wireless connectivity will deliver 4K and 8K videos, holograms, augmented reality, and virtual reality applications for gaming and immersive TV, while bringing people together to enjoy live events, such as sports and concerts.
According to the GSMA report on 5G in Sub-Saharan Africa, 5G could enable spectators to enjoy a 360-degree view from anywhere in the venue.
Andries Delport, Vodacom Group's Chief Technology Officer stated that:
"It is my firm belief that the adoption of 5G will help us to deliver against some of the digital technologies in areas such as big data analytics, artificial intelligence, virtual and augmented reality, autonomous vehicles, and the Internet of Things. Quite crucially, Africa is in the middle of a mobile connectivity boom…"
And with the boom comes prosperity and accessibility that only connectivity can provide.
5G will make Internet connectivity cheaper and more accessible, eventually
The recently published report by the Affordability for All Initiative (A4AI) estimated that as much as 20% of one's earnings goes into acquiring Internet data in some countries.
With 5G, data prices are expected to decline by as much as 25% in South Africa alone, according to the country's National Treasury. This is great news because it will solve the problem of having equal access to the Internet if network providers can get regulators in their countries to release more licences for spectrum to see this through.
According to Nekovee, the economic benefits 5G provides would be sure to improve Africa's digital economy.
"There are also great economic benefits, in addition to mobile connectivity in terms of mobile payments, in terms of new services that 5G brings. So it's not just about connectivity, it's about the digital economy as a whole."
Of course, devices would have to be configured for 5G reception. This means that people would have to get new phones to take advantage of the 5G connection.
With more African nations jumping on the bandwagon of 5G, we must wait and see what the future application of this technology holds for Nigeria and Africa.
Featured image courtesy - Vodacom SA