We often don't get to hear about a startup in Nigeria defeating many others to claim a coveted prize on the international stage. However, this was the case when Chiniki Guard, an AI-based security solution, founded by Abdulhakim Bashir, received the best AI startup award at the GITEX 2019 annual tech event in Dubai this month.
Chiniki Guard won the award after a contest with other AI startups across the globe. This comes at a time when deep tech is still nascent in Nigeria, and from a startup in a region where technology advancement is supposedly at the developmental stage.
The story of Chiniki Guard isn't about the award itself, but a movement no one paid serious attention. While sharing his optimism about the prospect of technology in Nigeria, in an interview with Techpoint, Abdulhakim took us on a journey characterised by struggle and grit, which brought about a rise to prominence.
Early strides
"Software developers in the region I am from face many challenges," he begins.
Since being born into a family only able to afford basic necessities did not guarantee extra funds for hobbies like coding, Abdulhakim began his journey by sponsoring his passion with personal funds. He had to save money to get access to the Internet even as a student with no stream of income.
Using the Internet from cybecafés cost him ₦150 ($0.41) per hour and this amount was not easy for him to come by. To make the journey harder, not many people were interested in machine learning, and fewer still were willing to collaborate with him on a solution. This reality led him to be mostly withdrawn.
"At a point, my parents didn't understand what I did. They just thought I was an introvert preoccupied with his own thoughts. Same with many others who didn't take me seriously until they started to see progress and results."
---
Suggested Read: Nigerian startups focusing on deep technology need to be taken seriously
---
As a young man with an interest in programming, he soldiered on.
In 2014, while in his first year studying computer engineering at the Hassan Usman Katsina Polytechnic, Abdulhakim landed a job as a software developer at Kano Electricity Distribution Company.
This unexpected headway raised some brows because for an undergraduate to get a job position coveted by graduates in such an establishment seemed unbelievable. It would seem Abdulhakim's years of self-development were paying off, albeit at a cost.
"I was only 22 years old, and although I told them I was still in school, they saw I was the best hand they could get and promised to find a way to make it work."
It wasn't an easy decision to make at a time when he just got a shot at tertiary education, following unsuccessful attempts at getting a university admission. This is beside the fact that Katsina is a two-hour drive from Kano which makes it unrealistic to work and study simultaneously.
"There was a negotiation between my department and the company. My HOD agreed that I could take my classes two days a week while I worked on other days as long as I could keep my grades up. Upon graduation this year, the effect on my grades was little."
Making headway
Abdulhakim, who started coding six years ago, only developed a special interest in deep learning technologies sometime in 2017 when he designed his first product -- Chiniki -- an eCommerce platform.
"Chiniki in Hausa means 'to bargain'. The whole idea was to build an eCommerce platform for the Northern Nigeria market. The technology allowed people scan images to search for products and their brands," he explains.
This was at a time when there was a rise in the number of eCommerce startups in Nigeria. Abdulhakim's intent was clear -- build a solution around a working system -- unaware that it wasn't enough to guarantee success. Sadly, Chiniki failed to gain traction
"As a solo founder, I had no idea of logistics, operations, and all an e-commerce business needs to run successfully. I was just a technologist. After putting in my savings and grants from competitions, I got nothing out."
It didn't take long to recover from this mild setback, as he had a new idea after reflecting on feedback from clients.
This may have been due to past victories which left him feeling quite optimistic. In 2017, the product made successful entries into competitions -- The National Information Technology Development Agency (NITDA) Startup Friday in Kano and Gombe -- and won.
Evolving into Chiniki Guard
The idea for Chiniki Guard was birthed a year ago and the initial focus, as an action-recognition algorithm before diverting into theft detection, was for educational institutions to detect examination malpractices.
"Our solution is fully software although we had to incorporate hardware -- PC and camera. The software is deployed as a desktop application which computes pose recognition, estimation, and prediction."
Once the camera does the pose analysis and senses a suspicious action or theft, it sends a notification to a mobile application.
"We have not launched but have tested in three retail stores in Kano, and it worked well. To improve the current accuracy, which is 70%, we want to include facial expression tracking."
At the moment, the product runs on an on-premise software which Abdulhakim admits isn't scalable; he plans to upgrade to cloud upon launching in January 2020.
A race for the best
A pre-selection process done by the Office for ICT Innovation and Entrepreneurship (OIIE), NITDA got Chiniki Guard and five other startups as Nigerian delegates to the GITEX 2019 tech event.
Among the 750 startups from Middle East and North Africa (MENA) nations that pitched for the Supernova startup prize at the event, Chiniki Guard won the best AI startup award.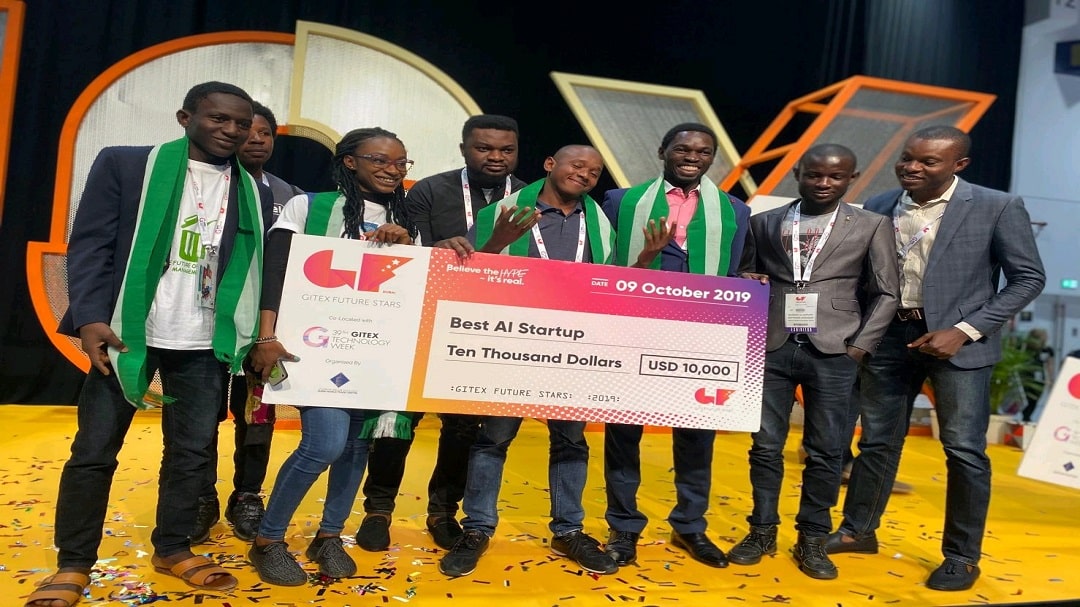 "The competition was tough but exciting, and it was an opportunity to build partnerships with top market players and investors," he says fondly.
This award came with a $10,000 prize, which he plans to deploy towards product improvement and launch. He is confident that a successful product launch would attract investors.
Challenges facing Nigerian deep tech startups
Abdulhakim acknowledges that Nigeria has a wealth of talent but not enough in deep technology. Since it is clear that local challenges can only be tackled when local data is available, he mentions the lack of ready data as the major problem AI startups face.
"Difficulty in getting data has made my work really hard because data is needed to train a model. There's a need to have a national open data strategy for different sectors where data can be publicly accessed through open APIs."
He's positive that when this is in place, AI-based solutions will only encounter challenges common Nigerian startups, such as funding.
Plans going forward
The startup already plans to hire a data scientist expert to quicken the product development process.
"Building our own technology is important to us because we're dealing with human behaviours. We have to incorporate a lot of patterns to help the software to make fast predictions, and only a vast database can make this possible."
In the meantime, Abdulhakim will continue to live by his favourite quote, "You just have to create your own luck by getting prepared for what you want. The only thing about being lucky is to be in the right place at the right time."