The year 2016 was generally termed the year of Virtual Reality (VR) globally. Since then, it's been heralded as one of the next big things in technology.
In addition to the fact that a great number of VR startups in many parts of the globe have sprung up since then, some of them have gone on to raise significant amounts of money.
With a market valuation set to exceed 50 billion yuan by 2021, Chinese VR startups reportedly received a total of $543 million in venture capital between 2015 and 2016. Similarly, VR startups in the US have raised a total of $3.6 billion from venture capitalists.
On the local front the situation isn't much different, albeit without the massive funding. Virtual Reality companies have been around for a while in Nigeria, many of which began operations in 2016.
For instance, Imisi 3D  is an extended reality creation lab focused on creating educational and engagement experiences on Augmented Reality (AR)/VR. The startup has a goal to make VR experiences available to everyone irrespective of status. It is arguably the first adopter of Virtual Reality in Nigeria.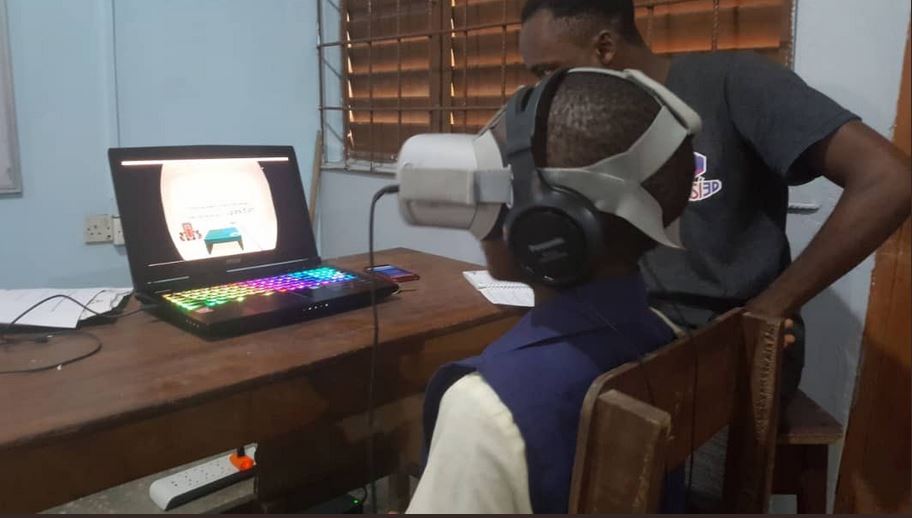 StanLab does something similar, but with a special focus on schools without access to traditional science laboratories.
StanLab came in as a 3D interactive virtual laboratory application developed to provide practical science education to students in lower-middle and low income countries like Nigeria.
---
Suggested Read: How virtual reality can help revamp the Nigerian educational system
---
Another startup making use of immersive technology to change how consumers interact with content is Quadron Studios, one of the graduands of the first cohort of the FbStart Accelerator by Facebook and Co-creation Hub (CcHUB). This startup is into film-making, strictly producing VR animation content for advertising and storytelling.
While all these startups look promising, it seems they are not getting the expected attention. It appears that neither local investors nor the government is involved in the growth of the nascent industry. Rather, most of the assistance seems to come from outside
From 2016, Quadron Studios co-founders, Tayo Fasunon and Uche Anisiuba bootstrapped their VR startup but could barely survive the first two years. After the startup got into the FbStart Accelerator in 2018, the Virtual Reality film studio started receiving market acceptance and began generating revenue.
StanLab, which got recognition in 2016, couldn't get on its feet until 2018, when it received a €20,000 seed fund provided by the British Council.
For an idea aimed at addressing education challenges at the grassroot level, a generous licensing fee, from say the government, could have gone a long way. Over 10.5 million children are out of school in Nigeria, according to a UNESCO 2014 report, the highest any country has recorded. Given this startling statistic, one would expect such a solution to be welcomed on a mainstream scale.
In a similar story, Joel 'Kachi Benson, a Lagos-based filmmaker and founder of VR360 Stories, made his way to international acclaim with his personal funds.
---
Suggested Read: A Nigerian VR filmmaker's journey to international acclaim at the 2019 Venice Film Festival
---
He recently, got global recognition when his VR documentary, Daughters of Chibok, made it into the Venice International Film Festival. Another documentary he produced, In Bakassi, was also played in Hot Docs — the largest documentary film festival in North America.
In 2016, Judith Okonkwo, founder of Imisi 3D creation lab, organised the first Virtual Reality hackathon in Nigeria. The event, which was held in Lagos, birthed ideas on the application of VR in education, medicine, and tourism. Eventual winners of the competition, Team LeVRn,  created a haptic feedback app that teaches users how to code using hand gestures. And the team ended up with $5,000 in seed investment.
LeVRn's idea soon attracted the UNICEF Innovation Fund and was upgraded to be a platform for curriculum-based learning tools to enhance the classroom learning experiences of teachers and students.
VR in Nigeria, going forward
Despite these challenges, Nigeria can do a lot with Virtual Reality because the technology is capable of causing a tangible shift in different sectors of the country.
Clearly, the term 'virtual reality' is no longer a buzzword in Nigeria. According to a Facebook-commissioned survey carried out on 1,028 people across Nigeria in 2018, 80% of Nigerians anticipate that VR will become a part of their daily lives.
---
Suggested Read: 5 insights on the current state of virtual reality in Africa
---
If anything, existing startups are gaining more confidence to thrive, which in turn has attracted new entrants.
VR enthusiasts and founders have also continued to lend their voices to promote virtual reality through hackathons and VR events in different parts of the country.
With the country's progressive growth in technology, industries are beginning to open up to dynamic processes, although the fear that humans will eventually be displaced still exists.
Moreover, the Nigeria government will have to admit that VR may be instrumental to overcoming challenges the country is facing in education, finance, agriculture, and tourism, and begin investing in the industry to propel it to mainstream adoption.
Simultaneously, VR content creators will have to allow free trials on their content to satisfy people's desire to 'try before buying'. This will encourage new adopters to stick with the technology.
Soon, it wouldn't be strange to imagine a future where delegates at a Nigerian presidential election debate will have their VR gear on to experience a candidate's agenda for the next four years.