To build the country of our dreams, to make Nigeria a truly great nation,we must embrace science and technology. The socio-economic challenges we are facing in the country is as a result of inadequate application of science and technology" -- Dr Ogbonnaya Onu
For a nation that has come to this realisation, too little is being done about fostering effective STEM education in Nigerian schools. A few months ago, the Minister of Education, Dr. Ogbonnaya Onu announced plans to teach STEM subjects in native languages in traditional classrooms. This move is intended to boost students' interest in STEM, however, in this age and time, this proposed solution is disappointing.Yet, it is just one of the many cases where fickle solutions have been applied to grave problems in the Nigerian educational system.
Students generally struggle to comprehend abstract concepts that are taught in classrooms. Only a few schools provide functional laboratories and other facilities that can make learning truly engaging. And because students in the digital age are visually active -- thanks to the proliferation of smartphones and other gadgets -- reading long pages of text and listening to long lectures have become boring for many.
Interventions like giving out computers or tablets to schools alone cannot tackle this problem. However, immersive learning can to a large extent.
According to Judith Okonkwo, founder of Imisi 3D, a virtual reality (VR) creation lab in Yaba, "Virtual reality is the one thing that has the greatest potential to completely transform the historic challenges we have had around education".
In a classroom where students are restricted by walls and resources, employing virtual reality can create an immersive environment that can completely redefine learning. According to Adam Stone, "With a 3D, immersive experience, we can for the first time "be there" without being there. We can "handle" objects without touching them."
In many Nigerian classrooms where there are hardly any learning materials to touch and students do not explore, the benefits of VR  cannot be overemphasised.
With VR and relevant content, students can understand abstract concepts better when they are visually represented. Hands-on experiments in controlled environments that are impossible to coordinate in real life situations can also be made possible. From dissecting a cockroach or a lion in a virtual lab to travelling the world, nothing will be impossible.
VR can also improve learning outside STEM courses as students generally learn best by being actively involved.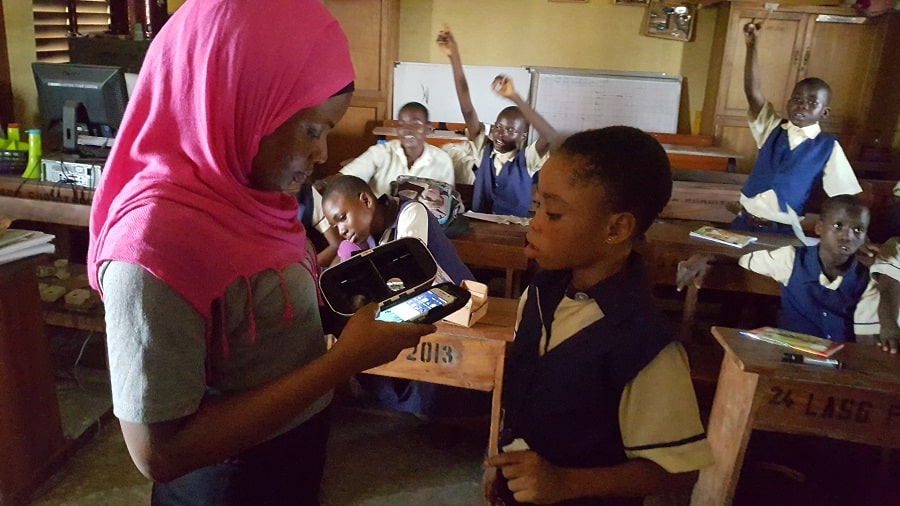 I had a few primary school students try out "Three Pigs" -- a short interactive VR story-- with the Google Cardboard, and they all enjoyed being part of the story which allowed them to search for different characters on their own. Chizoba, an SSS 3 student was awed to finally get a visual idea of space after trying the "Solar System" app on the Google Cardboard.
Cleary VR has the potential to totally revamp the education system, and it turns out that it doesn't require huge financial investment. "The cost is not as much as people would assume," says Judith whose company is currently piloting a 'VR for Schools' project in Yaba
With a low-cost VR headset like the Google Cardboard, a VR ready mobile phone, mobile broadband, and the right content, you have an all-in-one learning solution that can be deployed anywhere -- even in IDP camps," she adds
What should be done?
VR is currently the best shot at providing quality education to all students. As with most edtech initiatives, it will require partnership with relevant stakeholders. The government, instructors, VR developers, and entrepreneurs all have a role to play.
Creating unique content for the Nigerian educational system will involve furnishing individuals with the required skills as well as getting local education content producers involved. Currently, Imisi 3D is building AR/VR communities to ensure this can be achieved and is also offering free scholarships for the Udacity VR developer Nanodegree. Efforts like this can and should be supported and replicated.
Quality education is now within the reach of every Nigerian child. It is time to embrace virtual reality in the classroom.
Feature image credit: Imisi 3D