Privacy International (PI), the organization that tracks data privacy practices of countries and organisations has released a report that certain menstruation apps have been sharing highly sensitive data with Facebook and third parties without their user's knowledge.
According to the report, using Facebook's Software Development Kit (SDK), app developers involved in this report integrated their apps with Facebook's platform.
This allowed developers to collect user's data for targeted Ads and analytics of users. Facebook's SDK allows apps generate information to make money by reaching advertisers who provide users with apps that seem personalised.
SDKs are used because they simplify the process of developing a native application to developers. In this case, it also helps app developers work well with the services Facebook provides.
A shocking detail about this collection of sensitive data is that users of this app do not need to have a Facebook account for data to be collected and sent to the social media giant.
---
Suggested read: 271,000 Nigerians were affected by the Cambridge Analytica data breach
---
Facebook's torrid affair with data privacy is an ongoing issue in the technology space. Its infamous involvement in the Cambridge Analytica scandal that affected national voting activities in Nigeria has many wary.
The period apps involved have at least 500,000 to 1 million downloads. They also collect incredibly sensitive data that a user would be uncomfortable divulging to a friend, much less a stranger in a Fortune 500 company.
---
Suggested read: It seems Cambridge Analytica also had a role in Nigeria's 2015 Election
---
For instance, Maya by Plackal Tech – a former winner of Facebook's prestigious FbStart Apps of the Year starts sharing user's data with Facebook before the user agrees to its Privacy Policy.
They also inform Facebook of everything the user does once the app is opened -- and even more afterwards.
So the user's health and contraceptive use will be on full display.

Though Maya claims the information is used solely for product analysis and that data sent to them is strictly under the control of Plackal Tech, the information is also shared with a third party. But Clevertap (Wizrocket) – the third party in question – is a customer retention platform that uses data to keep users coming back.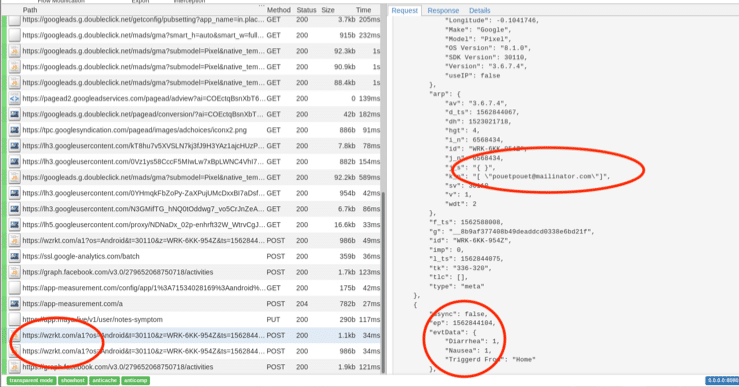 ---
Suggested read: How to stop third-party apps from accessing your Facebook data
---
Other apps that had similar questionable practices with Maya include MIA by Mobapp Development Limited, My Period Tracker by Linchpin Health, Ovulation Calculator by Pinkbird and Mi Calendario by Grupo Familia.
The developers of Maya have reportedly removed "both the Facebook core SDK and Analytics SDK from Maya." This implies that they will no longer be collecting data specifically to be used by Facebook's analytics feature.
However, data will still be collected through Facebook Ad SDK for users who had agreed with the company's privacy policy and terms and conditions.
So which apps respect users' privacy enough not to share their most intimate details with the world?
Period Tracker by Leap Fitness Group; Period Tracker Flo by Flo Health, Inc.; Period Tracker by Simple Design Ltd.; and Clue Period Tracker by Biowink all seem to believe that users' data is sacred – at least for now.
Or maybe they are just better at concealing their indiscretions.
Feature image source: Privacy International