Sometime last week, I was scrolling through my Instagram feed when I came across an ad for a new ride-hailing service, inDriver.
The ad showed two cars; one black and the other green. The black had "Other services" written on it and above it was NGN490. Written on the green car was "inDriver" with NGN350 above it. The ad caption read: "New service in Lagos! Stop paying too much! A trip at the lowest price."
Out of curiousity, I decided to try it out. So I downloaded the app and booked a ride.
inDriver in Lagos
To book a ride on inDriver, you have to first enter your location, your destination, the amount you're willing to pay, and a last option to include "comments and wishes". When you request the ride, drivers close to your location will confirm your order by either accepting your bid or presenting a counterbid.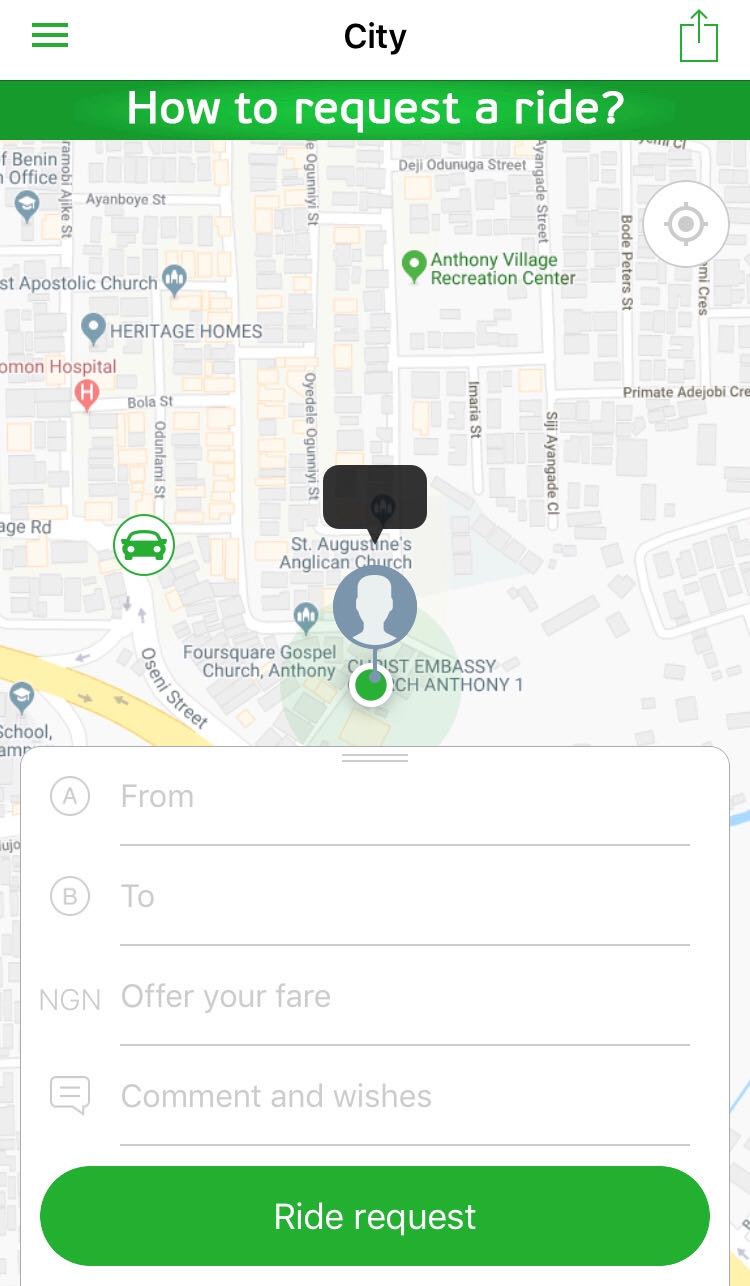 "The app always shows us three different amounts, the rider's bid and two other amounts with about ₦200 to ₦400 difference. If, for example, your bid is ₦1,500 I may be shown ₦1,500, ₦1700, and ₦1800. If I choose ₦1700, you have the option of choosing to accept or reject my counter offer. If it is not okay with you, you can decline," Amos*, a driver who uses the app explained.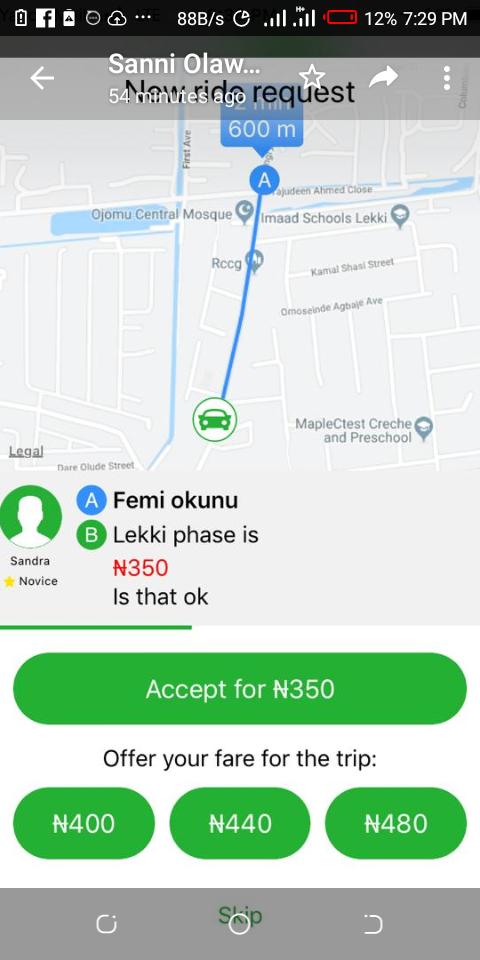 Once both parties are satisfied with the fare, the driver can proceed to pick you up at your location. Since the app does not have an option to add your debit card, payments are made directly to drivers in cash or bank transfer.
Apparently, inDriver has been testing the waters in Lagos, Nigeria for a few months. Amos says he has been using the platform for about four months.
However, according to a representative of the company, inDriver just officially launched its services in Lagos last week and hopes to provide riders and drivers with features that are lacking in other ride-hailing services available in the Nigerian market.
"Nigeria is one of the biggest African markets with population actively using online taxi services. But the current ride-hailing industry in Nigeria is lacking transparency and freedom of choice. We came to fix this," he said in an email sent to Techpoint.
---
Suggested Read: Race to the bottom: The fate of Taxify and Uber in Nigeria
---
Founded in Russia, with its headquarters now situated in New York, inDriver's first entry into the African market was in 2018 when it launched in Arusha, Tanzania. Since then, it has launched in South Africa, Kenya, Uganda, and now Nigeria.
Since inDriver does not have a physical presence in Nigeria, it regularly touches base with drivers via phone calls from its African support team situated in its office in Cape Town, South Africa.
According to Amos, inDriver's onboarding process for its drivers takes about 48 hours. They are required to submit all the necessary documents as well as pictures of their cars (interior and exterior) online for verification.
"After your application has been approved, they send you an instructional video that explains how the app works, including everything you need to know before you start working with it."
InDriver claims to have signed up over 6,000 drivers in Nigeria but would not disclose the number of its users. Amos said he gets up to 50 ride requests everyday on the app.
For now, inDriver does not charge drivers any commission on rides but it says it might start charging a commission "after the free trial period which usually lasts for about six months."
After the free trial period, the company says it will begin charging around 8% which is much lower than the commission charged by other ride-hailing services.
Power to the riders!
According to Amos, despite the popularity of Uber and Bolt in Lagos, many riders are beginning to have a preference for inDriver because it gives them the power to negotiate their fares. More often than not, the bids are very low and many drivers (who are mostly also Uber and Bolt drivers) see this as a disadvantage.
"Many drivers who signed up on the service have deleted the app because it is not viable, considering the traffic situation in Lagos," said Kunle*, another driver. "We're currently complaining that fares charged by Uber and Taxify are low and these new guys are coming in to make it worse."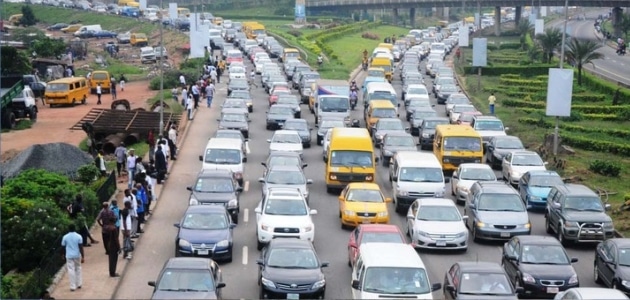 "It gives riders too much power. Imagine a rider bidding ₦2,200 for a trip from Surulere to Ikorodu. Ideally, the trip should not cost less than ₦3,000 but you accept it anyway. Even if you get stuck in traffic for five hours, the rider will still pay ₦2,200. How is that fair?," he complained.
These are some of the feedback Amos and other drivers give the inDriver team, but the company still stands by its model.
"We're aware that the traffic situation in Lagos is quite tough especially during peak hours, when drivers face a lot of traffic jams on the roads. In any case, once the price is agreed on by both parties in the app it can't be changed arbitrarily by the driver unless a rider decides to change point B, and then both parties should agree on the new price."
inDriver, though favourable to the rider, seems to be running a model that is somewhat unideal for the current transport situation in Lagos. And like Afrocab, which ran the same model and had to shut down in 2016, inDriver has Uber and Bolt to contend with.
Since Nigerian consumers are hardly loyal and will always go for the cheaper alternative, it will be interesting to see how inDriver holds its own in the Nigerian market.
---
*Names have been changed at personal request of people interviewed.