The old days of taking unnecessarily long walks in the sun just to locate, and bargain for, a taxi are gradually going behind us. These days, there are tons of eHailing apps that allow you book taxis on-demand from the comfort of your home. Afro is one of such apps. But unlike the many others you might have used, Afro has a familiar origin.
In the beginning was Afro ... Cab
With a soft launch in April of 2014, the startup began operations under the brand name 'AfroCab'. I never got around to using the service then and for some odd reason, it disappeared after a while. Then it resurfaced mid-2015, rebranded as Afro, before going into practical hibernation for the better part of that year. So if you never heard about Afro before today, it's easy to see why.
After many failed iterations of the app, that saw development outsourced to places like India and Australia, the team decided to go back to the basics. The plan -- rebuild Afro from the ground up, for Africans and by Africans. The man at the helms of the rejuvenation, Aniedi Udo-Obong, rose through the ranks of Afro as CTO to eventually take on the role of General Manager in April 2015.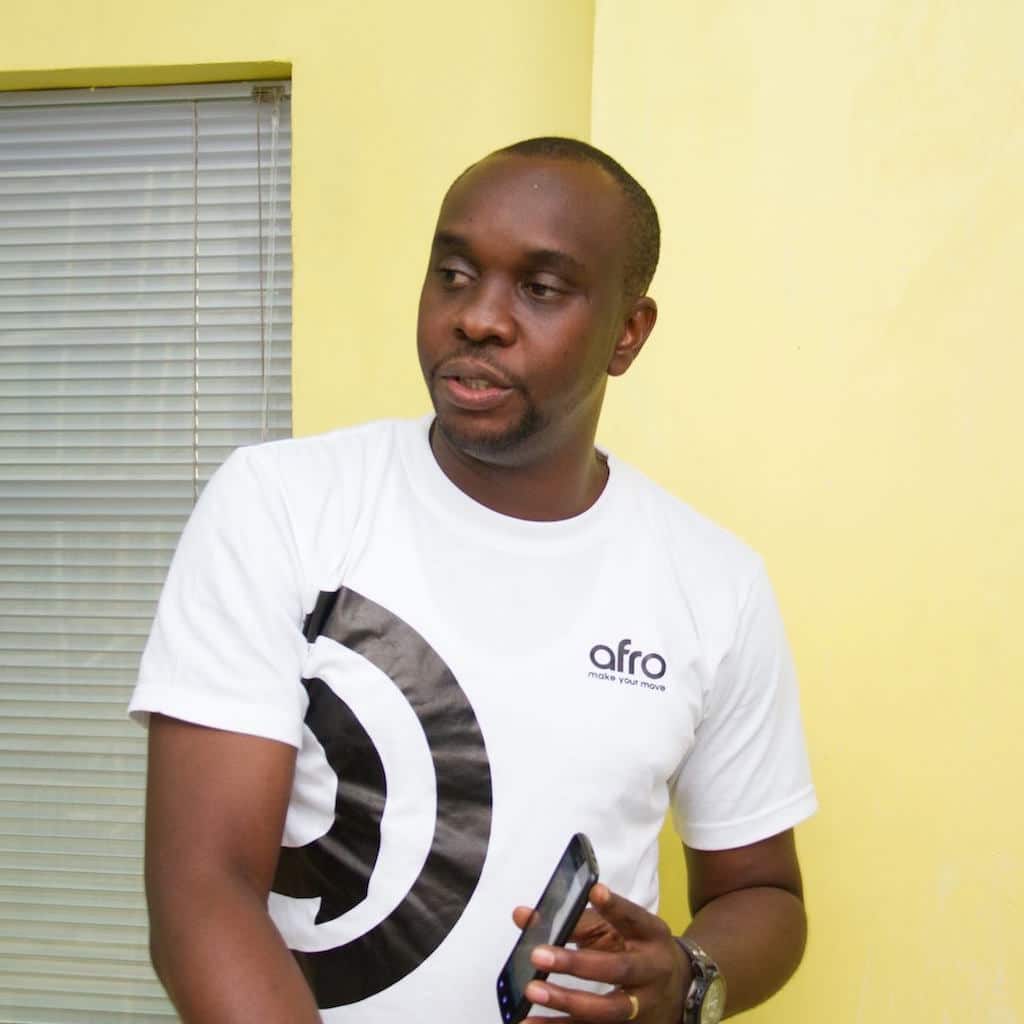 As you probably already guessed, an apparent unique selling point for the new Afro is that it was built by Nigerians with Africans in mind. But I'm sure you need a better reason than "it is Nigerian" or "it is African" to use any app. So let's take Afro for a spin, shall we?
Getting in on the Afro movement
To get started with Afro, first you need to download the app from the Play Store or App store (for iOS users). There's also a mobile web version if you don't do apps. I can't afford a bloody iPhone am a die-hard Android fanboy so I downloaded the Android version. The first thing I noticed about the Android app is how small it is -- only about 7mb. That's easily the smallest size for any eHailing app I have ever used.
On the first landing page after sign up, you're presented with  3 ride options – Private, Taxi and Luxe.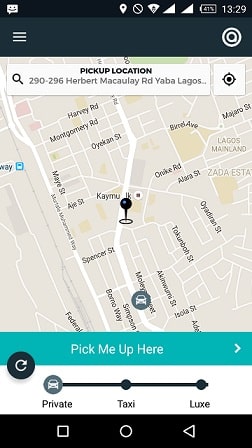 It is not exactly clear what the last two options are for. While private cars are always on standby, the Taxi (I'm guessing traditional yellow cabs) and Luxe options never appear to be available.
Anyway moving on, the Afro app appears to struggle with pinpointing my exact location without my help. I'm guessing that's more of an issue with my phone's GPS; minor annoyance. After clicking "pick me up here" and then entering my destination (only about a 45-minute drive away without traffic), I almost drop my phone on the next screen.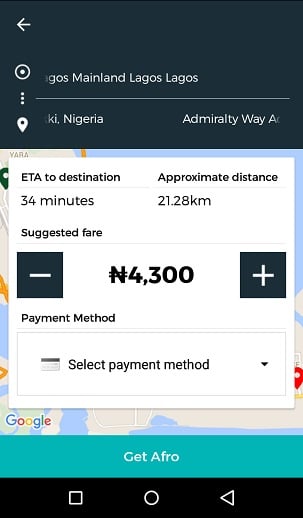 ₦4300 for a ride from Yaba to Lekki? How the hell … wait ... what are the plus and minus sign doing there? Ah... apparently I can haggle over my taxi fare? I can't keep myself from smiling at this point as I reminisce over the dynamics of haggling with traditional yellow cabbies -- he inflates his asking price, giving room for you to bargain downwards until you both come to an agreement. This is the exact feel the Afro app tries to replicate. Done like a truly African app.
The true Nigerian in me kicks in -- I'm tapping repeatedly on the minus button till I beat the price down to ₦2,600 (I couldn't go below this point) -- before I go all prim and proper and take it back up to ₦3000, the exact amount of my voucher.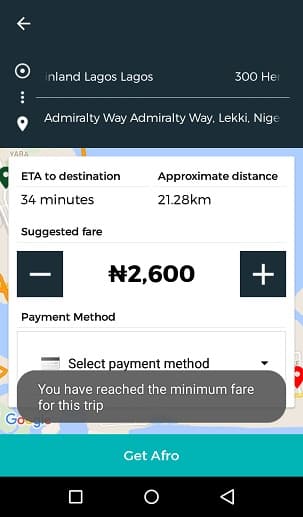 There are 3 options for payment - Debit card, Voucher and Cash -- I figure I'll try out cash on the return trip so I select "voucher" and then tap on "Get Afro".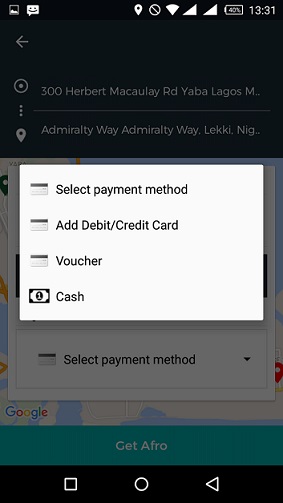 Seconds after, the app locates a driver who will take me to Lekki for that amount. I can see his name and photo and there's a button to call him (with my airtime).  There are however no details of the make or license number of the car he is driving.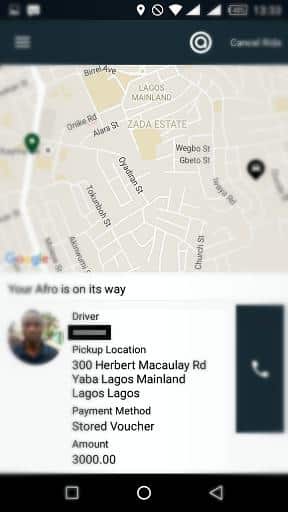 That's a risky oversight. What if someone tried to kidnap.... forget it, I watch too many movies. I call up my guy, he says he's only about 10 minutes away. There's an icon of a car on the map that is supposed to tell me exactly where he is. 10 minutes later, the icon has barely moved. 15 minutes later he appears to be on the same spot. Just when I'm about to give up my phone rings. It's my cab guy, he's been downstairs waiting. But the icon has been on the same spot for the past 15 minutes. Interesting.
A tale of two cabbies
As I hurry down the stairs, half expecting my ride to spot gigantic faux hair à la Lyft, it suddenly hits me how familiar my designated cabbie's face and name are and just as I step up to him, I recognise him instantly. This same guy once gave me a ride on Uber, a rival eHailing app with global reach -- surprise -- and he confirms it.
I remember Paul (not his real name) particularly well because he made a real fuss of rating me 5 stars and begging I do same. Before then, I didn't even know Uber drivers could rate users too.
I'm curious to know why an Uber driver is giving me a ride on Afro. Paul's reasonably chatty, he goes on and on about Uber's "policies and rating system". Throughout the ride, I get the sense that Paul is in love with Uber, but he'd rather not have to deal with her 'baggage' -- policies (whatever that means) and rating system.
My trip back from Lekki to Yaba is even more interesting. My second driver, Peter (also not his real name) is even more chatty; he admits to two-timing Afro and Uber. Peter honestly believes Afro can take Uber's place if she plays her cards right. I wonder out loud if Peter is not worried Uber will break things off if it comes out he's been cheating. "I am not rejecting any rides on Uber", Peter interjects, "I get more jobs now on Afro than on Uber". "And why might this be?", I ask. He also blames the rating system among other things like the ever-so-confusing surge pricing and increasing dollar exchange rates.
Unless you've been living under a rock, you're probably aware of how the Naira's retrogressive downfall against the dollar affected Uber in Nigeria. But what I find more interesting is how Uber's supposedly rigid rating system is affecting many Uber drivers. According to both Paul and Peter, many customers do not understand the star rating system -- some think 1 star is the highest -- and they often inadvertently send unlucky drivers away on frequent probations and eventual dismissals. Uber takes the rating system very seriously.
The Afro manoeuvre opportunity
What I see in all these are loopholes that Afro can take advantage of. There's also a rating system on Afro but it doesn't appear to be taken seriously. I would suggest that if they wanted to make the rating system count, Afro should change stars to the more relatable gbosas (fists in the air). I don't think it can get any more Afro than that.
I paid with cash on my return journey with Peter and until he gave me my change, it didn't dawn on me how deliberately exact Afro fares are. When you're bargaining, you can only drop or increase prices in hundreds. I'm pretty sure this is a deliberate move to curb instances of  the "I no get change" syndrome.
Thankfully, there are no surge pricing or dollar exchange issues (as you are charged in Naira) on Afro. I also think it's a pretty neat move to allow users bargain for their fare. You know ahead of your journey how much you are expected to pay, no surprises. The experience is very different on Uber where you only get fare estimates because you are charged for both distance and time spent.
One thing I forgot to mention about my first ride was that I kept Paul waiting for about 10 minutes, due to no fault of mine. But I was pleasantly surprised to be informed by Paul that I wouldn't be charged for keeping him waiting, another perk you don't get on Uber. But I am a little worried about this one. I feel like Nigerians are prone to abusing such privileges and it would be wise for Afro to reconsider it. In fact, Afro might need to tweak the fixed pricing policy. I imagine scenarios where malevolent riders may attempt to use it to their advantage by making indiscriminate stops and whatnot.
The Verdict: Afro ti take over
Here are my final thoughts on the Afro experience. It works.
My only gripe with Afro is the app, which is only about 60% perfect from a User Experience standpoint. I told you earlier how I kept Paul waiting because the app gave me the impression he was still minutes away. What I forgot to mention was that the stationary car icon never left its spot throughout the journey. About 30 minutes into the journey a call came in through to Paul. Someone from Afro wanted to know why he was still in Yaba. Meanwhile, we were miles away from Yaba, ascending the Lekki-Ikoyi bridge. Paul also complained about not having live navigation integrated into the drivers' app. He said he often had to call customers for directions to unfamiliar areas. It's even worse if he has to deal with foreigners or first-timers who don't have an idea where they are.
There's a bright side to all of this. Every member of the small Afro team, from admin to technical, is home-based. This means that necessary changes can be effected at a faster pace than a service tied to international bureaucracy. Like its name portrays, Afro is very African. Maybe a little too African, but it works.
But you don't have to take my word for it. You too can get in on the Afro experience -- enter the voucher code TECHPOINT3K to get ₦3,000 off your first ride. There are only about 40 available free rides left so you might want to grab it now.