We have dug up the root of gift card business in Nigeria, and here we have some of the most important information about trading gift cards online in Nigeria.
iTunes card, amazon card, steam card, Walmart, sell iTunes gift card, sell amazon gift card, iTunes card trade, trading gift card online, gift card business, buy a gift card, sell the gift card.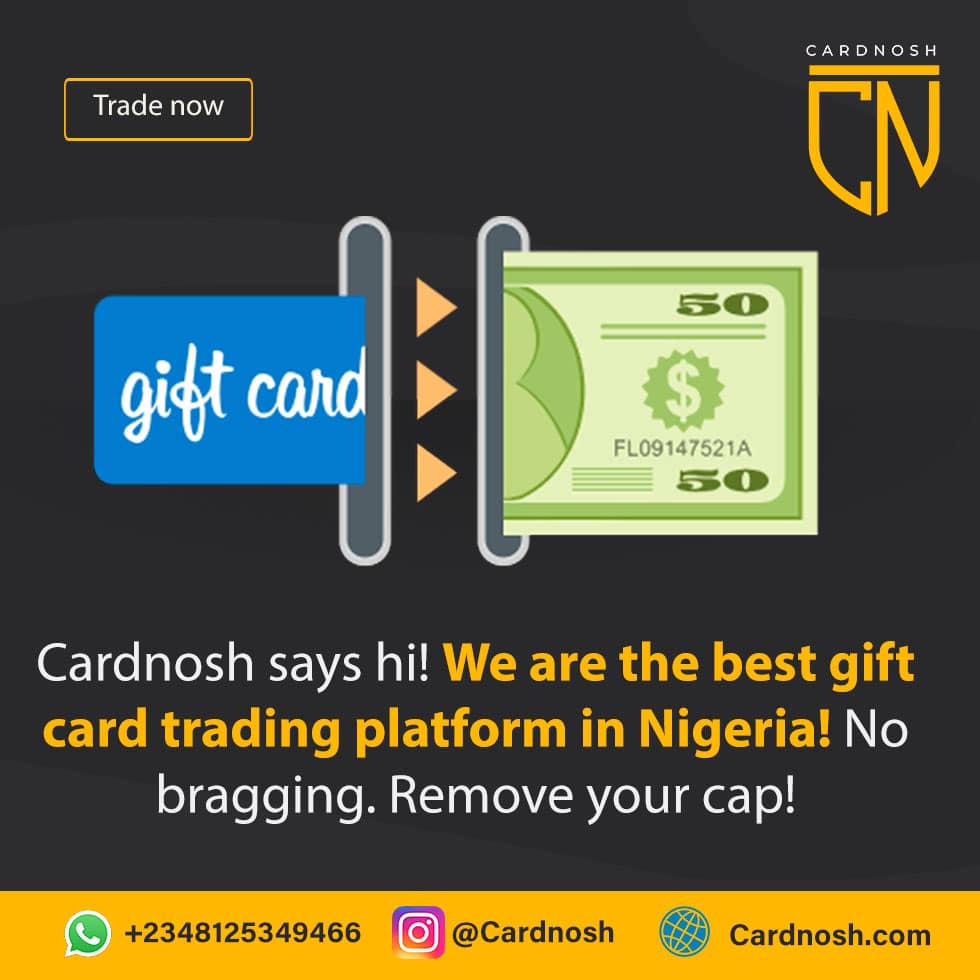 In recent times, buying and selling gift cards online in Nigeria as a business has been making waves and it will be quite atrocious not to pay attention to it.
In this article, we have summarized the general idea behind the business, the best platform to trade (Cardnosh.com) and the most important information you need to know when selling gift cards in Nigeria.
How Is The Business Of Gift Card In Nigeria?
As we all know, Nigerians are not so inclined towards making online payments with gift cards. Soo, when they get to have a gift card, maybe buy it online or get it as a gift, let's say iTunes gift card, instead of proceeding to the iTunes store to buy something with it, they prefer to trade it off for cash and do something better with the money, maybe buy bread and coke, lol.
Due to this, business-minded individuals have set up online platforms to solve this problem, thereby providing an avenue for people to be able to easily sell gift cards in Nigeria without stress.
Brilliant isn't it?
What Are The Challenges Of Gift Card Business?
Every internet business comes with its own challenges, gift card trading is not left out. Below are some of the challenges you are bound to face when dealing with gift cards:
Trust Issues: There are rippers online who are only interested in burglarizing your gift cards with the promise of payment but end up not paying for your property. Therefore, you need to be careful when trading online. We will mention good platforms to trade further in this article.
Rate Issues: Quite right, you are not expected to get 100% of gift card value when you are trading gift card off for cash. But you should at least get a handsome money value. There are some platforms that offer very low rates, you have to avoid such platforms to make enough profits. Read further below for recommendations.
Payment Speed: You should always look out for how long it takes to get your money. On average, redeeming gift card do not take more than a minute. So getting paid should not take more than 5 minutes if you get a good exchange platform.
Payment Option: There are some sites to sell a gift card that offer limitations to payment options. Some offer only bitcoin payment, some only naira. It is better to use a platform that offers flexible payment options.
To save you the stress of having to look for the best platform that offers the best trading experience and beats the challenges listed above, we will make good recommendations below:
Best Site To Sell Gift Cards In Nigeria
Cardnosh:
Cardnosh is one of the best sites to sell iTunes and Amazon gift cards in Nigeria. Registered under Nigeria's Corporate Affairs Commission with the name 'Cardnosh Trading Services` and RC Number 2777339. They have been in the gift card business for quite a while now offering great services to their customers.
On Cardnosh, you can Sell iTunes Gift Cards, Amazon Gift Cards, Walmart Gift Cards, Steam Wallet Gift Cards, Google Play Gift Cards, Target Cards, and just any gift cards.
They also buy Physical Cards, Ecodes, big Denomination Cards, cards with receipts, cards without receipts, Moreso, they also buy bitcoins and RMB, and they pay in Naira within 5minutes.
Cardtonic:
Cardtonic is another trading platform also duly registered under Nigeria's Corporate Affairs Commission with reg number 2654401. They take pride in giving customers the best of gift card trading experience.
On there, you can also sell iTunes Gift Card, sell Amazon Gift Card, Steam Wallet, Google play, Walmart and just any other gift card.
How To Sell Gift Card On Cardnosh
The process of selling your gift card on Cardnosh is pretty simple:
You can decide to contact them on Whatsapp at +2348125349466 or create an account on their platform.
Their agent typically replies within a minute. So you tell the kind of gift card you have and the amount. The agent will proceed by giving you the rate. If you are using the user dashboard, the gift card rate calculator is right on the homepage.
Once you agree to rate, you upload the gift card for verification.
Be patient for a minute or two for the agent to verify the gift card.
If the gift card is verified successfully, you will receive payment to your account instantly.
Easy Peasy!
What Gift Card Can You Sell On Cardnosh?
Cardnosh accepts the following gift cards:
iTunes gift card
Amazon gift card
Steam wallet gift card
Google play gift card
Walmart gift card
Sephora gift card
Apple store gift card
Target gift card
And others
In conclusion, exchanging gift card to naira is now so easy, which makes the business of gift cards in Nigeria thrive than it used to be. Why not join the moving train and make some income for yourself with this trending business?
Ready To Get Started?
Contact Cardnosh:
Website: Cardnosh.com
Whatsapp: +2348125349466
Call: +2348125349466