In June 2018, the Federal Government of Nigeria officially unveiled an Advisory Group on Technology and Creativity. The new body consists of Nigeria's brightest minds in the media, entrepreneurship, technology and creativity.
---
Suggested Read: Here are 28 tech entrepreneurs that made the presidential advisory group
---
As laudable as this initiative looks on many fronts, how many groups and councils are necessary for a change in Nigeria's entrepreneurial climes? Beyond its shiny allure what does it really portend for entrepreneurship and internet startups in Nigeria?
2019 and beyond
Unveiling this group in the latter half of a pre-election year reeks of political undertones, but most importantly questions its longevity, sustainability, effectiveness and efficiency as well.
In Nigeria, bold and beautiful initiatives like the Advisory Group on Technology and Creativity are sometimes victims of politics. The success and efficiency of this group may be hinged on the outcome of the 2019 general elections.
New administrations in Nigeria have been known to throw out and try to 'rebrand'  good projects just to spite their predecessor's 'legacy'. Even returning governments sometimes dump some of these good projects they started. So beyond 2019, what will be the fate of this group?
For now, even if there is no serious commitment  in achieving every item on the group's agenda, its recommendations may end in paperworks like past government-led initiatives.
But even this begs the questions of how items on the agenda will be addressed when the agenda itself is vague.
A vague "Terms of Reference" document is the only one available outlining the group's functions. The 7-point agenda it contains is unclear and looks too hastily put together for a group of such magnitude.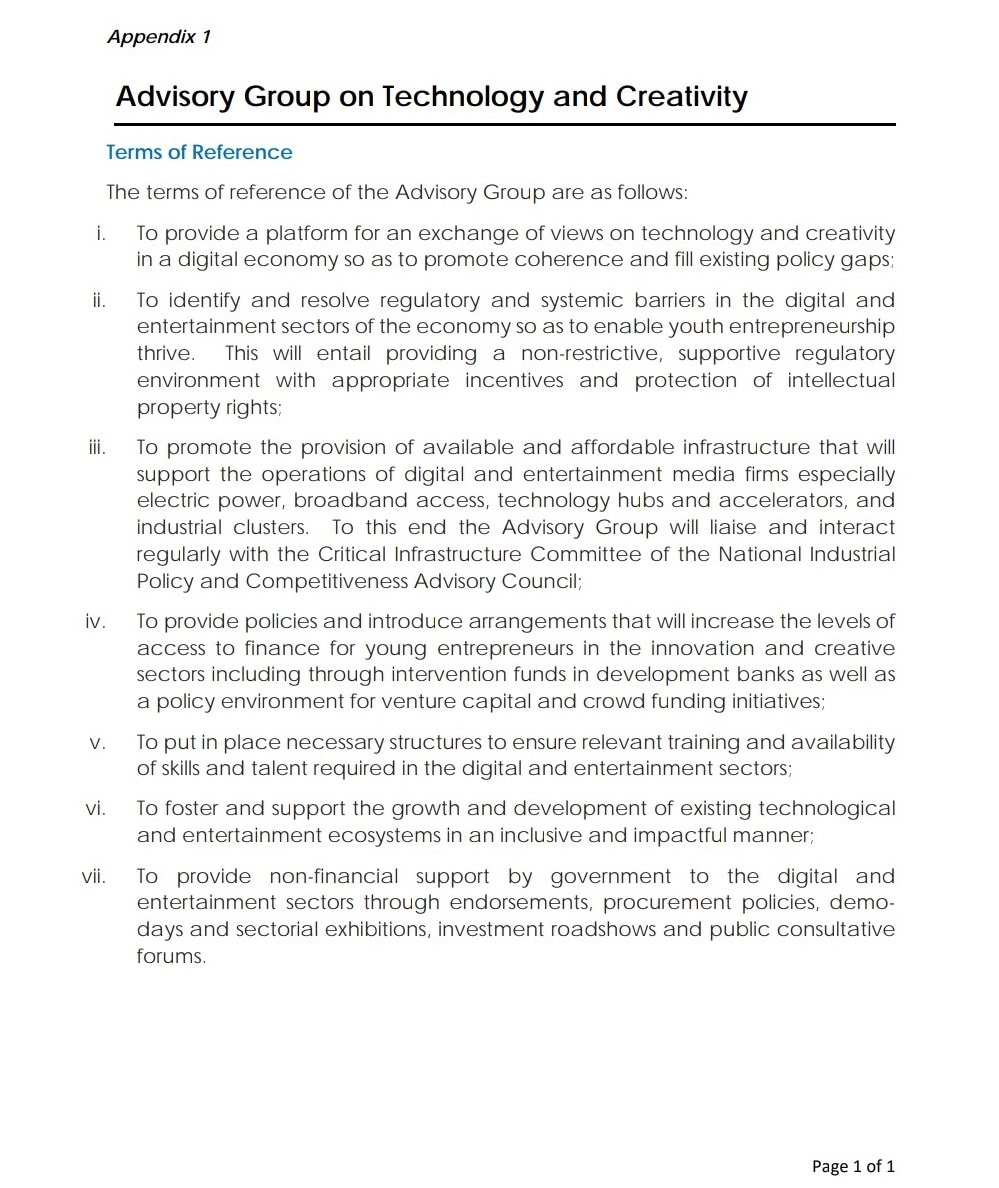 Without detailed goals, how can performance be measured and tracked? Is this lack of visible goal posts intentional or an expensive oversight?
Not funding, we don't really need it!
Recently, the Vice President of Nigeria Yemi Osinbajo embarked on a tour of Silicon Valley with some of the tech entrepreneurs on the group with the aim of "attracting investments into Nigeria's burgeoning tech space."
---
Suggested Read: VP Osinbajo visits Silicon Valley with Nigerian tech entrepreneurs
---
Number 5 of the 7-point agenda that makes up the group's "Terms of Reference" document says it [the group] aims;
"To provide policies and introduce arrangements that will increase the levels of access to finance for young entrepreneur in the innovation and creative sectors including and through intervention funds in development banks as well as a policy environment for venture capital and crowdfunding initiatives."
This means investments and funding are in the agenda. But should it really be the first thing to do?
At first, it does sound like a good idea but objectively, a vice president going with a group of entrepreneurs to seek investments in a a Silicon Valley built partly with the help of the U.S. government does not seem quite right.
Minus the obvious wrongness of the idea, startups in Nigeria have done very well in raising external funds all by themselves over the years, especially from Silicon Valley.
In 2016, Andela raised $24 million in series B funding from the Chan Zuckerberg Initiative to expand its African presence.
In Q1 and Q2 2018 alone, Nigerian startups have raised $82.9 million in funding and $72.5 million -- about 87% -- of this total sum is from foreign investors including Silicon Valley.
---
Suggested Read: "Nigerian startups raised $73.6 million in Q2 2018, 700% more than Q1" - Report 
---
The VP was successful in his investment drive, as results filtered in almost immediately in the form of a new venture fund for Nigerian entrepreneurs.
But NO Mr. VP Sir, even though this  "Terms of Reference" document says so, and more money is never a bad thing, data shows funding is not really what Nigerian startups need most right now.
In October 2017, Nigeria moved 24 places from 169 to 145 up the Global Ease of Doing Business Index. This leap was a victory of sorts, but a somewhat insignificant one that should be followed up with more work.
Apart from number 5, other agendas listed on the Terms of Reference document are geared towards providing a conducive environment for these fragile businesses to thrive. And by extension they are far more important than funding and a money tour.
No matter the amount of money received, if infrastructure and policies are not in place, burn rates of these startups will largely cancel out the long term effect of any kind of funds.
An effective strategy
From Silicon Valley to the Chinese startup ecosystem, no innovative system can effectively thrive without the government's involvement and participation.
But in Nigeria, these 'interventions' are mostly heralded by mixed feelings and emotions because of the bitter aftertaste of past relationships.
This is because there always seems to be a lack of carefully pre-planned and systematic actions. This particular lack of process that is characteristic of government involvement seems to be showing with this particular group.
Speaking during the 2018 edition of the Techpoint Inspired, founder of the Bondcrew Group,  Lanre Marcaully Fagbayi identified people, process and infrastructure as the 3 requisite building blocks of a functional policy formulation and implementation process.
The calibre of members on the group tick the people box, some of the combined government and private sector efforts partially fill in for infrastructure. But the process is still obviously lacking to a large extent.
As progressive as the idea of this group is on paper, without an intentional roadmap and conscientious strategy it will just be another superfluous government-led project.