Exactly 4 years ago, I returned to Nigeria from India where I had spent some time at the Kathari Institute (a Social Enterprise Incubator) doing extensive research on how the Indian government supports entrepreneurs, incubators, accelerators and training centres through funding skill development programs.
This period coincided with the time the Indian technology ecosystem was experiencing major transformation and development, with several significant announcements and deals -- RedBus, Snapdeal, Zomato and Flipkart are some of the popular Indian startups from this time.
Fascinated by my experience in India, I reached out to Taiwo Ajetunmobi, an old friend who at time was working with Hewlett Packard (HP) Enterprise Services, about setting up a business incubator to help create opportunities for unemployed young Nigerians. We both explored a few approaches to achieving this goal and quickly agreed that focusing on technology was best.
And so Passion Incubator (PI) -- a technology startup incubator, was born. PI, based in Lagos, helps early stage founders validate their startup ideas and refine their business model.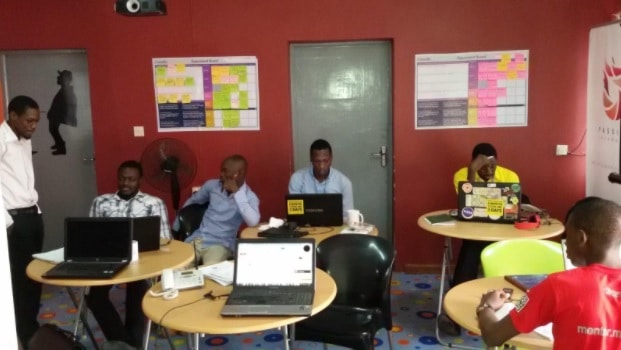 Passion Incubator (PI) Version 1.0
To launch, the PI team secured initial funding from both Kanthari Institute and an early investor. With these funds the PI team set up a local hub in Yaba and announced a call for applications.
Passion Incubator launched its first programme (Cashless Acceleration) in April 2014 and a few startups into its first cohort. Right out of the gate, we knew it was going to be a bumpy ride. We received quite a bit of criticism for our Cashless Acceleration model.
However, in spite of the early challenges, PI's vision was clear -- we wanted to help create successful technology companies. PI would identify high potential startups early and take a pivotal support position early enough to make sure they survive and grow. This intense focus on very early stage startups has remained a cornerstone of all PI programs till date.
After reviewing over 110 applications, we settled for 6 startups founded by individuals/teams with zero startup experience.
TalkingBookz: African books in audio version for global audience
WaraCake: Online cake store
MedRep: Supply chain automation solution for drug procurement
MovingAds: Outdoor advertising platform for small businesses.
FashionCabal: DIY fashion design platform and online store
BeatTraffik: Traffic navigation app.
The value of PIs early intervention with these startups can be seen in a couple of examples.
WaraCake's initial plan involved building a bakery to make the baked products it would sell online. In this instance, WaraCake was not really a tech startup but was positioning itself more as a Fast Moving Consumer Goods (FMCG) company -- with its inherent massive CAPEX and significant operating cost profile.
Without tons of cash, it was nearly impossible to see how WaraCake would scale. PI worked with the WaraCake team to pivot to an e-commerce only business model. WaraCake essentially became a sales platform for independent baker/small bakeries. WaraCake continues to grow and recently spun off a sister startup (Waragifts -- an online gifting store).
In the case of BeatTraffik, once Google Maps activated some of its traffic update features in the Nigerian market, BeatTraffik was dead in the water. The only way forward was to pivot; and pivot it did. BeatTraffik pivoted into BeatDrone -- a multi-sector drone company that uses data analytics to ensure operational efficiency. BeatDrone now has several paying customers and is growing both revenue and market share.
Our thesis is simple, to launch a successful startup, a founding team needs much more than just cash. Of course this does not imply that they don't need cash at all. However, it's very easy to burn a ton of cash without a solid business model of tangible product market fit. At PI we wanted to create a platform that helps early-stage founders validate their ideas, develop the first version of their product (MVP) and acquire their first set of customers. As we like to put it, "we help a startup go from Zero to One (0 to 1)". Whereas in the early days we didn't put in direct cash investment; we provided the founders hands on support on business development, product development, supporting ancillary services and other resources.
From the beginning of this journey, we have some amazing supporters, mentors, advisors and motivators. Some of our biggest supporters who were always available to help the startups since the early days include: Tomi Davies (Lagos Angel Network), Opeyemi Awoyemi (Jobberman), Mark Essien (Hotels.ng), Onyekah Akumah (FarmCrowdy), Raphael Afeador (Supermart.ng), Olumide Shoyombo and Tope Ajao (LeadPath)
We learnt a lot during those early days. Many of these lessons have gone on to influence how we view the technology market and our perspective about startup incubation/acceleration and early stage investment.
Here are a few lessons we learnt:
As earlier mentioned, we unintentionally selected smart but inexperienced (first time founders), which invariably meant the Passion Incubator needed to come through for them at every point of their journey. There was a lot of hand holding, micro-management and having to deal with irrelevant issues that had absolutely nothing to do with running a startup.
Running startup programmes cost a lot of money and we completely underestimated this fact. In the very early days, being almost entirely self-funded, we struggled to keep on the lights of the hub. Running day to day operations quickly became challenging. Our motivation to keep pushing was drawn solely by the visible milestones achieved by the startups during that difficult period.
To succeed long term, we needed to be flexible and pursue short to medium term strategic positions. For instance, in those rough early days, some relief came when I briefly joined iDEA Nigeria in a deal that saw PI startups move into iDEA's Yaba Hub -- operating their businesses from there. We no longer needed to worry about keeping the lights on as PI no longer needed to maintain a physical hub. PI had gone virtual, in one of the several evolutionary steps we have taken over the years.
We also realised that as we expanded services to startups, we needed to expand the core team capabilities and we brought on board Fola Olatunji-David as a Partner in late 2014.
In general, the ecosystem has a massive pipeline problem. There are not enough great startups to go around. And investors invariably pile on to invest in the few great options that surface. As such, several more Incubation programmes are needed to create better pipeline for the several Accelerators to feed from. Genuine incubators (those that plan to do this long term) need to step into the vacuum to help develop the founders and startups early on. It will be the jobs of the incubators to expose founders to the right mentors, industry experts, strategic partners and seed funding that will enable these founders quickly and defectively validate their ideas and acquire a few early customers (help them go from 0 – 1).
Revamping our model (Passion Incubator +)
In 2015, Taiwo Ajetunmobi had returned to Nigeria to be closer to PI. Although still working full-time in corporate Nigeria, he was able to take a more active role in PI. Also, in June 2016, I left iDEA Nigeria. The team now had to take a long hard look a PI and determine what a revamped PI needed to look like. Upon introspection, the PI team realised that 2 major shifts needed to happen. These shifts are captured by 2 key ethos PI has since adopted:
Sustainability
In October 2016, PI's first majorly owned venture -- LeadSpace (a co-working space) was born. We created LeadSpace for 2 main reasons:
To help revenue generating startup businesses reduce cost -- helping them stay lean and agile till they can afford to own their own office while creating an engaging community to helps these startups thrive.
Secondly, to achieve our long term objectives, PI needed to be viable in the short to medium term. Simply put, PI needed to develop its own revenue stream(s). We had come to accept that Passion Incubation was not running programmes all year long, and that our physical hub had been a major cost centre.
Creating Leadspace allowed us flip what would have been our biggest cost centre into a major revenue steam. Also, since PI is mainly programmes based, it has now become a customer of LeadSpace, allowing us generate revenue year round. This evolution was a major step for us. However, once again, we had many early supporters. One of our biggest supporters in this venture, are the partners at LeadPath (Olumide Shoyombo, Tayo Ajao and Kazeem). Essentially, LeadPath, as an early investor in LeadSapce, allowed us validate the demand for and viability of a co-working space business in Lagos. In our cash-efficient manner, LeadPath offered us their hub/facility, office inventories and some cash investment in exchange for equity in Leadspace.
With the core requirements in place, we set out to sell Lagos business owners on the idea of working from a coworking space. The market response was phenomenal as we filled up all our seats in just over 2 months. At this point we knew we were onto something. Less than a year later (in August 2017) we launched a second LeadSpace location Ojodu Lagos.
We continue to grow this exciting business and now plan to open our brand new Yaba and Victoria Island co-working spaces in 2018.
A further boost to LeadSpace has been its recent selection as one of partner hubs for the in the LSETF Infrastructure Voucher Programme.
Team first
One other major shift that needed to happen was from a lesson we learned in the early days of PI. We had come to realise that we needed to attract much better quality entrepreneurs/founders/teams. As a close friend put it…. Our job is not to make bad entrepreneurs good, but to help great entrepreneurs get past obstacles. Frankly, in our experience it is way more difficult to make a bad entrepreneur become a good one, than it is to help make a good entrepreneur better. We choose the latter!
With this renewed focus on better quality founders with an ability to execute and build a strong team around them, we started looking for founder teams that met this profile. We have since invested in Riby and AdsDirect. Both startups have awesome founders and in both instances, we came in as their first institutional investor/partner. Both founders have a thorough grasp of the problem they are trying to solve and they both understand how to reach their target customers. Simply put Salami Abolore (CEO, Riby) and Chuks Okeibunor (CEO, AdsDirect) are MONSTERS!!! They have the hustle spirit and die hard mentality needed to succeed in Nigeria.
Since PI's investment, both startups now have solid revenue and both have attracted follow-on investors. Riby was recently named among the best emerging fintech companies in the world.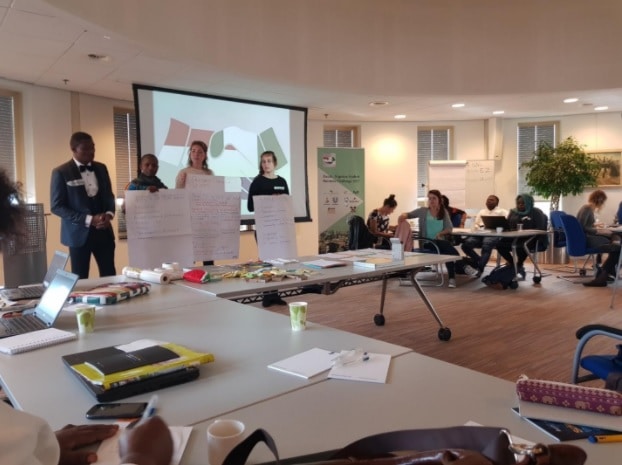 Passion Incubator 2.0 (new programme model)
Over the years, PI had developed a couple of important partner relationships where PI designed and ran a special incubation cohort on behalf of its partners with great success. As a result of our learnings, we have now decided to develop our Innovation Consulting business and, as its core, our Corporate Innovation Practice.
With this new model, we can now work with corporates, government agencies, international donors, embassies and universities to co-design and implement incubation/acceleration programmes. We have previously piloted this mode with:
Partner with Innovating Justice Accelerator based in the Netherlands through which they discovered and supported 2 amazing African startups DIYLaw and LegitCar.
Partner with Delft University of Technology (TUDelft), the Dutch Embassy in Nigeria and The Netherlands Enterprise Agency (RVO) to implement the Dutch-Nigerian Student Business Challenge. With this project we were able to help some of Dutch corporate partners (Heineken, Unilever and FrieslandCampina) design solutions to some of their biggest problems. Based on the success of this project, we have since approached the Swedish Embassy in Nigeria to implement a similar project in 2018.
What else to expect from PI in 2018
Thought Leadership: Our newly formed consulting business -- Passion Consulting Services will be launching primary research effort to determine the Future of Work in Africa. The report seeks to find the type of jobs that would be available in Africa in the next decades, how and where people will work and most importantly, what Africa needs to do to prepare its future workforce for high performance. This research study is supported by Accenture, Dalberg, Facebook and Union Bank.
Student Innovation Fund: Fastforward Student Innovation Fund was created as a joint venture (JV) between Passion Incubator and Venture Kinetics (owned by the founders of Jobberman) with the goal of investing in the very best innovative solution and research coming out of the Nigerian University system.
Partnerships, Partnerships, Partnerships: We are fully aware of the scale of our ambitions for the next phase of work that PI will be embarking on, and we will be collaborating with even more partners than we have over the past few years. Please reach out if you see potential opportunities.
StartUp SouthWest: shhh… you'll hear more on this soon.
It's been a rough, exciting and extremely rewarding ride. We are proud of our contributions to the Nigerian tech startup ecosystem. We have learnt valuable lessons along the way and look forward to working harder and smarter going forward.
As we kickstart Passion Incubator 2.0, we are determined to find ever more pragmatic ways to support the most motivated founders and their businesses to achieve maximum impact.
We look forward to sharing more details on our future plans. Here is wishing you the very best compliments of the season from the Passion Incubator family.