StartZone played host to over 500 girls at the Girl Meets Tech Teen's Conference that held during the Computer Science Week.
The programme, one of StartZone's initiative to "transform Africa one individual and business at a time" is aimed at inspiring and empowering females to build a better life and future by leveraging technology.
The conference was themed "A Whole New World of Opportunities with Technology" and gave an introduction into the boundless world of tech and possible tech careers girls can pursue and leverage to earn a living and be competitive wherever they find themselves. The event was a huge success with amazing inspirational words from invited speakers and sponsors.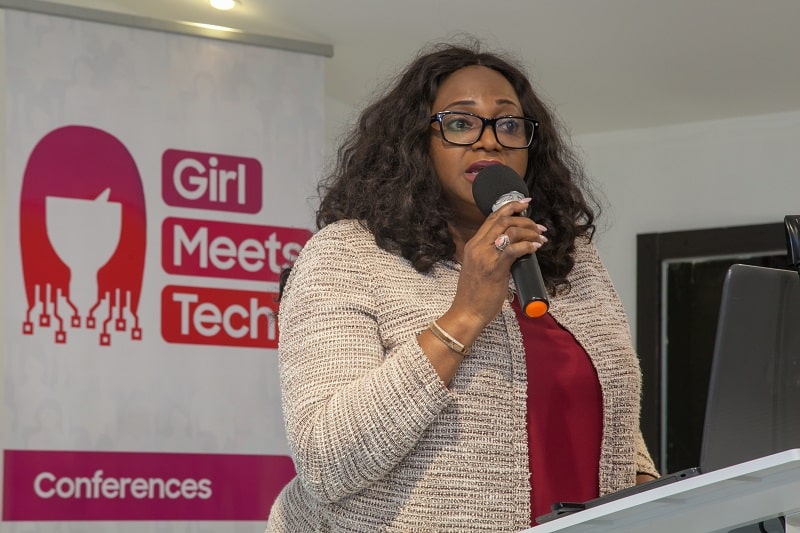 The conference kicked off with a welcome speech by the programme manager, Mrs. Titilope Oni, who emphasised the need for females to get the required skills needed for the 4th revolution characterized by digital revolution, internet of things and artificial intelligence. Her take home for the girls touched on three important points.
Firstly, tech is not only for boys, girls should also get involved. Secondly, coding is not difficult, anyone can code; and lastly, on a light but very important note, tech is fun, let's have fun while at it
The first speaker, Mrs. Damilola Solesi, the CEO of Smids Animation, shared the experience of how she rose through the tech ladder and built a tech company which has been in operation for seven years. Her story was really inspiring and aroused the curiosity of the girls, who asked series of questions.
A girl asked the interesting question, "What can you say to convince me to pursue a tech career, when I already have my eyes set on another?"  Damilola smiled and told her that she was very happy the girl knew already what she wanted to do. "Building a career starts from finding what you love to do, when you find it, look for the technology that will make what you love to do easier, faster and able to create more impact. Technology is a tool that should be leveraged." She replied. The student realised she could still pursue her chosen career while leveraging technology to create more impact.
Oluwatobi Ayeni, Nigerians foremost female blogger popularly called "Miss Techy", after her blog, was the next speaker. She talked about the various careers in tech and their importance. She also encouraged the girls to build skills that will make them relevant in the future and pursue any of the many tech careers available.
The Honourable Commissioner, Ministry of Women Affairs and Poverty Alleviation, Lagos State, Mrs. Lola Akande was duly represented by Mrs. Joke Oshodi, the Director of NGOs, Ministry of Women Affairs and Poverty Alleviation who reaffirmed Lagos State's support for women, and women in technology.
A member of Imisi 3D's AR/VR community -Blessing Orazulume, a VR Enthusiast from Andela - introduced the girls to Virtual Reality. She discussed the importance of Virtual Reality and how people are leveraging it. The one I found most intriguing was the use of VR to overcome stage fright and improve public speaking.
The girls also had a fantastic time with VR at the Imisi 3D booth with the SamsungGearVR. Many experienced it for the first time at the Girl Meets Tech Teen Conference.
The sponsors also contributed their quota by giving wise words to the girls about personal hygiene and financial literacy.
Funmi Adigolo, Brand Manager of Always, Procter and Gamble Nigeria, gave a talk on personal hygiene and encouraged the girls to leverage technology and make a difference because "everyone can make a difference"!
Olubusola Mada, Product Manager, Cool Teens, Diamond Bank Plc shared her experience as a techy girl. While in school, she had learnt how to use Adobe Photoshop and 3D animations. The competencies in these areas have helped perform much better at her current job. Once a techy girl, always a techy girl!
Creative compere, Feyzo! connected with the girls on many levels with her wit and an understanding of their needs. She spoke to them about "Girl Power" and how it wasn't just a phrase to be chanted, but an actual mantra to live by. All the participating girls went home with exciting packages from the sponsors- P & G (Always), Diamond Bank, UAC, Imisi 3D VR, and Grand Oak.
Each school was presented with certificates of participation by the Business Manager of StartZone, Peter Adetunji. Peter also called on the sponsors to partake in the "Girl Meets Tech Sponsor a School programme" which encompasses boot-camps and workshops where selected girls are taught various programming languages (css, html and python) over a 7-month period.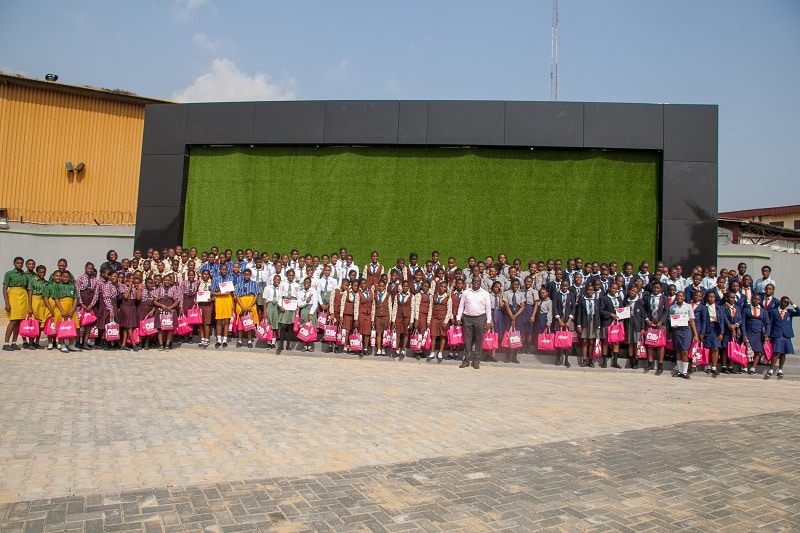 At the end of the conference the girls were certain that they were not here to play or make up the numbers, but to change the world, and girls run the world- even the tech world, if they put their minds to it.
That was the slogan for the day: "WE ARE NOT HERE TO PLAY, WE ARE HERE TO CHANGE THE WORLD- GIRL MEETS TECH"!
See below the highlights of the conference.