Data Science Nigeria is now set for the second edition of its highly successful bootcamp aimed at bridging capacity gaps in Data Science for intermediate and expert-level Nigerian professionals and students, who are interested in machine learning, R or Python programming languages and Statistics for advanced data analytics. This is part of an effort to make Nigeria the Data Science outsourcing hub for Africa before 2019 and to create 1 million new jobs during the next 10 years.
The bootcamp will include face-to-face teaching, virtual online classes, and a hands-on hackathon using the Kaggle platform. The sessions will be facilitated by leading local and international PhD-level data scientists, in the industry and the academia.
Bootcamp Details
Date: Thursday, 12th -15th October 2017
Venue: Lekki axis of Lagos State
Big Data Economy Summit
This second edition will be heralded by a national summit on the Big Data economy to discuss and showcase relevant case studies of how the application of data science is driving socio-economic development in emerging markets. Dr Yemi Kale, the Statistician-General of the Federation will be the keynote speaker. The summit will also include robust industry discussions about real-world applications of data science in the economy, consumer behaviour, health, business, city planning, security, agriculture, manufacturing and logistics.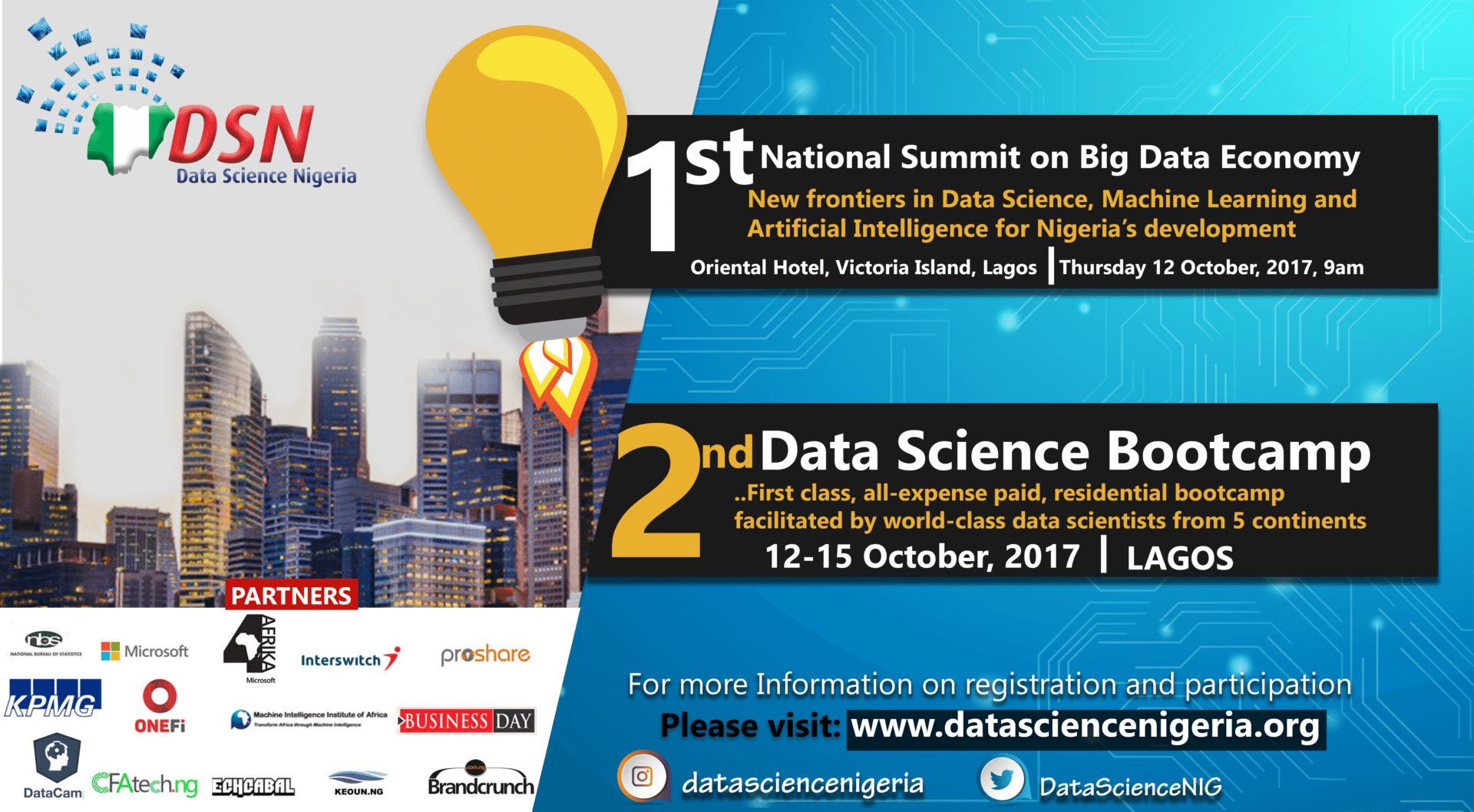 The summit is scheduled to kick off the bootcamp and will showcase many local and international tools and algorithms from leading data science firms. Confirmed speakers for the summit include Olumide Olayinka of KPMG (Partner), Juliet Ehimuan-Chiazor of Google Nigeria (Country Director), Babafemi Ogungbamila of Interswitch (CIO), Dipo Faulkner of IBM (Country Manager), Olufemi Awoyemi of Proshare Nigeria (CEO), Ayotunde Coker CEO Rack Centre and Bernard Kijie Ewah President/Chief Creative Officer, keoun.ng
Other leading experts expected at the conference are Dr Tunji Adegbesan of Gidimo,  Nadayar Enegesi of Andela, Dr Sulaimon Afolabi, Babajide Ogunsanwo of Leadership-By-Data, Dele Tejuoso of Wifi Combat Academy, Steve Babaeko of X3M Ideas, Oluseun Onigbinde of BudgIT, Ngozi Dozie of OneFi, Adetayo Bamiduro MAX.ng. In addition, the summit will showcase some experts like Shingai Manjengwa of Fireside Analytics Canada, Samuel Odeloye, Dr Jacques Ludik and Emeka Okoye of Cymantiks.
The bootcamp and the summit are supported by Microsoft, 4Afrika, Interswitch,  Keoun.ng, KPMG, OneFi, ProShare Nigeria, Nigerian Bureau of Statistics, DataCamp, BusinessDay, L5Lab, CFATech.ng and the Machine Intelligence Institute of Africa.
The free residential bootcamp comes with an explicit requirement. All the would-be participants are expected to complete three courses on DataCamp or Microsoft Professional Certificate Track in Data Science. This will be followed by a Kaggle competition to select the best participants for the intellectually stimulating and career-enhancing bootcamp. Best participants at the bootcamp can access internship and mentoring opportunities provided by KMPG, Microsoft 4Afrika and OneFi while DataCamp shall provide free access to its learning platform. Full details of how to enrol in the
Summit Details
Date: Thursday, 12th October 2017
Venue: Oriental Hotels, Lekki
Full details of how to enrol in the bootcamp and participate in the summit are available on http://www.datasciencenigeria.org
The bootcamp will also include a very competitive hackathon aimed at using Nigeria-centric data to explore, extrapolate and explain local socio-economic issues. The Nigerian Bureau of Statistics and ProShare Nigeria will provide data support services to the participants.
Data Science Nigeria is a non-profit initiative of MTN's executive, Bayo Adekanmbi. It is spurred on by a compelling drive to raise a new generation of world-class data scientists and knowledge entrepreneurs who will set up data science-based businesses and attract foreign exchange to Nigeria. This will position the country to access its fair share of the over $125 billion Big Data analytics market as foreign currency earnings.