On Friday September 22nd, Nigeria's premier on-demand professional services and delivery platform – OyaNow, will formally launch in Abuja, the first of many cities that will become part of the OyaNow realm. OyaNow is not just your local food delivery company, it has stretched to an expansion beyond that, offering it's consumers with several categories to choose from.
OyaNow Abuja
OyaNow is launching with the following categories, and will add more on throughout the year:
OyaFood

- Order food from a variety of restaurants in Abuja, Nigeria.

OyaNight

-Order selected services from the OyaNow platform from18:00 hrs till 2:00 hrs

OyaPick&Drop

- Order for products to be picked from and dropped at locations of your choice.

OyaHome

- Order for home cleaning and maintenance services from selected service providers.

OyaMed

- Order for pharmaceutical products and medical services from selected pharmacies and clinics in Abuja.

OyaGlam

- Order for beauty & health products; and book appointments for massages, pedicures, manicures etc. directly with selected beauty spas and clinics in Abuja.

OyaBiz

- Have OyaNow deliver the products you've already sold to your customers based on a schedule of your choice.
Abbas Dayekh, CEO at OyaNow, said:
"It's time to bring the Nigerian service industry to unprecedented heights, and what better way to start than by taking charge of how businesses sell their products and services? My vision is to make OyaNow the sole business-to-consumer platform a Nigerian will need on his or her phone, because we focus rigorously on convenience."
What is OyaNow?
OyaNow helps consumers purchase products and services from their favorite stores with the tap of a button - no need to wait at the restaurant for your take-out to be ready, or to drive back home during rush-hour traffic to pick up your documents for your presentation at the office. OyaNow offers a safe, convenient, and reliable way to have the products you need delivered right at your doorstep, and provides discounted rates for your professional services needs. All of our drivers must undergo a screening and training process before they earn their OyaNow polos, which they wear with great pride.
Place Your Order
You can place your order from anywhere, using our website or Android/iOS apps, as long as you have an internet connection.
After deciding which category you're interested in, choose the store you'd like to order from and select the products you'd like OyaNow to deliver to you.
You can either pay online or on delivery, using cash or your credit/debit card.
Then provide the recipient's address (that you can save for future deliveries) to make sure that the driver closest to the store and you will accept your order.
Once the driver accepts your order, you will be notified via SMS of who your driver is and the status of your order.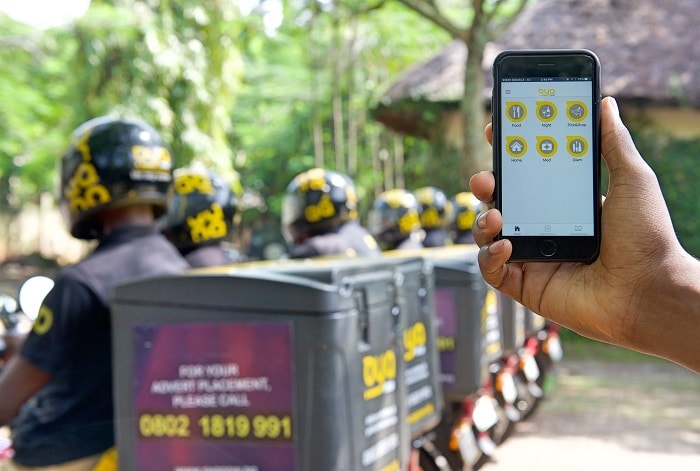 After Ordering
●     The website shows you a Google Map with the GPS location of your driver, who will be in touch with you throughout the delivery process to ensure timely delivery of your goods.
●     Keep track of the status of your order from our Track Order button on the website and app.
●     Once the driver reaches your location, he will ask you for your verification code (sent to you via SMS) to make sure he's providing the goods to the appropriate recipient.
●     If you buy a service from a store on our platform, they will reach out to you to confirm your purchase and the date and time you'd like to redeem it.
●     Rate the store and the delivery driver after each delivery to ensure that we get the necessary feedback to provide you with the most convenient platform in Nigeria.
●     Our Customer Care team is available during hours of operation to assist you with any concern or issue you may have with your order. If you reach them after business hours, you can always submit a support request to [email protected].
Abbas Dayekh explained:
"OyaNow will be the station all businesses join to reach the ever-growing and sophisticated consumers of Nigeria."
Media Contacts
Stephanie Hakim - OyaNow Logistics Ltd.
+234 902 996 5000
About OyaNow
OyaNow (oyanow.ng) is Nigeria's one-stop solution for your professional services and delivery needs using a comprehensive online platform.