With a population of over 1 billion people, Africa is, to put it simply, huge. The continent is home to a great many people and a great many cultures, separated by ethnic, tribal, religious and physical lines. These lines have caused a hindrance on cross-border growth for businesses and players looking to make their way into new markets however Sidebrief is solving this problem.
When the key members of Sidebrief first came together back in 2019, these issues seemed more pronounced than ever. And although there was a commonality; a yearning for togetherness in the region, the concept of 'Pan-Africanism' seemed more like idealism than anything else. For as many efforts as were conceived, the specifics of regulations and differences in modes of operation halted the fruition of those efforts.
Sidebrief is what you call a regulatory technology start-up, or reg-tech for short. It proffers solutions to age-old problems founders and foreigners in the African market have had. With the help of its services and from the comfort of a dashboard; businesses can scale and expand. Sidebrief does this by managing formations processes across the continent and ensuring that founders comply with regulatory standards. Sidebrief's mission? Demystifying rules of entry and compliance; thereby thinning the borders separating Africa's 54 nations.
When businesses decide to enter a new African market, the barriers to entry almost seem to come to life, holding founders down with issues such as regulation within these uniquely governed states. Add this to the more persistent issue of tax and overall business compliance and what you get is founders, unsure if they have what it takes to make their businesses scale. Sidebrief has set out and worked tirelessly to automate processes that take businesses years and potentially millions in currency. Sidebrief understands the assignment of working from multiple locations, and is building a presence that is undeniable, strong and everywhere they go.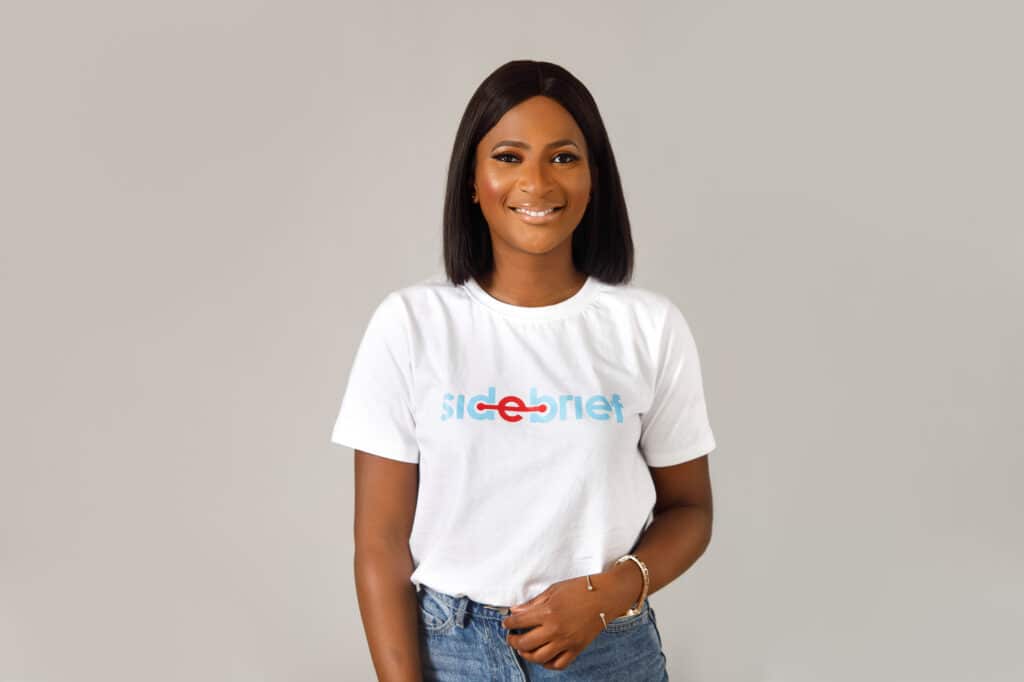 "You know when you think one Africa; it sounds like a vague concept. Like something you would say to just capture people's hearts. But it doesn't have to be just a theory; we want to make it a reality"
These are the words of Eunice Olopade, one of the three co-founders of Sidebrief. She also acts in the role of CEO of the outfit. Eunice, a Georgetown University alumni, Ex-KPMG and experience working on the World bank's doing business project, Eunice specifically saw the need to reduce barrier to entry after noticing the low rankings of African countries on the Starting a business and Paying Taxes Indicators.
Sidebrief offers solutions to businesses looking to scale and grow outside their usual area of jurisdiction. The start-up gets rid of the need for lengthy paperwork and bureaucratic systems. It provides an easy roadmap; one could say an enjoyable series of steps, to building a cross-border brand that lasts. Their intentions are a lot nobler than just scaling, growing businesses and ensuring compliance. By improving expansion rates and helping businesses survive the mish-mash of laws and regulations, Sidebrief is uniting the continent in ways no one thought would be possible.
With a presence in over 20 countries, Sidebrief is working towards its target of covering the 54 countries of Africa. In light of these challenges, Sidebrief has stepped up to the plate, taking the lead to better these statistics in the coming years, even months. With over 200 enterprise clients across the continent already adopting Side brief's services, and a revenue figure that doubled in 2021, it is going to be a rapid movement into a borderless Africa.