UPDATE: This article was published in April 2016. You can no longer apply for Paylater loans via your browser; there's an app for that.  
---
It was difficult to ignore. Almost 9 out of every 10 times I logged into Facebook, there it was staring me in the face. This incredibly persistent Facebook ad by Paylater: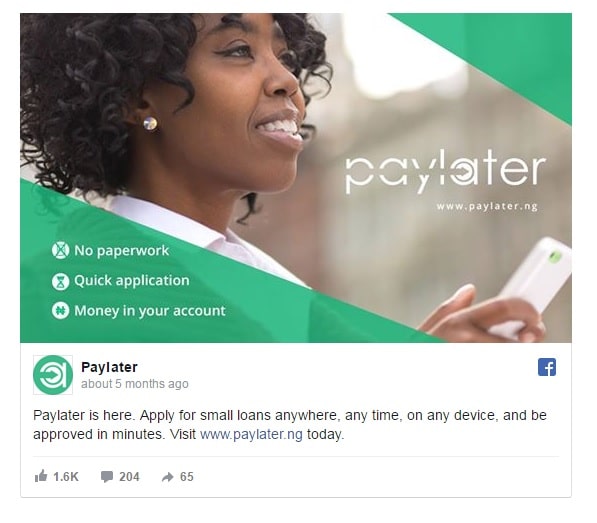 No paperwork and I get the loan money instantly? Now that seems interesting. I figured I'd give it a shot so I pointed my smartphone browser to Paylater.ng.
Requesting a loan
The presentation on the landing page is simple and direct. You can drag left or right to indicate how much you want to borrow and how long you want it for. You can see much you'll have to pay back in real time.
Starting interest is charged at a daily rate of 1% which means that if you borrow ₦10,000 you'll have to pay back ₦11,500, in 15 days, or ₦13,000 in 30 days.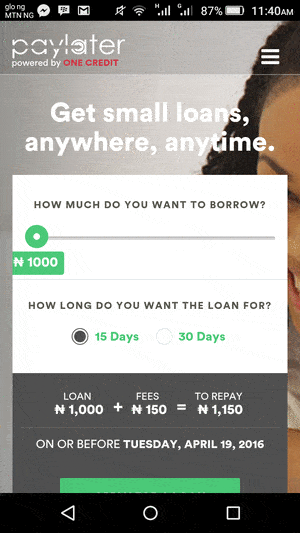 Once you make up your mind on how much you want to borrow, you can click on the "Apply for Loan" button.  After forcing you to login via Facebook, they ask you a couple of questions. Regular stuff like your age, occupation, living habits and income level. There's about 3 pages of questions, all of them brief and not necessarily annoying. They also ask for your account number and BVN
Almost magical
If you could just manage to scale through the series of questions, you get to experience the fun part; Paylater intelligently determines if you are eligible for a loan and credits your account instantly.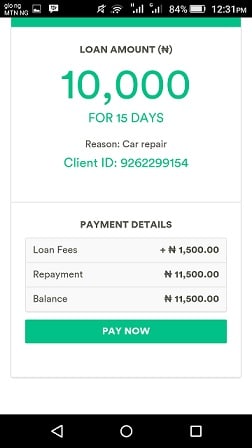 Well, kinda instantly; you should receive an alert within 24 hours. I got mine in less than 12 hours. No human interaction whatsoever, and true the claims, no paperwork per se.
But why BVN?
You're probably wondering why anyone would require your BVN to grant you a loan. The Paylater.ng FAQ page explains that it enables them "verify that the individual applying for a Paylater loan is the same as the owner of the provided bank account."
That makes a lot of sense. If they are going to be granting out automatic loans, they want to be sure that the details being entered on their site are the same as the account they are paying to. That's pretty much all they can do with your BVN -- verify your details. Your BVN details cannot be compromised without your biometric data.
Paying back loans
Paying back loans works exactly like receiving loans. On the due date, Paylater.ng automatically debits your account by the amount you owe. You can probably see now why it was necessary to ask all those seemingly annoying questions like "how much do you earn?" and "do you have kids". Apparently, Paylater has an algorithm programmed to guess, to some high level of accuracy, whether or not you have the means to pay back the loan when due. It's a risk they are willing to take.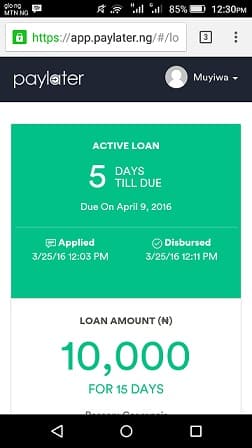 If you are not comfortable with computers poking into your account, you can choose to pay back manually with your debit card anytime before the due date. Bear in mind however that you don't get any discount on the remaining days left for the loan.
But what happens if Paylater doesn't meet any money in your account or you can't payback before the due date? Well you risk suspension of your account, a bad rating among other credit bureaus and 'possible legal action' (for just ₦10,000? Yikes!).
The bright side is that if you pay your loan on time, you become eligible to borrow more than the initial ₦10,000 limit for subsequent loans, at lower interest rates.
The Verdict
So far for me, the Paylater experience is not half bad. I love the fact that all you need to borrow money is an internet-enabled phone, a Facebook and a bank account. I have only about 5 days before my loan is due. I'm waiting to see how effectively Paylater will be able to poke into my account to deduct the ₦11,500 I owe. Oh, and I tried to see if I could get another loan while I already have one active. I hit a brick wall: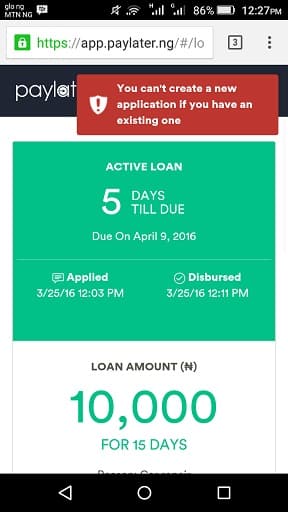 Nicely played Paylater.
Have you borrowed money using Paylater? Please share your experience in the comments section below.