For work and for entertainment I needed a laptop. Had to buy a powerful device at an affordable price.Watched dozens of offers in the online stores. Here is an interesting model has a high cost. On big spending I wasn't ready. To agree on the model with lower specifications no desire. Because the laptop I wanted to use for 5-10 years.
I tried to find through a Google search for used laptops in Nigeria and came to the site JiJi.ng. It is a major service in the virtual network, which sell a variety of products - electronics, children's products, furniture and much more. Decided to get acquainted. The website interface is convenient and practical. Easily found, in the sale of the notebooks. This electronics. Decided to switch to it. It is divided into other categories - TVs, computers and laptops.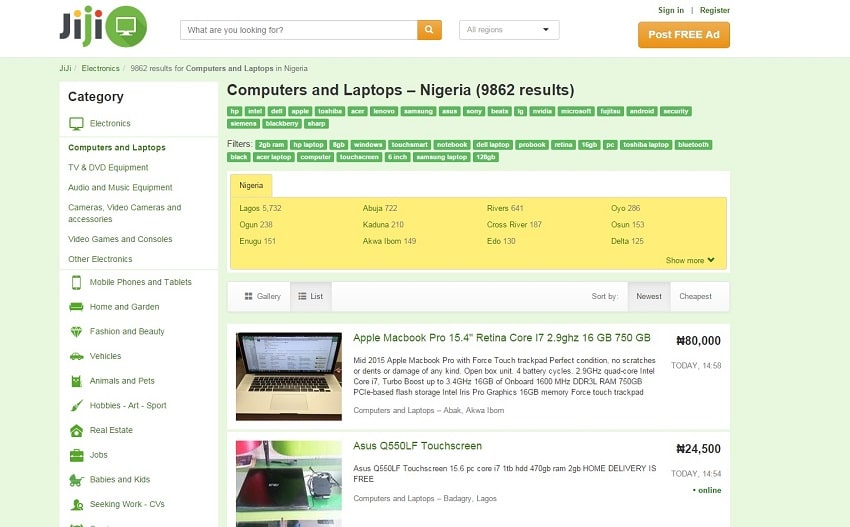 There are additional filters. This is the name of the manufacturer, the area where the product is sold and characteristics. Available for sale as new models and supported. I needed a new device popular company with a worldwide reputation.
Spent about one hour. Watched about twenty laptops. Went to the page and read each description. Liked the model Acer. The frequency of the CPU, memory, and product design I liked. I was sure that these characteristics will allow me to comfortably do the work.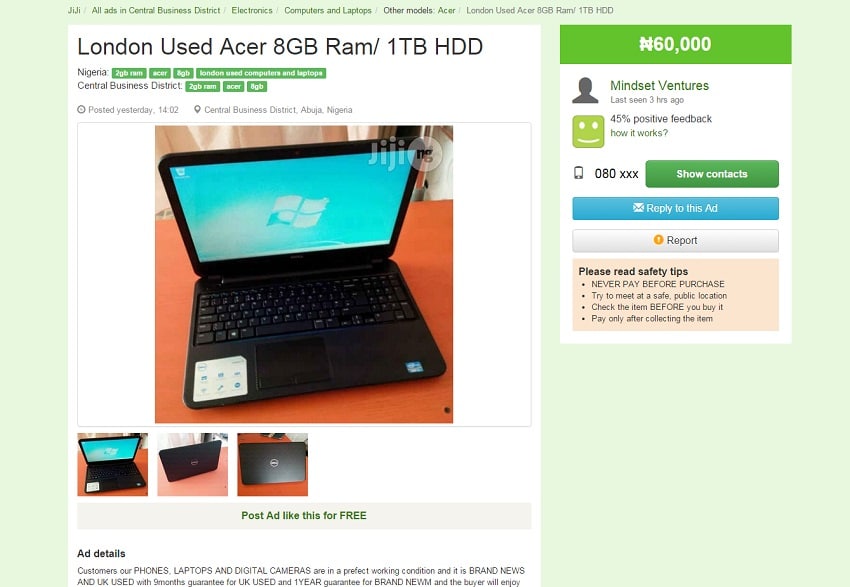 The price of the laptop is cheaper than the online store. Almost twice. Initially, there were doubts. I Consulted with my friends, read reviews on forums and realized that the purchase of this model is a correct decision. The page indicates the telephone number of the owner. I called him and told about the desire to buy him a laptop. He said that if I take it today, the price will be below 10 percent. This is a great offer!
Moved all my things the other day and immediately went to meet. At the appointed time, the seller arrived at the scene. To be sure, opened the box and looked at the laptop. In the configuration was the charger,instruction manual and battery. Turned the unit on. Work impressed me. Everything works quickly and without problems.
Gave the seller the money. I use the laptop at present. Plan to buy a tape recorder, a TV and clothes for yourself. Now I will do it only on this service.
If someone else can't find a place on the Internet where the goods are sold cheap, jiji is the best service.Here it is possible and sell stuff that has ceased to be needed. Thousands of buyers there would be someone interested in the product.