Olumide "D.O" Olusanya, founder of now defunct Nigeria-based SaaS startup, KloudCommerce, is breaking his silence after over a year of financial controversy.
KloudCommerce had lofty ambitions to reshape African retail, much like Nigeria's NIBBS changed digital payments and India's ONDC is altering digital commerce, by digitalising retailers and also enabling them to seamlessly sell their offline inventory online.
However, internal conflicts and investor disagreements led to its shutdown in September 2022. Following this, WeeTracker published a report in which it alleged that a group of investors accused D.O of misusing company funds for personal gains, including lavish trips across the world.
"These allegations are wild and misleading," says D.O, "Every decision made was in the best interest of the company."
In this exclusive interview with Techpoint Africa, D.O, supported by testimonies from two other sources familiar with the situation, delves into his journey, the challenges faced by his venture, and confronts the allegations head-on.
Central to his defense is investor Adedayo Amzat, whom D.O believes masterminded a thwarted aggressive takeover. This, he explains, involved swaying some co-investors, unsupportive co-founders, and led to such distress that his wife felt compelled to put him on "suicide watch".
D.O first shared his perspective through a detailed Twitter thread on September 1st, 2023. The series of over 100 tweets, unfolding over a week, is laden with twists and intricate boardroom lingo that can be challenging for newcomers to understand.
To make sense of D.O's defense, it's essential to first delve into the beginnings of KloudCommerce.
A brief history of the origins of KloudCommerce: In the beginning, there was Gloo.ng
KloudCommerce's roots lie in Gloopro, a still active eProcurement firm that emerged from the now-defunct online grocery store, Gloo.ng.
D.O, a majority shareholder of Gloopro, often compares Gloo.ng to eCommerce titans Jumia and Konga, noting that they all debuted in 2012 within a month of one another. However, while Jumia and Konga had significant financial backing, Gloo.ng started as a self-funded side venture.
Riding the eCommerce surge initiated by Konga and Jumia, Gloo.ng secured notable interviews with CNN and with Techpoint Africa in 2014 and 2015 respectively. Yet, the recession that hit Nigeria in 2016/2017 posed severe challenges, particularly impacting the eCommerce sector. Gloo.ng was not ompervious to the macroeconomic constraints.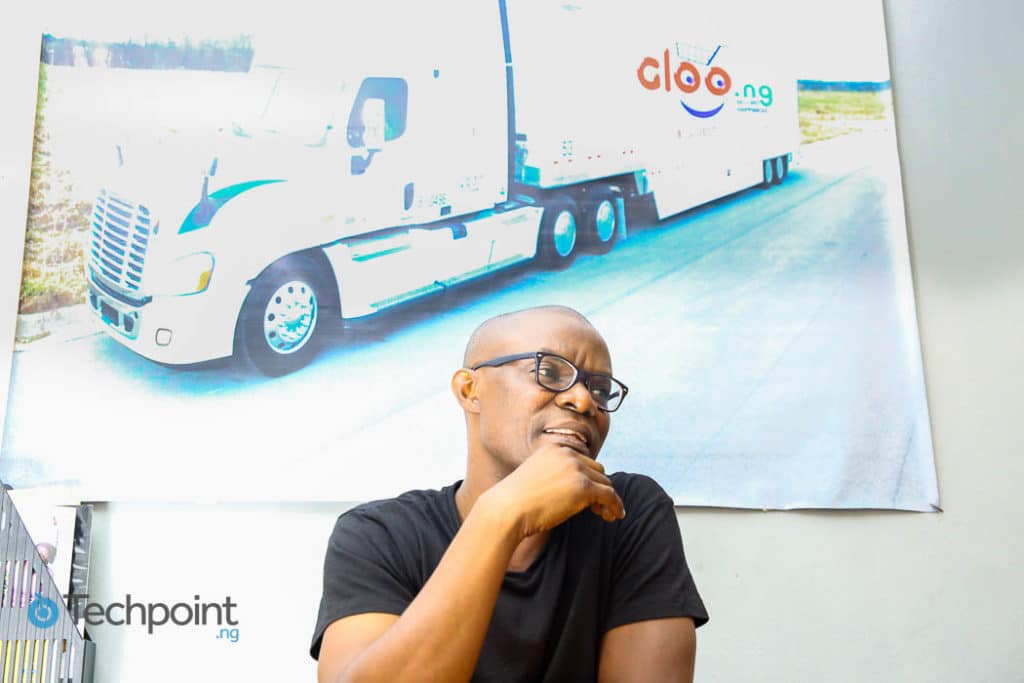 "Despite breaking even with our fulfillment centre, we were losing money to marketing and other overhead costs, " D.O recalls, "It was clear sustaining the entire business until it became profitable would be tough."
A significant break came in 2018 when Unilever's head office, a major delivery cluster for Gloo.ng because of the many employees ordering from it, expressed interest in an eProcurement solution. Noticing the regular deliveries by staff in Gloo.ng attire, Unilever's leadership pondered why they hadn't adopted this widely-used service.
"We said yes because the request came from the head office. We integrated with their SAP system and I dubbed it 'Enterprise Consumables Management System' (ECMS)."
Within 3 months, they had signed another big client in Coca Cola to the ECMS.
These moves marked Gloo.ng's break-even point, sparking an epiphany for D.O. He rallied his team, emphasising the urgent need to pivot and in 2019, with the blessing of investors and shareholders, they transitioned from B2C (Gloo.ng) to a B2B eProcurement platform (Gloopro) for corporates.
"Today, we have on board pretty much most of the name brand customers; Unilever, Coca Cola, British American Tobacco, Seplat, and more."
Within months of announcing Gloopro, D.O got another epiphany, to replicate the enterprise solution for other sectors. He kickstarted some internal research and they settled on the retail sector — an easy decision given that there was demand from an anchor customer. With a recent $1 million seed funding in hand, he aggressively recruited engineering talent.
D.O says he christened this new solution 'Gloopro Septa' but that two years into building it, he realised something crucial.
"Because both products (ECMS and Gloopro Septa) operated on entirely different code bases targeting distinct markets, it became clear that combining such diverse entities posed risks. Cultural clashes could arise, leading to disputes over compensation and roles."
He also realised that retaining the engineers he recruited for Gloopro Septa would soon pose a financial challenge for Gloopro.
"So I convened an extraordinary general meeting of shareholders to discuss these constraints," D.O recalls, "stressing that Gloopro couldn't sustain funding the project. We had to branch out and seek external investors to support the product's development."
With the permission of the Gloopro board, D.O took with him David Umoh, Gloopro CTO at the time, and all but one of the engineers who had worked on Gloopro Septa, and registered PayPecker UK Limited on the 2nd of December, 2020.
PayPecker would eventually be renamed KloudCommerce.
Clarifying KloudCommerce's share structure
According to D.O, the Gloopro board agreed to move the Gloopro Septa IP to the new company in exchange for a 20% stake, based on an estimate of having expended $750,000 up to that moment to build the product. This effectively set KloudCommerce's initial valuation at $3.75 million.
Along with David Umoh whom he took from Gloopro, D.O recruited a Chief Product Officer by name of Frank Atashili. They were granted co-founder status and allotted shares of 15% and 10% respectively, while D.O was allotted 55%. But certain Gloopro investors had voiced concerns over a potential conflict of interest, given D.O's dual roles as a founder and primary shareholder in Gloopro while also being a founder of the new entity.
"To address these concerns, I offered that all three co-founders, including myself would be getting stock options, rather than equity, that would have to vest over a four year-period."
This meant that at the outset, neither D.O nor his co-founders could access their shares. In contrast, Gloopro's 20% was fully vested, granting it complete ownership from the start.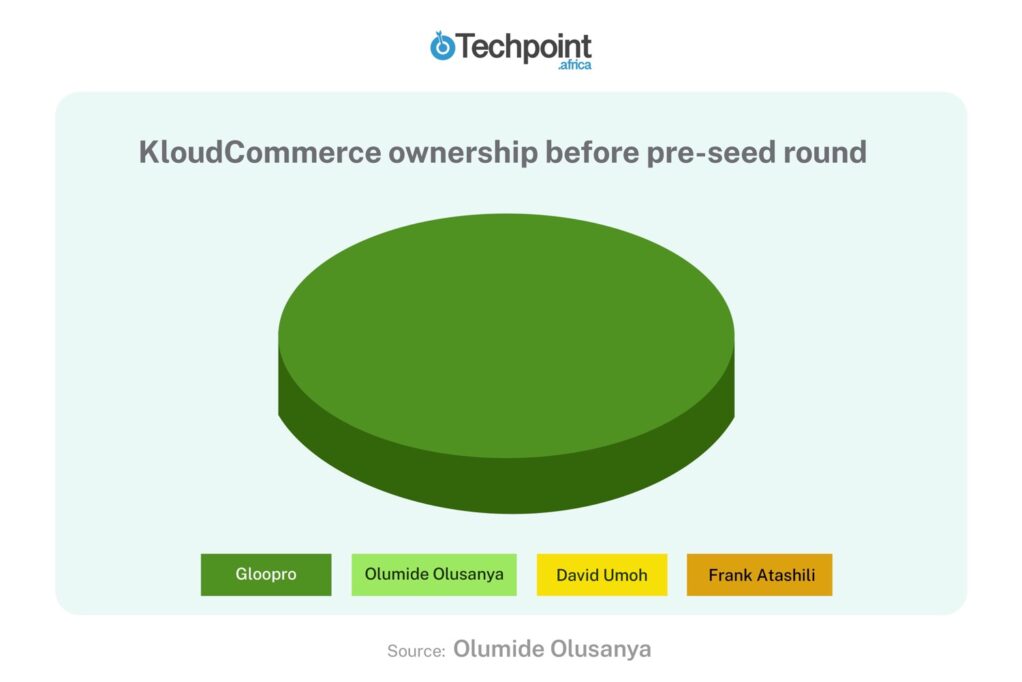 "This ensured Gloopro's protection as the product's originator, " D.O explains, "For balance however, all co-founders were granted one share (0.000001%) each and voting rights, to the degree of the options alloted to them"
He acknowledges that the setup allowed him, as the founder and primary shareholder, to nominate three board members, while Gloopro had one slot.
Following the board's unanimous decision, D.O began developing KloudCommerce. Between May and July of 2021, he closed $500,000 in pre-seed funding from a number of investors, through SAFE notes. He underscores that every investor was aware of the shareholders' agreement and content with his four-year vesting schedule.
New investors had the potential to dilute existing shareholders' stakes. However, because funding was secured through SAFE notes, investors couldn't assert equity or board positions until a future seed round, which is the typical protocol for SAFE investments.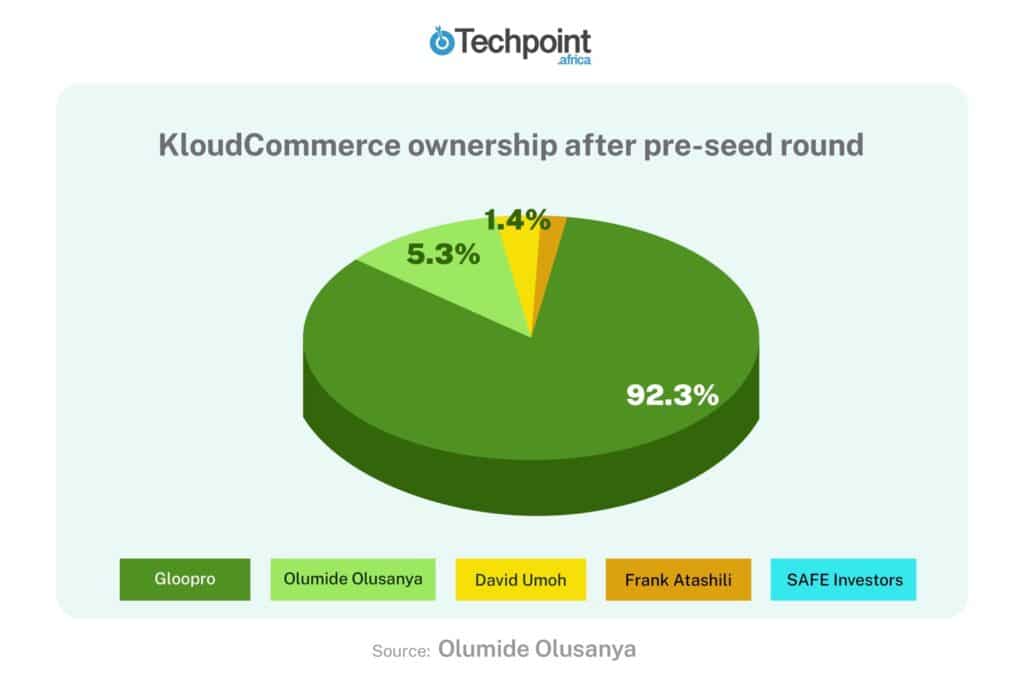 The lead SAFE investor expressed concerns about D.O's founder privileges.
"To protect their (SAFE investors) interests, we existing shareholders agreed to revise the shareholder agreement to ensure no founder could receive a new set of options in the future," D.O explains.
Meanwhile, he retained his right to nominate three people, including a SAFE investor, to the board, but as his top choices were unavailable, he chose to prioritise business growth over constituting the board for the time being.
Addressing the allegations
D.O swiftly refutes claims that he spent recklessly and prioritised the business over the product. He stresses that with over twenty years of domain expertise, he stands by decisions made in the company's best interest.
Contrary to the portrayal in the WeeTracker report, it would appear that he didn't make many of these decisions brashly or unilaterally.
About trip to Ghana
D.O explains that in addition to the CTO and CPO, he brought on board a seasoned operations specialist as the COO. Since he joined later in the process, he wasn't granted stock options. However, he did invest in a follow-on pre-seed round through SAFE notes.
"He (the COO) immediately got to work on our go to market strategy," D.O recalls, "We realised that the retail industry that we're targeting is the most conferenced and most exhibited industry in the world, including in Africa. In our search, we found over 200 exhibitions across the contient."
Previously, during the Gloopro Septa phase, D.O recognised that selling to retailers required a markedly different approach than marketing other tech products.
"Retailers are just too busy during the day for formal sales pitches in boardrooms. However, when they attend exhibitions, they're more open to sales pitches because they go with the mindset of learning what's new."
D.O coined this approach the "Events-based Distro Strategy". It involved showcasing at exhibition events across Africa, starting with the Food & Beverage West Africa and Beauty West Africa events in Lagos, Nigeria, and also being the primary sponsor for Accra Fashion Week in Ghana.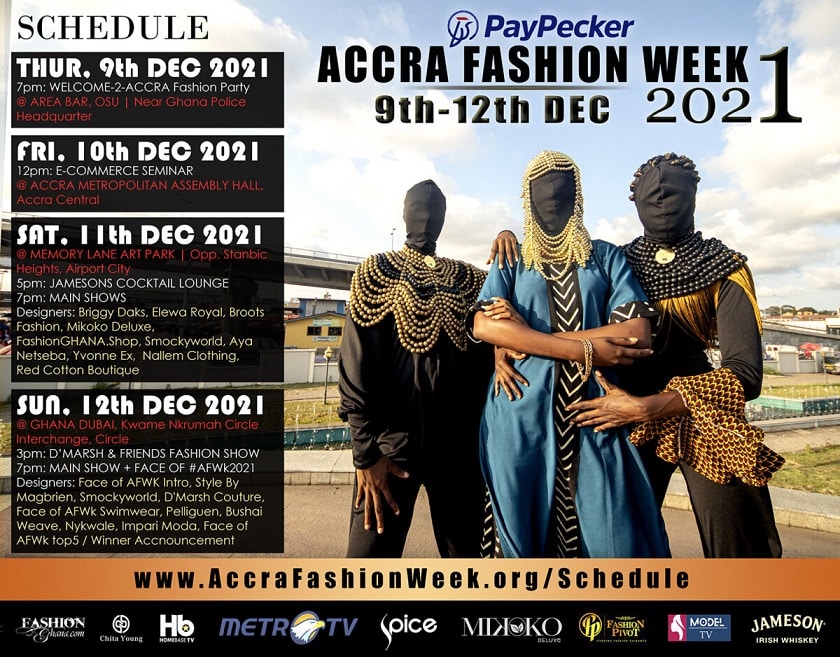 "Our model, from day one was Africa first. I had already built companies in Nigeria for 20 years, I wasn't interested in doing that anymore."
The COO personally secured our headline sponsorship for the Accra Fashion Week and even managed to negotiate a significant discount on the price," D.O clarifies, addressing WeeTracker's claims of excessive expenditure for the event.
The Accra Fashion Week was scheduled for December 2021. D.O dispatched the COO and a newly appointed Africa Expansion Manager to Accra in advance. Once there, they hired three local employees and established an office.
"From that period leading up to the Accra event, we identified over 4,000 businesses, which we added to the top of our funnel, and signed up more than 300 of them," recalls the Africa Expansion Manager who spoke with Techpoint Africa on the condition of anonymity.
His job desription entailed replicating the model in Nairobi and Johanesburg, and Cairo. He however didn't get the chance to witness the full success, as he resigned for personal reasons in January.
"I went home in December to spend time with my family after being away for several months," he reminisces. "During my stay, an opportunity in Lagos arose, which would clash with my responsibilities in Ghana. Around the same time, the Ghanaian government mandated the COVID vaccine for re-entry. I hadn't taken the vaccine."
This led to his resignation, a significant setback for D.O who was left with a singular option: to remain and fulfill his CEO duties remotely while also managing expansion in Accra. His public stance against the COVID vaccine meant he couldn't return to Nigeria. Doing so would prevent his re-entry to Ghana, leaving the local team leaderless. The COO had returned to Nigeria following the close of the Accra Fashion Week.
I questioned D.O about the allegations of excessive spending in Ghana, to which he replied, "Would I stay in a hotel for over two months on my own dime? In fact, it was COO himself who found a more cost-effective hotel and secured a bulk discount when it became evident I'd be in Accra for an extended period."
On questionable product decisions
Despite the promising business metrics, KloudCommerce's products faced challenges, including missed targets and flawed demos. D.O, countering the WeeTracker report, stresses that he never misled investors.
"Our initial business model, outlined in our pre-seed pitch deck, was revenue generation based on inventory location," he clarifies. "Here, 'inventory location' doesn't refer to the number of stores but rather denotes any spot within a client's store or chain where they wish to digitally manage and transfer inventory."
D.O elaborates that in January 2022, as they contemplated a seed round, feedback from potential investors indicated a need to shift their KPIs. Instead of focusing on the number of inventory locations they were acquiring, they were required to emphasise the volume processed through these locations. The leading potential seed investor also wanted to observe progress over three months with the new KPI.
D.O maintains that he regularly shared his investor updates with his co-founders, to review, before sending them.
"Yet, from June to December 2021, during the crucial six months of product development and market introduction, the product wasn't ready for the three pivotal events meant for market capture and customer acquisition. We had already made payments for these events. So, I concentrated on acquiring customers with the unfinished product, ensuring that once it was finalised, on-boarding them would simply be a matter of flipping a switch."
The Africa Expansion Manager affirms D.O's account.
"I was directed to forward every business we on-boarded to the Lagos team. They would handle the KYC processes towards transitioning these businesses into paying customers."
I point out that the WeeTracker report cites key executives who allege that he often shifted the product's direction too suddenly.
"How could I have such an influence when I wasn't directly in charge of product development? If a product is deployed at a client's location and doesn't function as expected, am I the one who coded it? Did I supervise the coders? That's the duty of the product co-founder."
In D.O's opinion, this what led to disagreements and the resistance he began to face from his co-founders.
"I foresaw that these issues could lead to the company's downfall. I was the one actively seeking investments, not them. I pitched to investors based on their assurances regarding product readiness. Their failure to deliver was a direct blow and embarrassment to me," he expresses.
Nevertheless, by March 2022, after D.O returned to Nigeria, he supported the Sales Lead in signing a major anchor customer that had exclusive rights to distributing global lifestyle and beauty brands across West Africa.
But a scheduled product demo and go-live sequence at the anchor customer's premises failed.
"That was the last straw for me. They had three extra months, and yet there were still complaints and excuses. I wasn't accepting any more of it."
By this time, KloudCommerce was already running out of funds. So he went to some of the investors to show them the full picture of things. One of them was Adedayo Amzat of Zedcrest Capital, whom he says was the SAFE investor with the most skin in the game. The immediate priority was to establish a board, aiming to introduce governance in the product's management.
Boardroom drama
It's essential to recall that, based on the shareholder's agreement, only D.O and Gloopro had the privilege to occupy or nominate someone for a board seat, as a seed round hadn't been initiated yet.
"To adequately represent all stakeholders — the founders, SAFE investors, and Gloopro — I utilised my rights and nominated myself, Adedayo Amazat, and a representative from Gloopro to the board," D.O explains.
The first board meeting, held on the 1st of April, 2022, went well by all indications. Also in attendance were co-founders Umoh and Atashili.
"The board acknowledged the disagreements among us co-founders. They instructed us to convene a co-founder meeting to address our issues, as they appeared to be related to product direction rather than personal conflicts," D.O recalls.
D.O highlights that because they were running low on cash, he had stopped collecting salaries, equivalent to the end of January, while his co-founders had started accepting half payments.
"I and the co-founders met the next day, he recalls, "During this meeting, when questioned about their commitment to continue on half salaries, the co-founders expressed that they might be compelled to depart in 3 months if the situation persisted. I was taken aback. These were individuals to whom I had granted 10% and 15% stakes in a company now valued at $5.1 million, especially after securing an additional pre-seed funding of around $150,000 from existing investors."
At that first board meeting, Amzat inquired about directly communicating with the co-founders, to which D.O did not object.
"However, to my surprise, Amzat and the co-founders began having conversations behind the scenes that portrayed me unfavourably," he recalls.
"That's when it became clear to me that something fishy was happening."
At this point, I reference the WeeTracker report, which claims that he drew a salary for several months while withholding pay from some team members and also misappropriated investments meant for the company.
"That's completely untrue," D.O asserts. I never prioritised my salary over my employees'. In fact, it was only until March 2022 that we faced challenges in disbursing staff salaries due to a shortage of funds and a delay in anticipated investments. By this time, I personally had stopped drawing salaries since January. I even secured a personal loan on the company's behalf to pay staff salaries for April."
As for the supposed misdirection of funds to Paymente Limited (Gloopro), he says, "it's essential to note that during KloudCommerce's early operational months, prior to obtaining our pre-seed funding, Gloopro shouldered various expenses, including rent, printing, internet, laptops, salaries and more.
The mentioned funds were related party transactions, merely a partial repayment for the debts KloudCommerce, now operating independently, had with Gloopro. Repayments were executed upon the Gloopro board's request."
According to D.O, rather than giving him an opportunity to address or clarify these perceived discrepancies, Amzat formed a WhatsApp group with a segment of SAFE investors and disseminated misleading information about him. He is convinced that Amzat's motive was to initiate a hostile takeover, rather than genuinely assisting the company in realigning with the product roadmap.
"If he truly believed there was financial misconduct, he should have utilised the governance structure in place," D.O emphasises, "There's a protocol for such concerns. It should be reported to the board. Following that, the board would convene a panel, which would then commission an external auditor to conduct a thorough review. Only after this audit would the external auditor make a declaration regarding any potential financial impropriety."
The accusations circulating in the WhatsApp group prompted the block of SAFE investors to request a comprehensive stakeholders' meeting. This meeting would involve all investors, D.O, and his executive team. They prepared a list of topics and concerns to be addressed during this meeting, which was set for Saturday, 27th May 2022.
The meeting took an unexpected turn when Amazat and D.O engaged in a heated verbal exchange. The intensity of their disagreement led the SAFE investor who was chairing the session to prematurely end the meeting. After that intense confrontation, D.O felt it was best to resign from his role as CEO.
"Given the atmosphere and the sense that trust in my leadership might have eroded, especially with Amzat's evident disdain for me, I felt it was the right decision."
He took the initiative to communicate his decision to the investor who had overseen the meeting. He also approached Amzat with his decision to resign, and Amzat agreed to invest more funds into KloudCommerce on the condition of D.O's departure.
"I was fine with that," D.O reflects, "I didn't start KloudCommerce with the intention of being its CEO for more than 4 years. My primary concern was the product, and we had spent too much time on board room drama. Even though only about 21% of my stock options had vested over my 18-month tenure, I was more interested in the company regaining its focus on the product."
Amzat extended an invitation to D.O to meet at Zedvance HQ in Lagos to discuss the terms of a subsequent investment and D.O's departure. He proposed an additional investment of $200,000 into KloudCommerce and also expressed his intention to encourage other SAFE investors to increase their stakes.
"In exchange, I was expected to relinquish 10% of my unvested share options and stay on as a consultant for a year before making my final exit," D.O recalls.
"To my surprise, the term sheet he presented later was not what we had agreed upon in our meeting. Instead of the initial understanding, he proposed to slash my shareholding from 55% down to 29%, with 21% of that already vested. He also allocated an extra 15% to himself and dispersed the rest among certain investors and non-investors."
Still desperate to save the company, D.O says he was willing to accept the terms, especially as it committed to paying the $200,000 within 24 hours.
"On the very day I got that email, I convened a staff meeting to announce my resignation. I assured them that funds were on the way to cover salaries, which were only a month behind, and to manage operational costs. I informed them that the COO would be taking over my responsibilities," D.O recalls.
However, in an unexpected turn of events, D.O says he received a revised term sheet from Amzat the next day.
"He now proposed an investment of merely $50,000, with a commitment to help secure the remaining $150,000. Additionally, he intended to allocate the earlier mentioned 15% to his company, Zedcrest Capital, an entirely new entity on the cap table. And, to add insult to injury, he wanted me to waive six months of my unpaid salaries. There was no way I was accepting that."
The situation became increasingly tense, stretching into June. Meanwhile, unbeknownst to D.O, staff began to whisper that his refusal to accept the investment terms was the reason for their two months of unpaid salaries.
"They were unaware of the unfavourable conditions I was being presented with," D.O recalls.
The pressure reached a boiling point, with even other SAFE investors attempting, unsuccessfully, to mediate. D.O says that the immense strain eventually led him to the emergency room due to stress-induced complications.
Facing relentless pressure to tender his official resignation as CEO, D.O stood his ground, viewing Amzat's actions as an attempt at a hostile takeover without any legal foundation. He signed the term sheet but demanded a clear and binding share restructuring agreement that would clarify all ambiguous aspects of the term sheet.
"I was well aware that such an agreement would necessitate the signatures of all existing shareholders," he explains.
In the interim, Amzat had already fulfilled his promise of a $50,000 investment. Despite the ongoing disputes, D.O says he continued to uphold his end of the agreement, fulfilling his direct responsibilities outlined in the term sheet.
"Even amidst the chaos," D.O recalls, "I managed to secure a partnership with a major international athletic brand that was in the process of launching its inaugural direct retail outlets in Nigeria."
The negotiations dragged on, with various attempts at mediation. As rumuors about D.O's alleged misappropriation of funds persisted until August, the Gloopro board took notice and summoned D.O to face investigative inquiry of the board.
"I was cleared of any wrongdoing," D.O explains.
Another investor who had stakes in both Gloopro and KloudCommerce offered to setup a different meeting to mediate between D.O and Amzat. The conclusion of that meeting was that the old term sheet was a non-binding agreement, just as D.O had insisted.
"After some discussions, which I wasn't a part of but involved some KloudCommerce executives, they returned with an absurd counteroffer," D.O recounts.
As D.O shared on Twitter, this counteroffer aimed to drastically reduce Gloopro's stake in KloudCommerce from 20% to a mere 5%. Additionally, D.O's stake was also proposed to be slashed to 5%. The CTO, who had left by this time, was down to nothing.
Unsurprisingly, the Gloopro board declined this term sheet. It's worth noting that the board had previously valued the resources and efforts they invested in developing the KloudCommerce IP at $750,000, which equated to a 20% fully paid share in the company.
"Unbeknown to me, whilst concurrently involved in this new reconciliation and negotiation effort with me, Adedayo had also surreptitiously circulated a draft petition to be sent to EFCC on the back of his spurious allegations and wanted SAFE investors to execute quietly behind me, " D.O shares in a follow-on Tweet, "I got to know of this from one of KloudCommerce's vendors."
That attempt apparently failed. Especially because Tunde Ogunremi, a top three SAFE investor, was vocal about his refusal to sign the petition.
"I knew for a fact that the allegations about money being spent on personal items and travelling across the world, were false, Ogunremi told Techpoint Africa, "D.O wasn't taking holidays. I was also aware of his stance on the COVID-19 vaccine. We are are both trained physicians and had had extensive conversations about the pandemic. The more egregious allegations about misappropriation of funds are easy to deal with via the proper channel of an independent audit. But accusations about waste of funds, especially on the trip to Ghana are, at the very least, misguided."
At this point, on the intervention of his wife, D.O says he took a much needed vacation to avoid another health crisis."By the time I returned, Gloopro had rejected a counteroffer and Amzat had tendered his resignation from the KloudCommerce board," D.O recalls.
D.O's initial action was to restructure the board. The revamped board comprised Ogunremi, the Managing Director of Gloopro, and D.O serving as the chairman. This formation was in line with the original representation of SAFE investors, Gloopro, and the founder's interests. Subsequently, the board swiftly initiated a product audit to assess the current state of affairs. The audit's findings were grim, indicating that the situation had deteriorated to the point where shutting down the company was the only viable option.
"As one of the top three investors, it was a difficult decision," Ogunremi recalls. "But it had become evident that not only could the co-founders not work together, but with the backlog of financial commitments, and the difficulty fundraising, we would continue to incur debt to the entity. The wisest thing to do at that stage was to stop the hemorrhaging."
The decision to shut down was effected on the 30th of September, 2022 and all stakeholders were notified.
"I think most investors had, by this stage, also come to the same conclusion because when meetings were called to discuss with the board, very few investors attended and there was no significant objection to it," recalls Ogunremi.
"Following the company's shutdown, my life just fell into this pitch darkness," D.O shares on the Twitter thread, "I withdrew from everything and everyone, which really alarmed my wife, such that I was put on a 24-hour suicide watch. I had lost interest in literally everything!"
According to D.O, WeeTracker's report, released in October following the company's shutdown, predominantly reflected the viewpoints of Amzat and his COO. The situation remained quiet until March 2023, when TechCabal reported D.O's arrest by the EFCC.
It was quite weird for me, reading about his arrest while receiving a call from D.O in person. TechCabal subsequently updated their article, confirming that D.O had been released the previous day, less than 24 hours after detention.
D.O alleges that the entire ordeal was a calculated move, with the media being unwittingly used in the scheme. He asserts, "The petition was a fabrication. It was solely orchestrated and executed by Amzat."
"I have since retained lawyers and have chosen and adopted the approach of using appropriate legal means to seek redress. In due season, I expect this to come to fruition," he concludes.