Between 2020 when I did an analysis of the education technology landscape in Nigeria and now, it has experienced significant transformation.
While the challenge was once how tertiary learning wasn't getting enough attention like primary and secondary education, more talent development platforms have sprung up to double down on helping learners build careers in rapidly growing sectors, essentially filling the gaps left by the traditional education systems.
In this evolving landscape, AltSchool Africa has become a notable player. The latest update from the skill-to-market platform is its expansion to include Creative Economy and Business Schools.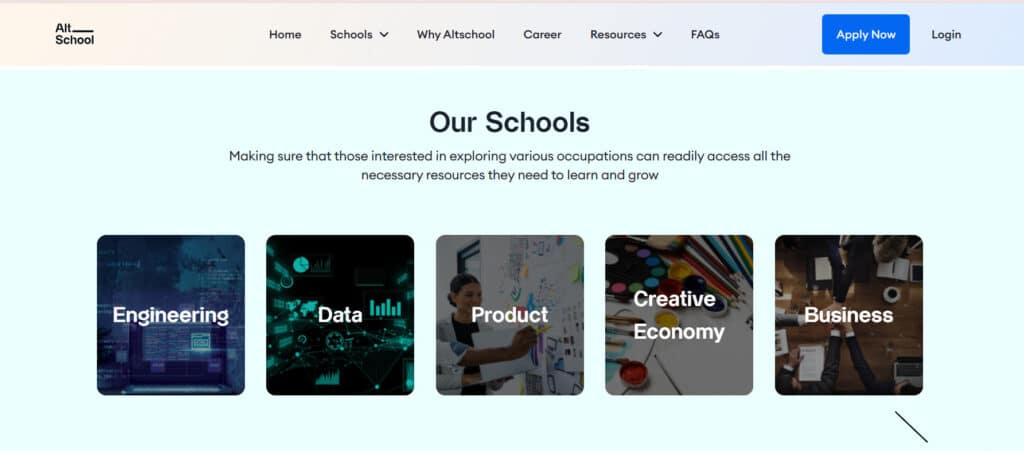 The 2-year-long journey
In 2021, the startup embarked on the mission to help students learn and gain recognised diploma certificates in sought-after careers within a year. Since then, it has successfully graduated pioneer sets for the School of Engineering and School of Product, with the first cohort of the School of Data currently in progress.
Notably, this expansion comes less than two years after the startup secured $1 million in pre-seed funding. Meanwhile, the decision to broaden its faculties was partly influenced by the remarkable 40% completion rate it recorded in the past year.
While the online learning market has experienced the influx of courses especially after 2020, dropout rates have consistently increased pegging the average completion rate at a meagre 14%. These dwindling stats are due to several factors including learning engagement, course quality, flexibility, and quality of assessment. The startup boasts of having a unique approach to online education, and this has been instrumental in addressing these shortcomings.
AltSchool Africa co-founder and CEO, Adewale Yusuf explains what the company did right.
"Our goal is to create a fun and communal learning platform for all Africans to develop their skills, regardless of their previous education or background. Our unique teaching methods have proven successful in helping our learners better retain information, demonstrating that we understand the complexities of how online education works," Yusuf disclosed in a statement confirming the expansion.
Why the creative industry?
In a chat with Nifemi Akinwamide, the startup's Head of Growth and Partnerships, he clarified the startup's motivation for the expansion and corrected a possible misconception that it points to a shift in the startup's core model.
"Talent has always been our core, and it was not just tech talent. We started out with something we are familiar with, which is tech. But the goal has always been to ensure we take 10 million Africans to their next level in terms of career paths and give them financial prosperity without keeping them in the 'tech' bubble, but make them employable by both tech and non-tech companies."
He added that this commitment led the company to delve into another branch of the rapidly growing creator economy industry, including music. Under the new vertical, the school offers students short courses in content creation, sales, and music business to earn certificates in six weeks. This is necessary to bridge the gap in the African talent space, especially as universities are not particularly preparing students for what the job market requires.
In hindsight, this move has possibly been on the horizon since the startup announced its pre-seed raise in 2021; two music artists participated in the round. Coincidentally, one of them is part of the faculty.
Oiling the wheel
To support this expansion, AltSchool Africa has enlisted prominent figures from the African creator space as facilitators. In addition to media personality, Oladotun Ojuolape Kayode (Do2dtun) who was hired as its Creator Relations Director in August, popular Nigerian artist, Folarin Falana (Falzthebahdguy) is also a facilitator in the School of Creative Economy.
Joining them for the content creation courses are other influential content creators and experts, such as Adebowale Adedayo (Mr. Macaroni), Nigerian film director, Nora Awolowo, music journalist, Joey Akan, and health content creator, Chinonso Egemba (Aproko Doctor).
Akinwamide explained that this new vertical will exist in a model similar to other faculties -- where students learn through materials on an online learning platform, attend live classes and also build a community for the learners.
To ensure the quality of education is preserved, AltSchool Africa made another strategic hire some months ago from the University of Texas, Dr. Ademola Akinrinola, the Director of Curriculum and Learning Experience Design. His role involves shaping curriculum, grading system, projects, and overall learning experiences for students. While these facilitators might not have a background in academia, Akinwamide shared that they possess invaluable firsthand knowledge of the creative industry -- an essential quality needed for grooming market-ready individuals.
AltSchool Africa's new verticals are priced at $100 and are designed as six-week short courses different from the existing 12-month courses in the Schools of Engineering, Product, and Data that charge $30 per month. Akinwamide believes that will be instrumental in making the learning path flexible and accessible. The startup also plans to offer career services, guiding students toward becoming independent experts and connecting them with companies in need of their expertise.
Notably, these courses cater to both beginners and those seeking to upskill, going beyond music to include sales and business courses that are needed in various industries. There's also the possibility of introducing short courses for the existing schools.
Interested learners can visit the AltSchool Africa official website to access detailed information about each course, including prerequisites, course content, and faculty details.
Following global standards
AltSchool Africa's newest move is, however, not surprising. One of the world's most valuable online learning platforms, Coursera, originally started out by offering online courses from top universities in technology and computer science. Influenced by the understanding of market demands and interests, it has expanded its course catalogue to include a wide range of subjects beyond tech, including courses in business, arts and humanities, health, and many other non-tech disciplines.
Interestingly, this has aided Coursera's success as it allowed the platform to reach millions of learners globally and cater for various career choices. This expansion model aligns with AltSchool Africa's approach to providing a wide array of educational opportunities to meet the evolving needs of learners beyond traditional tech-focused education.
While the company has high hopes for this expansion, it seeks to keep evolving to meet the needs of African talent, because, as Akinwamide put it, "we are in the business of people."