In October 2021, when we covered TalentQL's AltSchool Africa launch, there was one clear message. To fix the continent's broken talent pipeline. Today, the company is taking it a step further with the launch of its API, in partnership with OpenLabs Ghana (formerly NIIT).
First, let's catch you up to speed. You see, as activities in Africa's tech space grew, training entry-level talent took the back seat for a focus on senior-level talent. Led by Adewale Yusuf, Akintunde Sultan, and Opeyemi Awoyemi, TalentQL launched Pipeline, a mentorship and upskilling program for senior engineering talent.
However, the focus on senior talent by companies like Andela and TalentQL led everyone to ask. Where will the future senior talents come from? That's what AltSchool Africa was trying to solve but with a slight twist.
"We're giving them diplomas because a lot of people can be good but cannot apply to certain opportunities because they do not have a certificate. So we're giving them skills and a certificate," Yusuf told Techpoint during AltSchool Africa's launch.
The company started with a software engineering school, then moved to the school of product and a school of data.
Today, the company is taking it a step further with the democratisation of its learning platform.
By starting with OpenLabs, AltSchool hopes to bring the best of the worlds of face-to-face and online learning.
"At AltSchool Africa, we are committed to ensuring that every African has access to quality learning and programs in line with in-demand skills, and this partnership is a significant step towards achieving that goal," says Yusuf.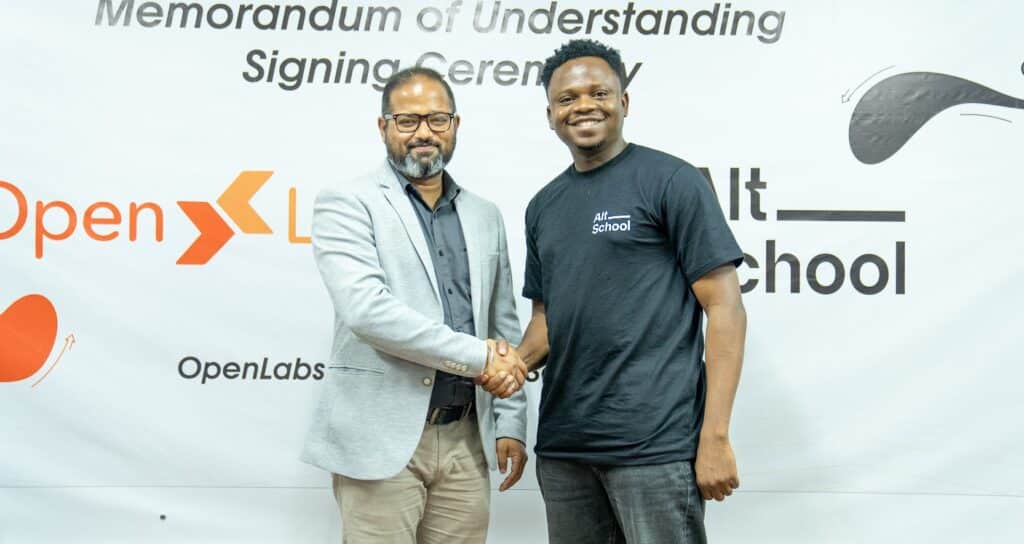 Sujith Jayaprakash, Director of OpenLabs, revealed that the company experienced challenges transitioning to online learning post covid-19
"This partnership will help us to provide our target audience with world-class education, and will enable us to contribute to the development of a skilled and empowered workforce in Ghana and across Africa."
By leveraging AltSchool Africa's curriculum and LMS platform, OpenLabs will be able to serve its students regardless of their location in Ghana, Liberia and Sierra Leone. Yusuf adds that it will be able to support OpenLabs in fields other than technology.
How will the AltSchool Africa API work?
When Techstars Toronto backed TalentQL launched in 2020, it had plans of building a campus to power learning, but the thinking has changed to a more scalable approach.
"We realised that Universities are not going away in Africa, and there's no need for us to reinvent the wheel. So we thought, why not leverage the country's existing knowledge infrastructure?" explains Rachel Onoga, Operations Lead at Altschool Africa.
With its API, the company will be opening access to its learning management system (LMS) for any university, polytechnic, college or senior secondary school in Africa, looking for a modern and globally relevant curriculum.
Onoga stresses that students can study for their regular Bachelor's degree, and also use content from AltSchool Africa's stellar technology-focused curriculum.
"This is where we can really move the needle when it comes to upskilling the entire continent," she adds.
For us to appreciate this move, we need to understand AltSchool Africa's current model and its limitations.
AltSchool Africa's current solution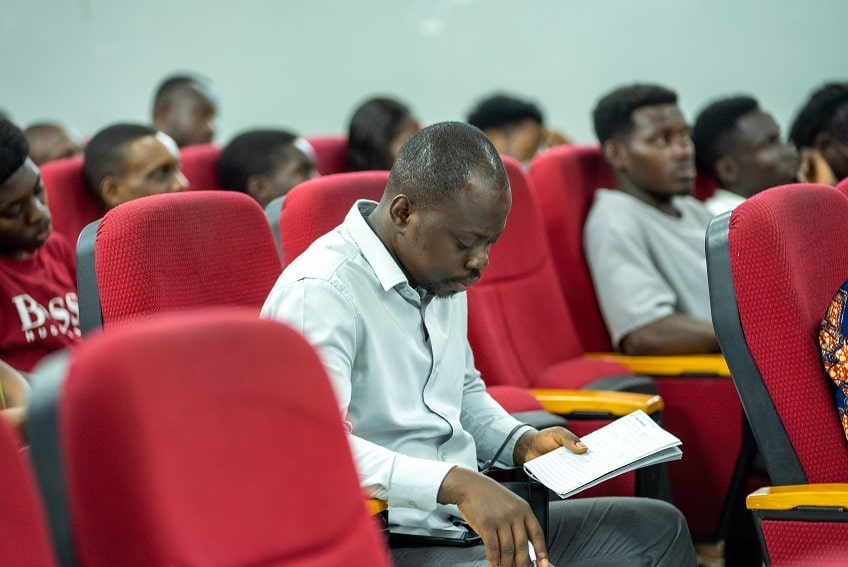 The company currently employs a mix of a purely online learning solution and hyperlocal community events. Its LMS platform contains content hosted by senior tech talents globally, and it augments this with interactive live classes.
The challenge with this model lies with Internet infrastructure and cultural issues. First, it depends on people having access to high-quality Internet, and second, the willpower of students to complete an online course.
Per Statista, Africa's Internet penetration rate stands at 43% as of 2021. With a peak of 66% in Southern Africa and a low of 24% in Central Africa, the data shows there's a huge Internet penetration divide across Africa's region. But that's just one limitation.
This San Diego state university professor surveyed a diverse set of students and came to a consensus that they preferred face-to-face learning. This is not limited to that classroom.
A 2018 Columbia study on Coursera and Edx showed that only 15% of students complete online courses. A year later, MIT released another study that showed a 96% dropout rate for students in online colleges.
To refer to Yusuf's tweet above, the older African generation is not letting go of university education anytime soon. AltSchool Africa's API partnership builds on existing models with ties to universities and colleges.
For context, uniRank says Africa has 1,225 recognised institutions of higher learning, 586 public and 601 private. Tertiary institutions in sub-Saharan Africa have a combined 9 million registered students.
However, most African universities are a challenge. Getting them to embrace anything new, let alone APIs, is even more challenging. Onoga says the team has already anticipated this, so it will be focused on onboarding private universities and senior secondary schools for now.  
There's also a provision for colleges that don't have sufficient infrastructure to handle APIs.
"So the API part is not the only access point. We just want to make it easy for any school to plug into us. We can work with you whether you have the capacity for API or not."
She also adds that this integration will be very affordable to accommodate as many schools as possible.
With 5000+ active students across 76 countries, the company is focusing on a huge market with a model that's relatively rare in the global edtech space.
Global edtech models
Companies have come up with diverse edtech models in recent years, but you can narrow them down to a few distinct qualities.
Platforms like Udemy, Coursera, and Udacity employ the Massive Open Online Course (MOOC) model, where students globally can access courses for free or at low costs. Knewton and Dreambox typify the adaptive learning model that personalises content for students.
There's also the classic online tutoring model, where teachers connect with tutors one-on-one with a video conferencing platform like Zoom or Teams. Chegg, and Tutorme are examples of this model. Nigeria's Ulesson, founded by serial entrepreneur, Sim Sagaya, takes it a step further with tablets for students to learn from home.
Canvas, Blackboard and Moodle operate the LMS model, where the platform is used to manage the entire learning process from course materials, assignments, grading, and communications between students and teachers.
While the likes of eDx and Coursera partner with top universities to deliver content, none is approaching it like AltSchool Africa, which is integrating its curriculum to existing platforms, and helping schools without the resources develop their own curriculum.
A parallel model is US tech giant, Airbnb, which utilises a distributed network of private homes for its hospitality service.
Is there a demand?
Even with layoffs and an economic downturn, the demand for tech professionals is growing. Per Mulesoft, 1,050 business leaders spent $11.7 million on IT staff and plan to increase their budget.
Technology-focused education platforms have been springing up with this demand, and the global e-learning market is expected to reach $166 billion in 2023 and $234 billion by 2027.
As of 2020, Africa already had over 210 educational startups. Beyond those models listed earlier, African edtech startups feature models such as SMS-based learning and exam preparation chatbots.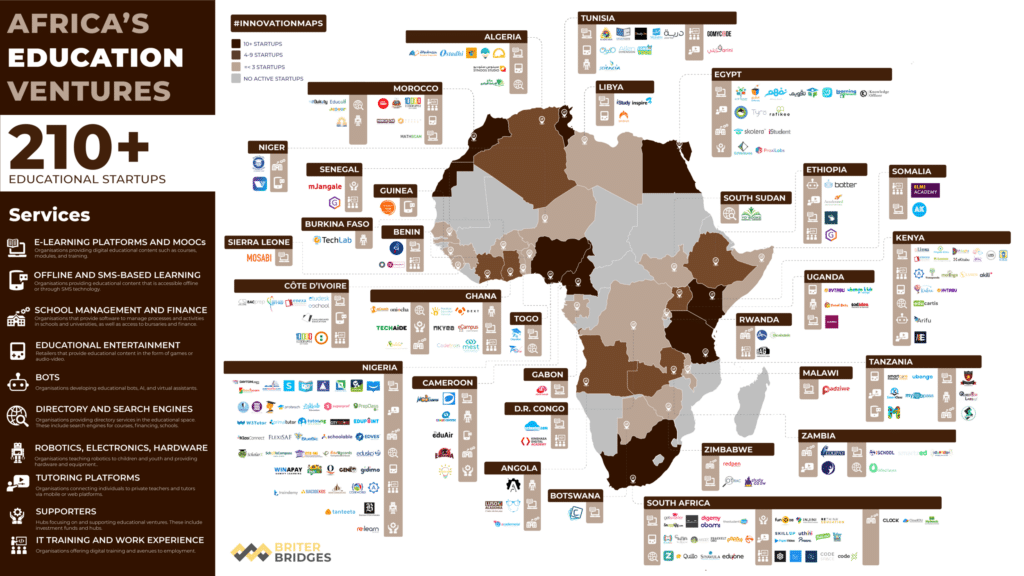 This publication already looked at the likelihood of an edtech revolution following CCHub's $15 million accelerator program, and we'll be sure to see more exciting models in the future.
Per Yusuf, existing models, focus on providing quality content, but they would need to do something drastic to upskill millions of African youths.
The challenge and opportunity
Formerly known as NIIT, Open Labs has been a go-to platform for tech training and certifications in Africa. Its AltSchool Africa partnership is a marriage of two companies with a shared goal.
Yusuf is betting that more schools will be looking to update their curriculums too. For him, everyone is getting more concerned with upskilling for the future, and AltSchool Africa will provide the platform to do that.
While he doesn't share specific pricing, Yusuf adds that the aim isn't to make a huge profit from one school but to win as many of them as possible in a volume game that will have the most impact.
AltSchool Africa's main sources of revenue are monthly tuition fees and application fees. This move presents an opportunity for the company to diversify its revenue stream at scale.
For CEO, Yusuf, the biggest measure of the success of this move is the impact it has on Africa's skilled workforce. "Africa missed out on the industrial revolution and slowly asserted itself within the knowledge economy. Now, as we transition into the skills economy, Africa needs to be part of — or even leading — the conversation".