Chào,
Pitch Friday is this Friday, September 8, 2023. Will you attend? You don't want to miss it if you are an entrepreneur or an aspirant like me.
I look forward to this because Uche Ukonu will share how he bootstrapped Smallchopsng to ₦100 million in revenue with only 9 employees. He'll also talk on lessons you can apply to your startup.
This should be a paid event, but we are handing it to you for free. I'm not shouting, but don't miss it for anything! It will begin at 3 p.m. WAT at Zone Tech Park, Gbagada, Lagos State, Nigeria. To attend, register here.
Here's what I've got for you today:
Kenya partners Spiro to launch electric bikes
M-PESA to launch standing orders
Kenya partners Spiro to launch electric bikes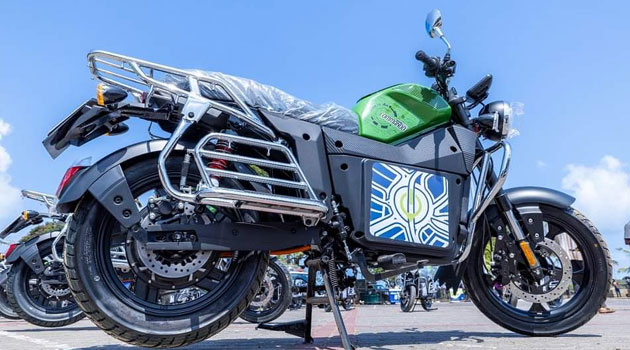 Last Friday, the Kenyan government announced a partnership with Spiro, an African producer of electric motorbikes, to introduce electric bikes across the country.
Since its launch in 2019 by Jules Samain, Spiro has manufactured nearly 10,000 electric bikes and has operations in nations like Benin, Togo, Rwanda, and Uganda. Over 5,000 tonnes of carbon dioxide emissions have been avoided by these EVs' combined 90 million km of green travel.
The company has developed an infrastructure for renewable energy, with about 350 battery swapping and charging stations set up throughout Africa.
Spiro plans to add an additional 3,000 battery charging and swapping stations as part of this new agreement with Kenya to enhance the country's EV infrastructure.
"With our batteries and locally produced energy in Kenya, we diminish the dependence on fossil fuels, fast-tracking Kenya's journey towards energy independence," Samain noted.
This happened a day after Uber launched an 80-kilometre-range electric motorbike, One Electric, in Kenya.
Additionally, Spiro plans to establish a manufacturing base in Kenya to generate thousands of job opportunities, along with the construction of charging stations and the hiring of service personnel.
M-PESA to launch standing orders
M-PESA plans to launch standing orders for users. This move will make it the first mobile money platform to offer its users this choice.
What are standing orders? A standing order is a way to use your bank account to make payments automatically. It is you setting up a rule with your bank to have them regularly pay a certain sum of money to someone else.
For instance, you can set up a standing order to transfer money from your account to your savings account automatically if you want to save money every month. Alternatively, you can set it up to automatically pay your phone bill monthly.
Kenyans can use this feature to set up recurring payments for online subscriptions, like Showmax and Netflix. Due to the widespread use of M-PESA for rent payments, this feature might make it simpler.
They can also repay their outstanding loans to M-Shwari, Hustler Fund, Kenya Commercial Bank (KCB) M-PESA, and other mobile loan platforms.
However, Safaricom hasn't specified when the feature will be available or how it will work. This also includes how to set up accounts, obtain authorisation, and even secure it.
Last week on Techpoint Africa
What I'm reading and watching
Opportunities
Pitch Friday is next Friday, September 8, 2023, at Zone Tech Park, Gbagada, Lagos. Register here.
GitLab is looking for a remote Product Manager. Apply here.
Are you interested in Technology Risk, or an IT Auditor or Data Analyst? Apply for this Visa-sponsored opportunity in the UK. Apply here.
Apply for the AWS Startup Builds Accelerator 2023 for pre-MVP founders before September 22, 2023, here.
Gen F, a three-month initiative sponsored by Founders Factory Africa, is open to idea-stage founders. Participants will receive a monthly stipend, an experimentation budget, and access to experts to help them test and launch their ideas. Apply here.
If you are a software engineer, creative designer, product manager, design researcher, or a techie looking for an internship role, please, check out this website.
Have a productive week!
Victoria Fakiya for Techpoint Africa.