The countdown to the East Africa Digital Innovation Summit has entered its final day, as the Summit starts tomorrow! The stage is set in Nairobi, Kigali, and Kampala, where the first, second, third, and fourth days of the summit will bring together a diverse and influential group of attendees, ensuring an unforgettable and remarkable event.
On the third day of the summit, July 8, the spotlight will shine on the Digital Innovation Conference and Awards. This conference will be a gathering of impressive speakers, esteemed representatives from top banks, hospitals, and ministries across various sectors, including health, ICT, tourism, and education. The presence of these key stakeholders underscores the significance of the summit as a platform for collaboration and growth.
Moreover, the conference will see the active participation of student leaders from universities across the region, creating a dynamic environment where fresh perspectives and innovative ideas can flourish. The attendance of vice-chancellors further adds weight to this prestigious event, as academic leaders recognise the importance of digital innovation for the future of education.
A highlight of the conference will be the presence of the President of Uganda, who will grace the occasion as the special guest of honour. This demonstrates the government's commitment to fostering a thriving digital ecosystem and its recognition of the summit's significance in driving technological advancement and economic growth in the country.
The participation of the startups and venture capital ecosystems, both within and outside Uganda, is another exciting aspect of the summit's third day. Entrepreneurs, investors, and industry experts will converge to explore potential collaborations, investments, and partnerships. This synergy will propel the region's digital entrepreneurship landscape to new heights.
On the final day, July 9, the East Africa Digital Innovation Summit culminates in a grand finale - the VIP dinner with the President or Minister of ICT. This exclusive event creates a celebratory atmosphere, providing a fitting backdrop to honour achievements and recognise contributions in the digital and ICT sectors.
Attending the VIP dinner signifies exclusivity and opens doors to potential business opportunities and collaborations. It is a unique opportunity to engage with influential decision-makers, industry leaders, and fellow visionaries, further expanding networks and fostering meaningful connections.
The East Africa Digital Innovation Summit has been a transformative journey, and the final days in Kampala promise to be extraordinary. From insightful discussions to groundbreaking ideas, this summit has laid the foundation for a future of digital transformation in East Africa and beyond.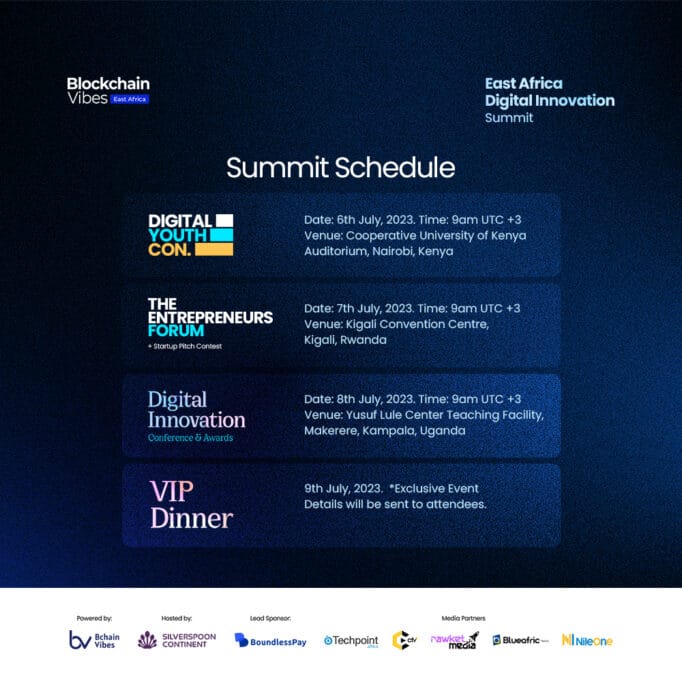 For those fortunate enough to be part of this exceptional gathering, seize the opportunity to make lasting impressions, forge partnerships, and contribute to the collective vision of a technologically empowered Africa. To be part of this transformative Summit, head over to the Blockchain Vibes website to register. 
To learn more about the East Africa Digital Innovation Summit or to inquire about any details, please contact the Blockchain Vibes team via email at [email protected] or send a text to +971586819939 on WhatsApp.