The buildup to the East Africa Digital Innovation Summit (EADIS), which will be held from July 6 to 9, 2023, across three East African countries, Kenya, Rwanda, and Uganda, continues to get interesting. With a focus on youth, entrepreneurship, investments, innovation, and the future of digital transformation in the region, the summit promises to be a driver for the conversations that will bring positive change to Africa. 
Below are some of the amazing speakers who will help bring the East Africa Digital Innovation Summit conversation to life. These outstanding speakers will be sharing their vast knowledge of digital transformation, technology, and the internet, among other fascinating topics. Let's meet them.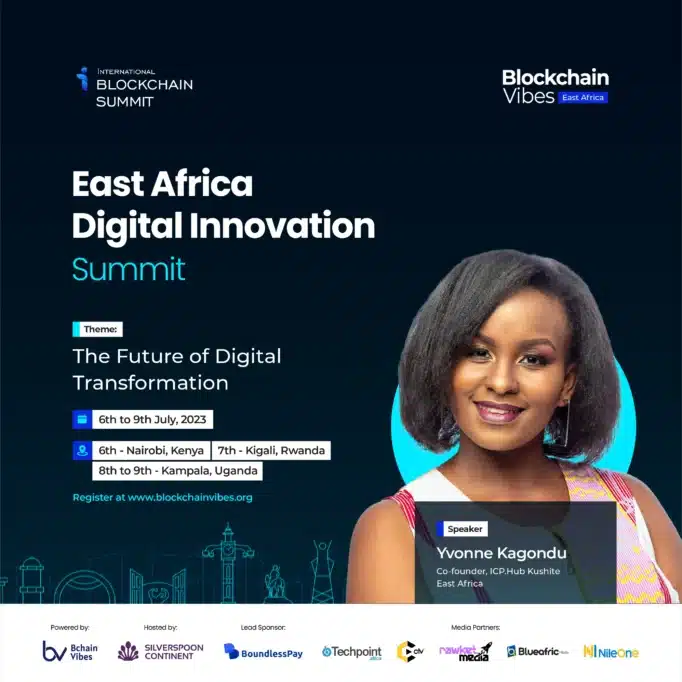 Yvonne Kagondu
Co-founder, ICP.Hub Kushite East Africa
Yvonne Kagondu is a blockchain business consultant who utilises her knowledge and expertise in blockchain and cryptocurrencies to promote adoption through education and community growth strategies.
With several years of experience in the Kenyan financial industry and the Blockchain ecosystem, Yvonne brings a unique perspective to the table.
She started her career as an intern at the Kenyan Commercial Bank Group and then joined Google Digital Skills for Africa as a Quality Assurance team member. During this time, Yvonne developed a keen interest in cryptocurrencies and Blockchain technology.
This sparked her consulting career, where she has worked with several leading Blockchain companies, including Aeternity, KuBitx, Bitcoinke, Zippie Ewallet, Paxful, Token Minds, and Force-field Digital.
In addition to her consulting work, Yvonne is the founder of Kenya Blockchain Ladies DAO and head of ICP HUB Kenya. With her extensive background in finance and cryptocurrencies, she is a sought-after speaker and thought leader in the industry.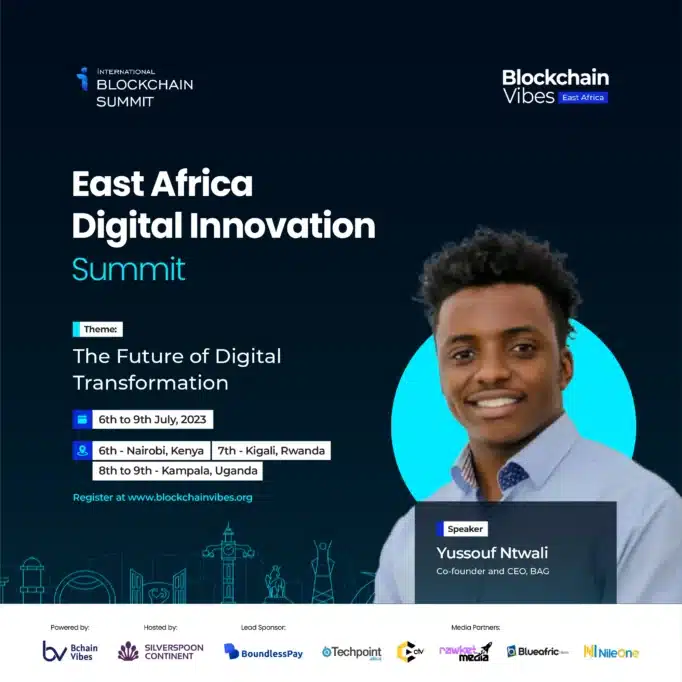 Yussouf Ntwali
Co-founder and CEO, BAG
As a dedicated technology and learning enthusiast, Yussouf has been at the forefront of education and innovation in Rwanda
In 2017, he co-founded BAG, an ed-tech platform that combines gamification and virtual job simulations to empower students and graduates with the skills necessary for the rapidly evolving job market.
As the current CEO, he has positively impacted the lives of over 100,000 Rwandan youth through their learning content while connecting over 1,000 individuals to meaningful employment opportunities. BAG's exceptional services have caught the attention of industry leaders, including one of the creators of Candy Crush, who has chosen to invest in the vision.
The global pandemic sparked his passion for community building, leading him to establish Startups in Rwanda. This vibrant community unites early-stage founders and tech enthusiasts, fostering collaboration and strengthening the Rwandan tech ecosystem. By hosting engaging podcasts and events, he brings together founders, government officials, and tech enthusiasts to exchange ideas, share insights, and drive change.
Yussouf is also an active member of prestigious fellowships such as Kigali Global Shapers, Transcend Network, Westerwelle Young Founders Alumni, Google Black Founders Fund 2022, and ChangemakerXchange.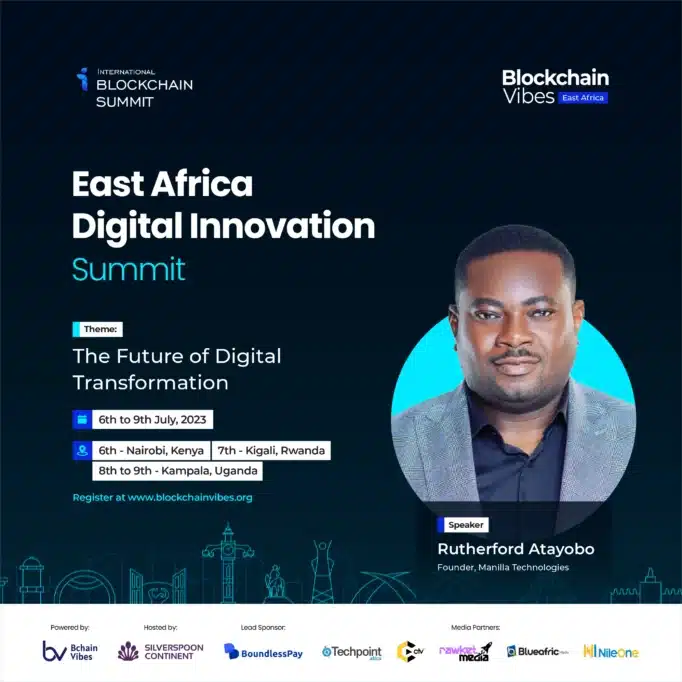 Rutherford Atayobo
Founder, Manilla Technologies
Rutherford Atayobo is an experienced business administrator with a proven track record. A corporate professional with expertise in Web 2.0 and 3.0 Innovation Management, Research and Validation, QA, Business and Strategic Planning, Negotiation, Revenue Development, and Change Management.
Demonstrated success in streamlining operations, increasing revenue, and reducing costs to maximise business profits. Strong leadership skills, with a track record of exceeding sales, impact, and revenue goals. He is the founder of Manilla Technologies, Cabbie Mobility Innovation & Colford Energy Ltd. Rutherford has also co-founded multiple Web 3.0 projects, namely SinVerse and Vanilla Network. 
Ogweno Stephen
Co-Founder & CEO, Lifesten Health
Ogweno Stephen is an award-winning global health enthusiast and practitioner, a non-communicable diseases (NCDs) advocate, and an author. His background is in global health, having studied at Cambridge University and the University of Manchester.
He is known for his vast work in developing programmes and innovations, aimed at improving health literacy and access to care for chronic diseases. As a co-founder and CEO of Lifesten Health, he is leading healthcare innovation aimed at making health accessible to the next 1 billion Africans.
In addition to this, Ogweno currently serves on several boards and committees globally, including the World Health Organisation, where he is a steering member of NCDs Labs under the thematic area NCDs and the Next Generation. Ogweno Stephen is also a published scientific researcher, a keynote speaker and the author of 6 books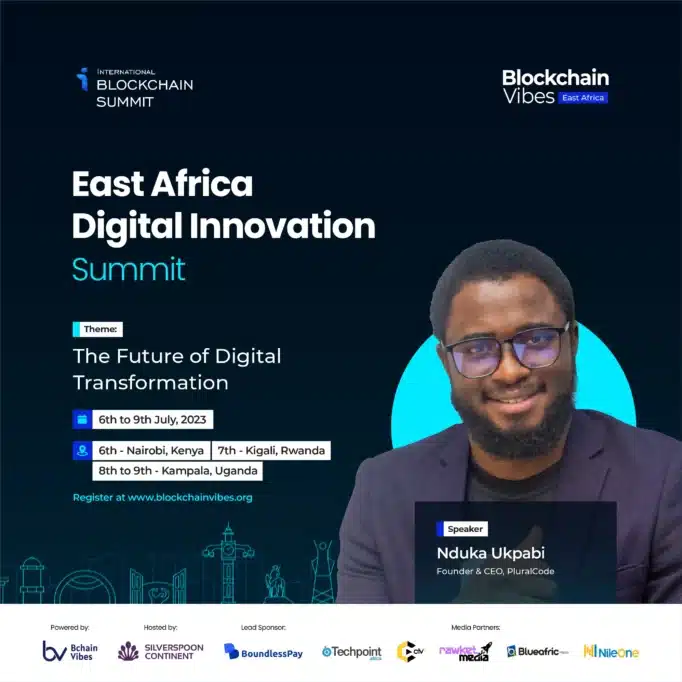 Nduka Ukpabi
Founder & CEO, PluralCode
Nduka's work has established PluralCode's Academy as one of the fastest-growing tech schools coming out of Africa, where thousands of young professionals have launched their successful careers in tech.
In addition, PluralCode's 'Sandbox Program' has created a massive impact by partnering with Celebrities, NGOs, and Corporate Institutions to provide zero-cost technical education to hundreds of young people in Africa who otherwise could not afford such a life-changing opportunity and access, while PluralCode's Career Labs Initiative promises to build one of Africa's largest tech talent incubators.
This growth, quality of work, and vision of creating the largest tech talent incubator for young Africans have earned him awards, partnerships, and accreditations across the globe.
As an entrepreneur with a technical background and a massive passion for education, Nduka promises to continue building amazing learning solutions that will ultimately cut across tech, business, and finance, making talent development accessible to anyone in Africa and beyond.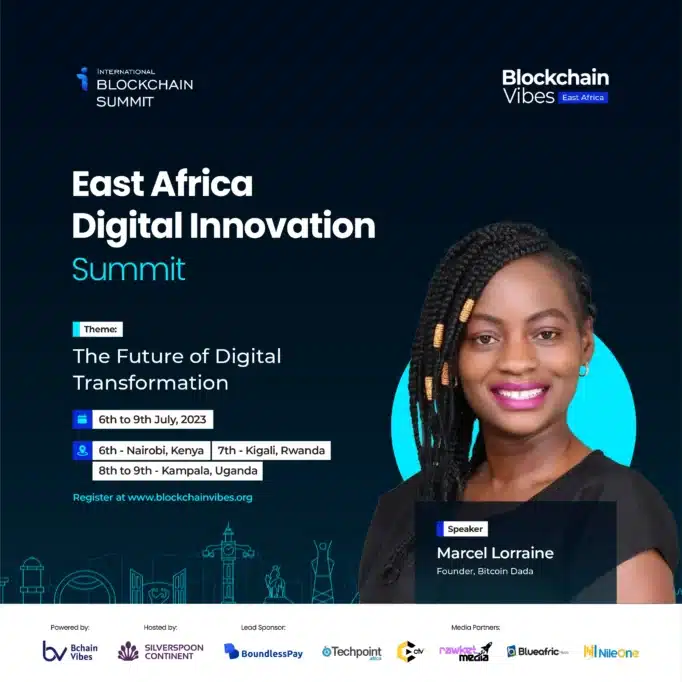 Marcel Lorraine
Founder, Bitcoin Dada
Experienced and passionate Bitcoin and Blockchain influencer with over 4 years of experience helping local and foreign Blockchain Startups in market creation, market entry strategy, and blockchain project management in East Africa.
Marcel Lorraine is the Founder of Bitcoin DADA, a women-centric entity focused on educating African women on Bitcoin and Blockchain Technology.
Her main goal with Bitcoin Dada is to close the gender gap, eliminate misinformation, and accelerate Bitcoin adoption across the continent.
Before devoting her work to Bitcoin Dada, she ran her own events management company. Lo-Ryce Events, which consults for both corporate events and social events. She is also skilled in Forex trading and has specialised in synthetic indices.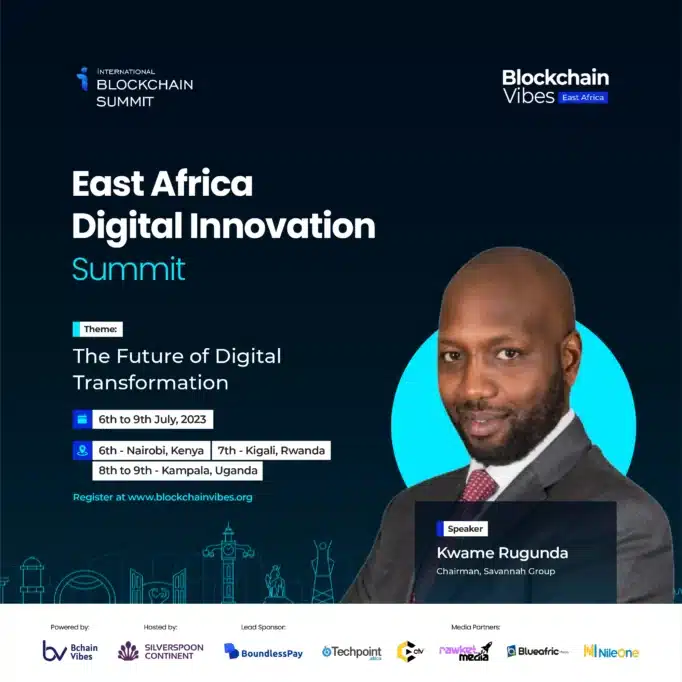 Kwame Rugunda
Chairman, Savannah Group
Kwame is a technology entrepreneur with an interest in emerging technologies, particularly those designed to address the challenges of global development.
An Electrical Engineer and Mathematician by training, he has worked in the fields of telecommunications, broadcasting, and civic technology, and has consulted for governments and various private and non-profit organisations globally.
His interest in technology and innovation exposed him early to the 4th industrial revolution, where he took a particular interest in blockchain technology and its various applications.
He serves as the Chairman of Savannah Group, is the Chairman of the Blockchain Association of Uganda, and serves on Uganda's National Taskforce on the 4th Industrial Revolution.
Along with his technical and business training, Kwame is a graduate of the Harvard University Kennedy School of Government, where he obtained his Master's Degree in Public Administration. He was a 2017 recipient of the Harvard Kennedy School Lucius Littauer Award.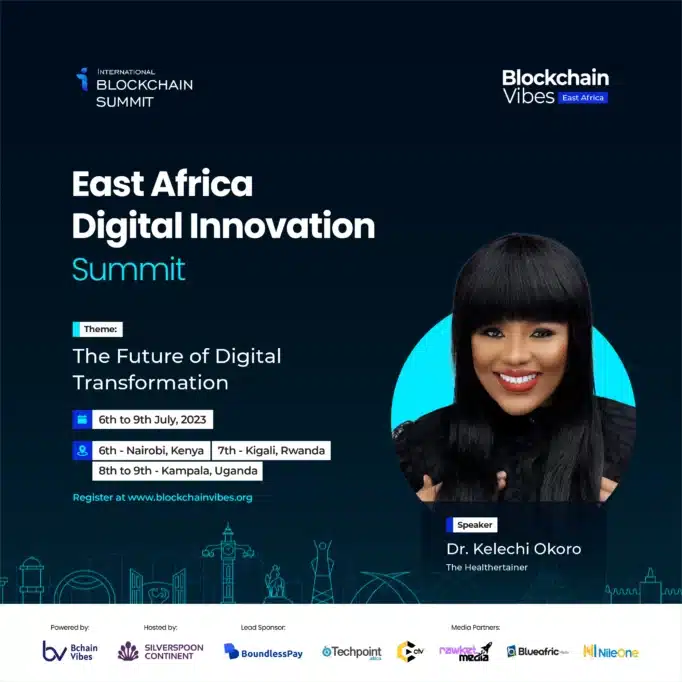 Kelechi Okoro
The Healthertainer
Meet the game-changing medical doctor behind Healthertainer Consults Ltd., a dynamic and multi-award-winning brand that's on a mission to help people lead healthier and happier lives. Kelechi's impressive track record has earned her partnerships with top Nigerian and international brands while concurrently carrying out clinical duties at the Kogi State Government House clinic for 6 years.
As the founder of the HEAL for Africa initiative, she is dedicated to transforming communities through health, education, and advocacy. She also founded the Health Hub Africa, a platform that connects health influencers, innovators, startup founders, and disruptors in the digital health space to collaborate on innovative solutions for the health sector.
Combining all the work she does with the above-mentioned brands, she is leading the charge in helping healthcare organisations leverage technology and connect all the players in the healthcare sector to ultimately deliver quality care to their patients and clients.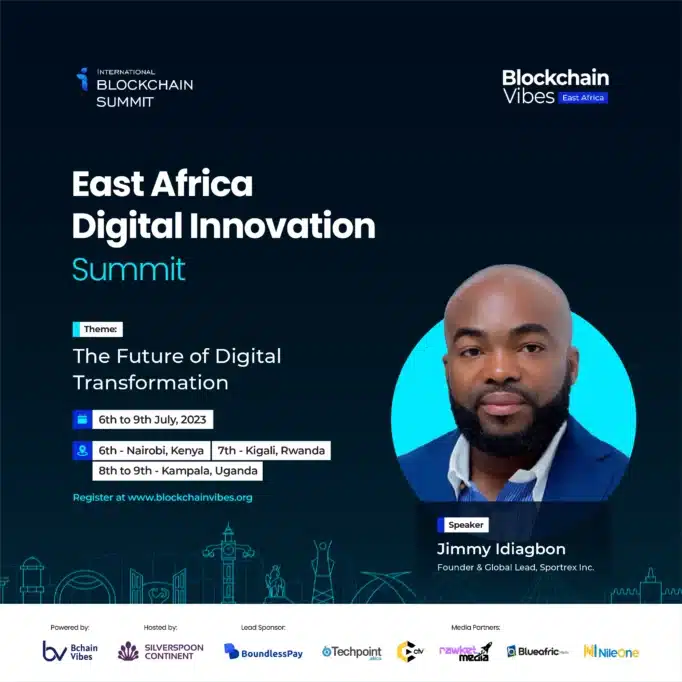 Jimmy Idiagbon
Founder and Global Lead, Sportrex Inc.
Jimmy, fondly called SIJ, is a Visionary Tech Entrepreneur, Chairman SIJ Group, Founder and Brainbox of several tech startups such as Sportrex Inc., SmartBloc, GasSOURCE, FarmHUB, Payfty, SME9JA, Fixxx, Flex2Ride, and many more leveraging Blockchain Technology.
He also serves as an advisory board member for a couple of Blockchain-based companies like KidsTech Africa, Earnathon, Spark SA, African Village, and many more.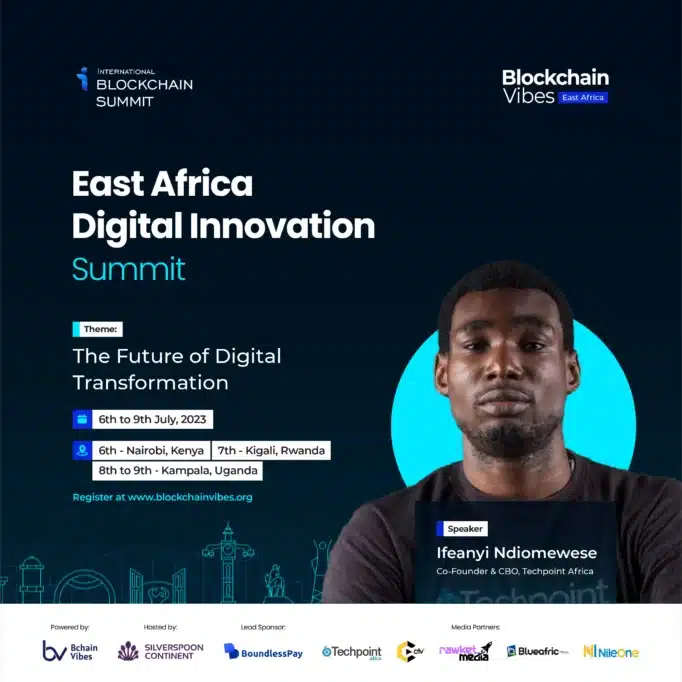 Ifeanyi Ndiomewese
Co-Founder and CBO, Techpoint Africa
Ifeanyi Ndiomewese started his career as a reporter with Techpoint in 2015 and, over the years, wore numerous hats with the reputable tech-focused digital publication.
Since 2015, Ifeanyi has been a key part of the Nigerian tech space, writing and contributing to its development. He is currently the Co-Founder and Chief Business Officer of Techpoint Africa, a leading digital media company that amplifies the best innovations out of Africa through its publications, data, and events.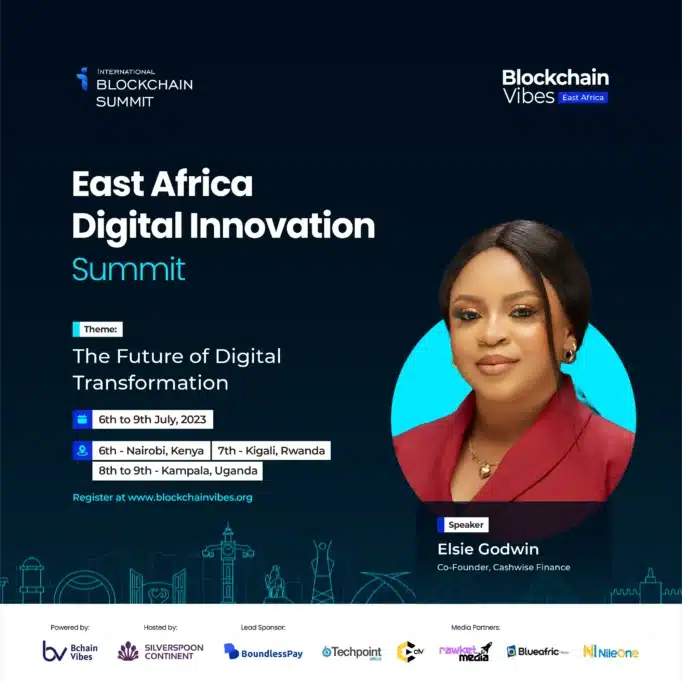 Elsie Godwin
Co-Founder, Cashwise Finance
Elsie Godwin is a Marketing, Communications & Media professional. She is passionate about adding value through impact-driven conversations, bespoke communication, effective stakeholder management, partnerships for growth, community management, and Campaign strategies. Her work as a Marketing professional cuts across different industries and for both Web 2 and Web 3 companies.
Elsie played a key role in the institutional partnership between Pan Atlantic University and Emurgo Africa towards blockchain adoption in Africa. She was recognised by CryptoTV Plus as one of the Top 40 African women in Blockchain.
Elsie is a versatile media personality who recently celebrated 10 years of impactful blogging. She is a co-founder at Cashwise Finance - a neo-banking mobile application, where she leads Marketing and Branding integration towards product ideation and build.
She has helped brands such as TotalEnergies and SmallSmall Technologies maximise their marketing efforts through influencer marketing strategies and management at Mind-Mastik Media. 
Deborah Ojengbede
Co-Founder, AFEN Blockchain Group
Deborah Ojengbede is the CEO of AFEN Blockchain Group and a seasoned banker with over 5 years of working experience in the Banking industry.
Deborah has thrived in roles ranging from Business Development, Strategy and Innovation, Project Management, and women's banking, culminating in a leadership role in decentralised technology.
By virtue of her experience within and outside the Traditional Banking Industry, she has garnered experience in building and scaling her tech Startup- AFEN Blockchain Group.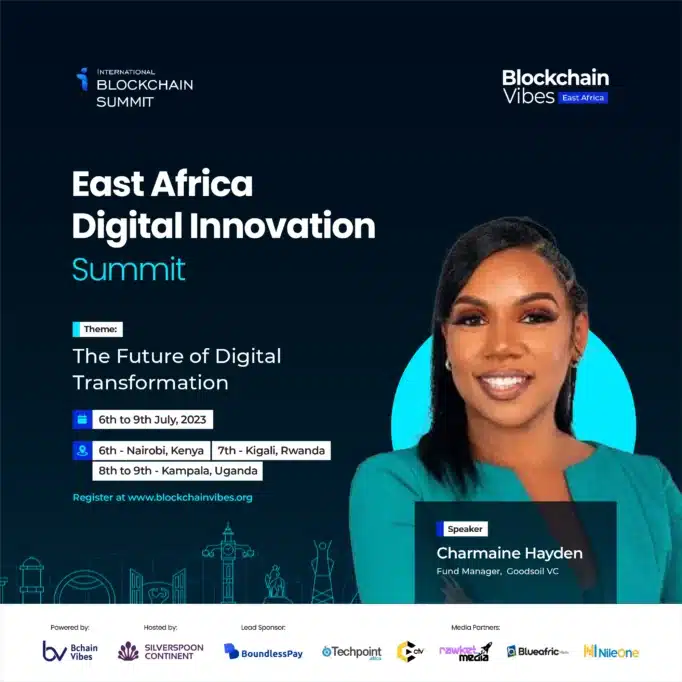 Charmaine Hayden
Fund Manager, Goodsoil VC
Charmaine Hayden is the visionary Fund Manager behind Goodsoil VC, an Africa-focused fund that invests in early-stage startups with exceptional founders. Her investment philosophy is driven by a passion for solutions that address the world's biggest problems, with a particular focus on sustainable tech and tech-enabled startups
Before founding Goodsoil VC, Charmaine had already made a name for herself in the talent industry thanks to her award-winning agency, which provided diversity-focused talent for globally recognised brands.
A champion of underrepresented groups, Charmaine also established a technical support and incubation community for UK-based female entrepreneurs. Her unconventional personal and professional background enables her to identify promising opportunities that are often overlooked when identifying top-tier startups.
Charmaine is not only an exceptional fund manager but also a captivating public speaker, renowned for her innate ability to connect with audiences. Her diverse professional background, including her experience as a TV presenter and BBC radio personality, has undoubtedly shaped her charismatic persona and relatability on stage.
With her unique career path, she possesses the skills and expertise to engage any audience effectively, leaving a lasting impact on attendees. It's no surprise that she is in high demand as a public speaker.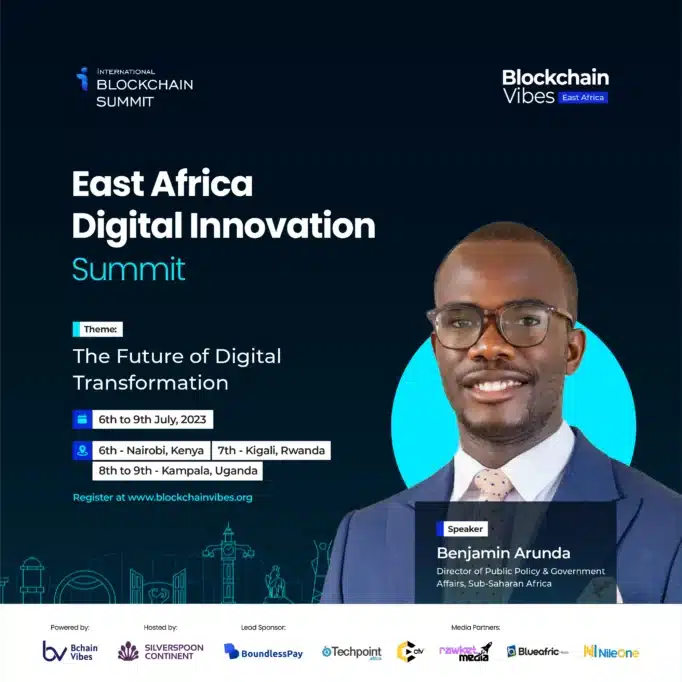 Benjamin Arunda
Director of Public Policy & Government Affairs, Sub-Saharan Africa
Benjamin Arunda is one of Africa's leading experts and consultants on blockchain and emerging technologies, with over five years of experience consulting for companies, government agencies, multinationals, NGOs, and startups.
He is the Director of Public Policy and Government Affairs for Sub-Saharan Africa and the Chairman of the Africa Blockchain Council. He is a member of the Blockchain Association of Kenya. He is also the founder of Chainadvise, a blockchain advisory firm based in Nairobi with clients in Asia, the Middle East, and Africa.
Benjamin is a published author of the BBC World News featured book, "Understanding the Blockchain," which was launched in 2018, and three other books on enterprise blockchain, cryptocurrencies, and ChatGPT available on Amazon. He is also an international speaker who has spoken at events in Singapore, Dubai, Rwanda, Nairobi, and others.
Register to attend the East Africa Digital Innovation Summit on the Blockchain Vibes website and get a chance to meet with the speakers and other amazing people that will be coming to the summit.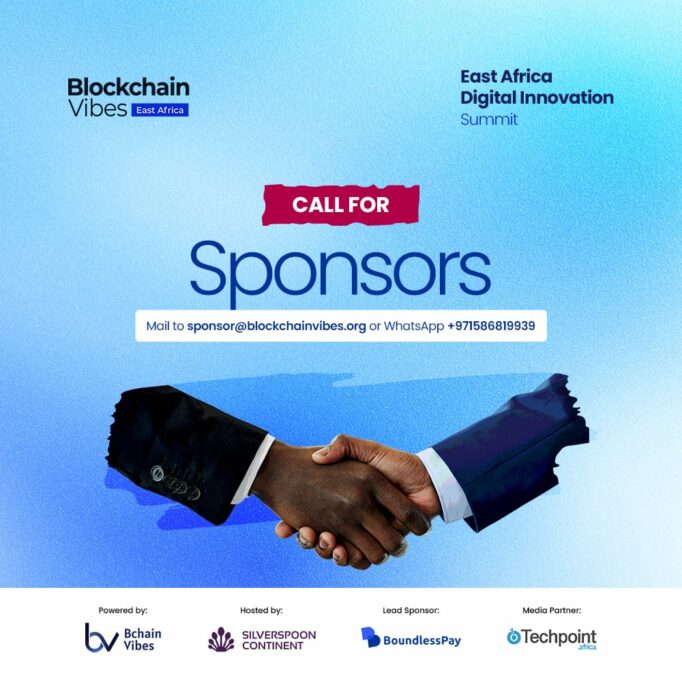 To partner with the organisers of the East Africa Digital Innovation Summit and showcase your business at the summit, contact the blockchain vibes team via email at [email protected] or send a text to +971586819939 on WhatsApp.